For the last 3 years, I've immersed myself into the world of CBD coffee. During this time I've written dozens of CBD coffee reviews and have had the pleasure of keeping up with this budding industry. And as an active senior over the age of 65+, I've come to appreciate any coffee that can confer health benefits as well satisfy my coffee fix. I recently came across a relatively new CBD coffee brand called Bidio Coffee and they sent me some of their coffee in exchange for an honest review of their product. In this Bidio Coffee review we'll examine this CBD coffee to determine whether it's worth your hard earned coffee bucks.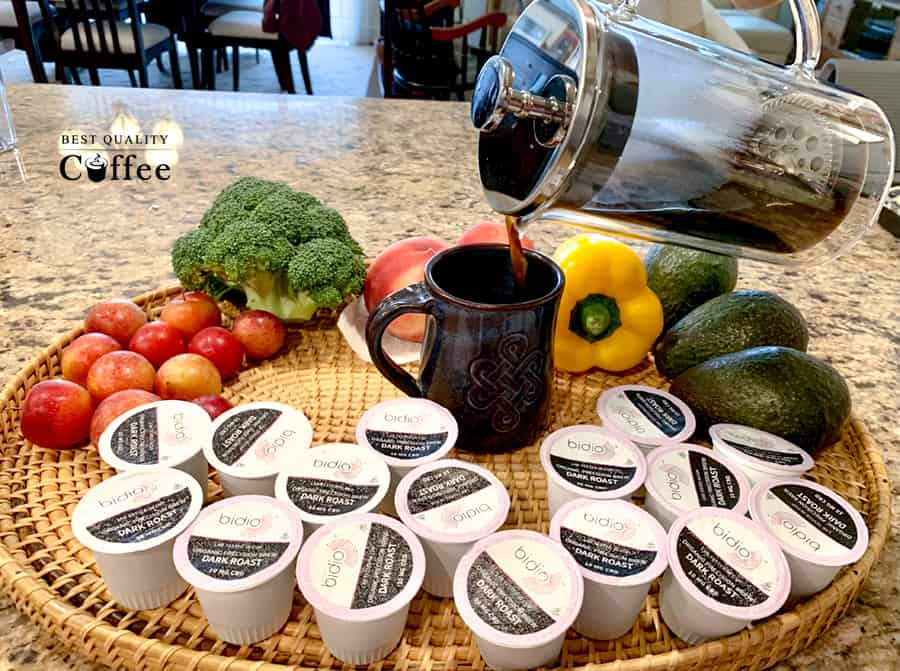 Quick Background about CBD Coffee
There's a wealth of information available on the health benefits of CBD and Hemp which for the sake of space, we won't fully cover in this article. However, as a brief introduction, Cannabidiol (CBD) is an active ingredient found within the cannabis plant and has been proven to deliver a wide variety of health benefits from helping with anxiety to relieving joint pain. I've personally used CBD in years past and have found it to be a huge help in my quest for healthier living. If you're completely new to the world of CBD and Hemp coffee, allow me to suggest reading our article on the best CBD coffee brands which breaks down in detail its benefits.
Note: This CBD coffee does not contain THC and as such, will not get you high.
Before jumping right into this Bidio Coffee review, let's take a brief look at the company.
Who is Bidio?
Bidio Coffee was founded by globally-known orthopedic surgeon, Ron Krinick. Interestingly enough, there are actually a number of coffee companies founded by doctors of various specialties (Lifeboost Coffee, Cardiology Coffee to name a few). Dr. Krinick was interested in the health benefits of CBD as part of the healing process and was moved to try out a number of CBD coffee brands. He discovered that the CBD coffee he tried had little to no CBD in the actual brewed cup of coffee. Fueled by a disappointment with the efficacy of existing brands, he created Bidio Coffee and developed a proprietary and patent-pending method of infusing CBD into coffee beans.
Bidio Coffee Review: The Coffee Itself
When it comes to the coffee, Bidio made sure to cover all the bases of what would be expected by any high-quality coffee brand. Bidio Coffee is:
Certified Organic
Certified Fair Trade
Certified Kosher
Bidio sourced premium Honduran and Peruvian coffee beans
Low acidity, robust flavor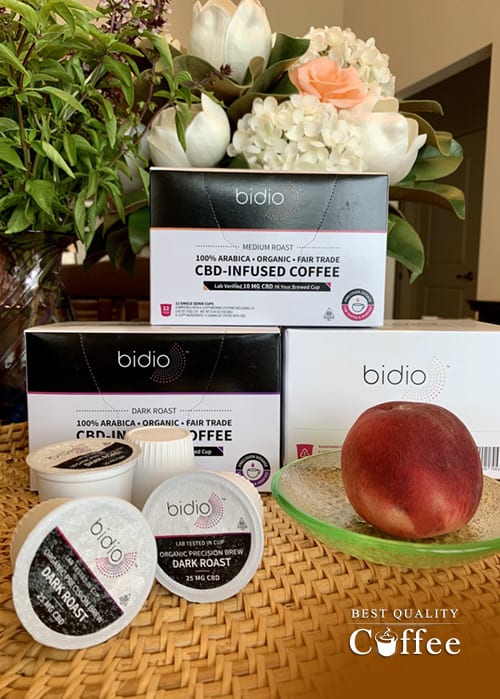 Bidio Coffee Review: The CBD
Their high quality CBD is tested by an independent lab for precision dosage and content. Most importantly, they make their lab results available to the public. Whenever shopping quality CBD brands, having access to the CBD's lab results should be considered a non-negotiable. Click here to view their lab results.
Organically grown CBD
US-grown hemp (this is an important quality as their CBD is grown from hemp that meets U.S. Department of Agriculture Standards)
No traceable amounts of THC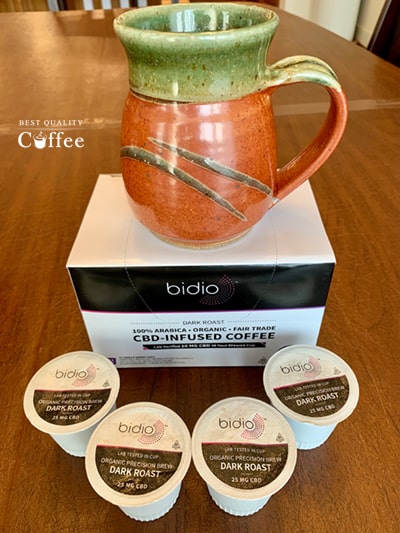 Bidio Coffee Review: The Taste
For this Bidio coffee review, I sampled their dark roast. Bidio sent us K-Cup compatible pods as well as whole bean coffee. While I appreciate the convenience of a coffee pod, there's nothing like fresh ground coffee so I went with grind the beans and brewing the coffee with a French Press.

This coffee is very smooth coffee with a refined richness that many coffee lovers will appreciate. Honduran coffees as a whole are known to be on the fruity / sweet side and this particular blend was true to form. The fruity / herbal aftertaste was distinct for me and those who appreciate a vibrant coffee will certainly connect with this coffee.
The aroma satisfied the senses and offered a great preview of what was to come.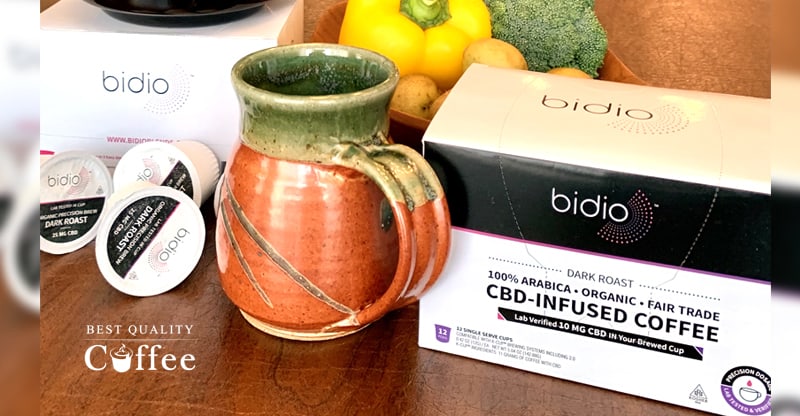 A few days ago, I hosted a coffee party where a number of friends of mine had a chance to try this CBD coffee as well. Many of them didn't note the fruity aftertaste I experienced which just highlights a fact that all coffee lovers already know: taste is truly subjective. Nonetheless, everyone thought the coffee was exceptionally smooth and robust in flavor. It was a hit across the board even if everyone had varying experiences.
As mentioned earlier, this coffee is a 50/50 blend of organic Honduran and Peruvian coffee. Honduran coffee typically has higher acidity while Peruvian coffee has milder acidity. What was very nice about this blend was that it's actually low in acidity which makes it easy on the stomach.
Each CBD K Cup comes with either 10mg or 25mg of CBD. This is about on par with the offerings of many of the previous CBD K Cups and coffee pods I've come across.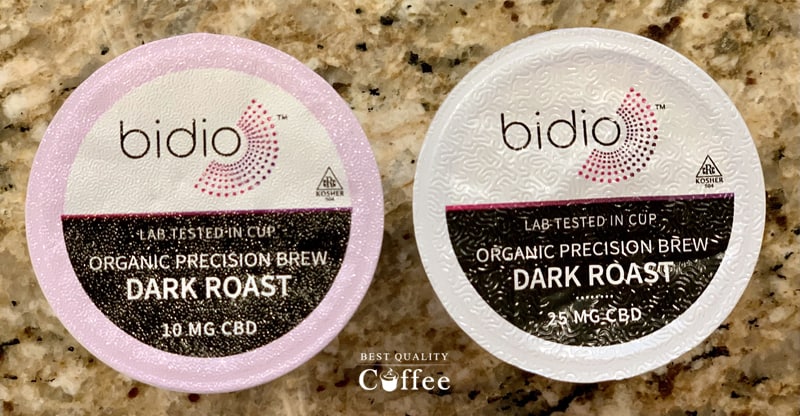 Final Thoughts on Bidio CBD Coffee
Overall, this is a very solid entrant into the CBD coffee landscape and certainly worth a try, especially if you like vibrant coffees. I love the fact that it uses organic US-grown Hemp as well organic and Fair Trade Certified coffee. Those are already considered huge pluses in my book. If you're new to the world of CBD coffee, I'd suggest starting off with their 10mg offerings just so you can observe the effects of CBD on your body. Personally, CBD makes me feel relaxed yet alert which is part of why it's become a part of my health regiment. In closing, Bidio CBD coffee has many factors going for it and it certainly holds its own amidst the competitive CBD coffee market.
Get 25% of your order using the code below: BIDIO25