If you're even remotely a fan of espresso, you're likely to be familiar with the Nespresso brand. They've been credited with ushering in the era of espresso capsules in the same way Keurig introduced the world to K-Cups. That being said, over the last decade, there's been a number of Nespresso alternatives which have given the reigning king of espresso capsules a run for the money. One of these brands is aptly named Bestpresso. In this Bestpresso review, we take a look at its pros and cons to see how this company's offerings stacks up.

Who is Bestpresso?
Any Bestpresso review worth its while would have to at least talk about the brand behind the product. Bestpresso was founded almost a decade ago in 2013 and has enjoyed immense popularity amidst the espresso-loving demographic. On Amazon alone it's garnered nearly 15k reviews while retaining a 4.5/5 star rating. The company offers products that are compatible with Nespresso Original coffee machines. Perhaps the biggest appeal of Bestpresso is it's significantly more cost-effective price tag compared to Nespresso. More on that later.

Highlights of Bestpresso:
Coffee capsules compatible with Nespresso Original coffee machines
Great discounts compared to other coffee capsules brands

$0.33 per capsule -Bestpresso
$0.75 per capsule-Nespresso

No preservatives, no sugar or flavoring added
Over 50% Rainforest Alliance Certified Sustainable coffee in support of small coffee producers.
Product from Spain
Bestpresso Review: Selection
Bestpresso offers 12 different blends to choose from. While it's true that Nespresso has 3x more choices (currently 38), we were still pleased to see the company's diverse range of options. At the time of publication, these are the options available at Bestpresso:
As you can see by the Bestpresso flavors above, there's literally something for every kind of espresso lover out there. What's nice about these options is that each pod differs in intensity. We all know that taste is subjective and that what's too strong for one may be too diluted for another. With a spectrum of intensities, you can choose whatever suits your flavor profile best.
I may get flack for this, but I'm especially pleased that they offer a decaffeinated espresso pod. I certainly enjoy a morning espresso to get the morning started. But at the same time, I also enjoy drinking an espresso after dinner so the decaf option is perfect for me.
Bestpresso vs Nespresso: the Million Dollar Question
Nespresso is the gold standard of espresso pods. I think few would argue that. The company has fine tuned their formula for making incredibly rich and deep espresso with incredible convenience. The question is more whether Bestpresso makes for a solid alternative for those looking for something different.
The simple answer is a resounding yes.
Bestpresso offers a very enjoyable flavor that's smooth, rich, and bold. However, it's worth mentioning Nespresso's flavor is seen by some as being richer and fuller in flavor. In a world of divergent tastes and preferences, richer and stronger isn't always a good thing. If you have a more refined palate and prefer a more refined experience, then Bestpresso could be a perfect match. It's all based on your palate and how your brain interprets the various flavors.
For example, Bestpresso most intense capsule which is rated as a 10 may equate to only a 7 when compared to the Nespresso scale. If you're concerned about intensity and strength of flavor, I'd suggest going with their strongest pod first and seeing how that hits your palate. Bestpresso's strongest option is their Dark Roast Intenso. If Bespresso's strongest is too weak for you, then going the Nespresso route may be best for you.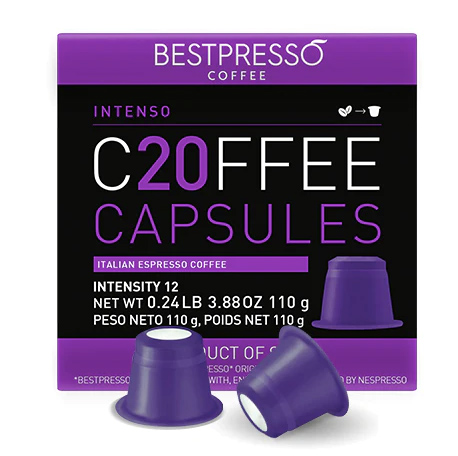 Does Bestpresso Offer Coffee Pods Too?
We're glad you asked. To the delight of K-Cup coffee pod users around the world, Bestpresso offers their coffee in coffee pod form. Their single serve coffee pods are compatible with Keurig brewers. While their coffee pod selection isn't as vast as their espresso capsule line, you'll still be able to find a variety of flavors in light, medium, and dark roasts. As a coffee lover, what matters most to me is the roast so I was pleased to see they had those bases fully covered.

Related Article: What's the difference between coffee roasts
What Coffee Makers is Bestpresso Compatible With?
Bestpresso has created their espresso capsules to work with all Nespresso OriginalLine machines. However, please note that their pods will NOT work with Nespresso VertuoLine machine. In terms of coffee pods, their pods will work with Keurig 2.0 machines.
Related Article: Best Alternative Nespresso Pods of the Year
Bestpresso even offers their own espresso capsule machine known as the Bespresso Pro. It's utilizes a 19 BAR pressure pump made in Italy. It's also compatible with OriginalLine Nespresso capsules which is a fortunate since I'd say backward compatibility is a non-negotiable. We were especially impressed with its super fast warm up time. It's quick heat-up technology reaches ideal temperatures in 25-30 seconds. Lastly, it's 27oz water tank is sizable given how compact the overall machine is.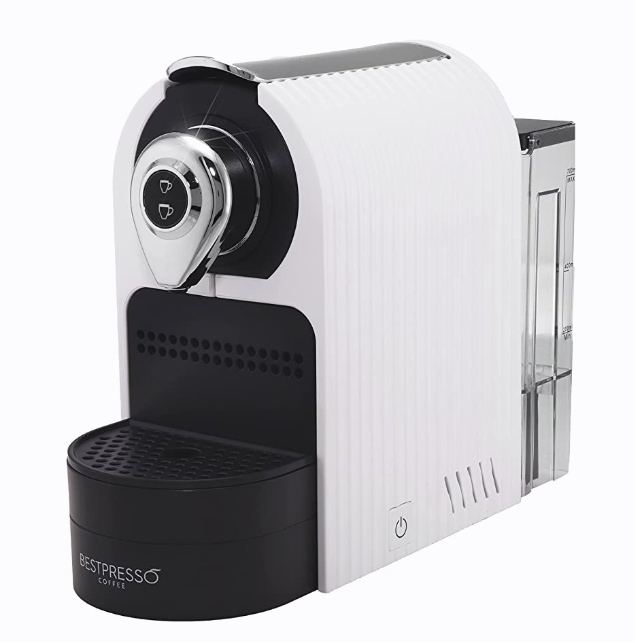 Bestpresso Review: Pros and Cons
Bestpresso Review: Pros
Cost
The biggest appeal of the Bestpresso is its cost-effectiveness. I make this statement not based on price alone. It's based on a price to quality ratio that makes this one of the best Nespresso alternatives. Let's be honest. The cost of Nespresso pods can add up. And while I'm a firm believer in the notion of "you get what you pay for", Bestpresso still offers a great espresso for a great price.
Nespresso capsules average around 71 cents to 91 cents per capsule depending on the blend you buy. They even have some that are $3 per capsule. On the other hand, Bestpresso pods average to around 33 cents a pod. That's a sizable difference.
Part of how they're able to offer their Nespresso-alternative pods at such a low price is that you essentially have to buy them in bulk. They come in orders of 120 pods.
Taste
An attractive price tag means nothing without a quality experience to back it up. Bestpresso offers that, even if it's not at the exact same level of Nespresso. Make no mistake. Bespresso delivers a persistent flavor that's as captivating as it is complex. What it may lack in pure intensity (in the eyes of some), it makes up for with its full body and steady unparalleled character.
Certification
Another pro that's worth noting is that Bestpresso coffee is 50% Rainforest Alliance certified. This is a designation awarded to companies that produce a given product while supporting three areas of sustainability: social, economic, and environmental.
Customer Guarantee
In my experience in the coffee industry, a customer satisfaction guarantee speaks volumes regarding a company's confidence in their product. 30-day guarantees are impressive. 60-day guarantees are unheard of. Bestpresso offers the latter option and gives you a full 2 months to try out their product to make sure you're totally happy with it. If you're not, just reach out to them and they'll give you a refund. To me, that's confidence personified.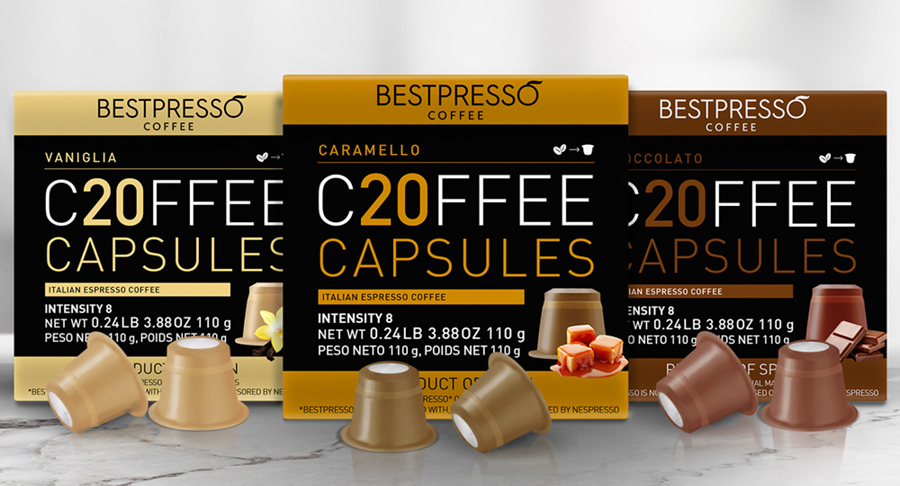 Bestpresso Review: Cons
There aren't a whole lot of cons when it comes to Bestpresso. The most obvious one, and it's arguable whether this qualifies as a con, is that it's not as strong as Nespresso pods. The truth is, there are many people who would prefer an espresso pod that isn't so overwhelming in flavor.
Final Thoughts on Bestpresso as a Nespresso Alternative
As has hopefully been clear in this Bestpresso review, this brand makes for an excellent choice when it comes to Nespresso alternatives. At well under half the price of Nespresso capsules, a Bestpresso capsule still delivers a multi-sensory espresso experience that's as full flavored as it is convenient. And while it may not appeal to every Nespresso lover, it certainly has an appeal and rich character that should appeal to espresso lovers in general.
New customers can use this Bestpresso discount code and coupon to get 15% off. Code: WELCOME15
15%
Coupon
Doesn't expire
Bestpresso is one of the best Nespresso alternatives on the market. Their smooth and full flavored espresso capsules come at about 1/3 of the price. Check out our Bestpresso review for all the details of this impressive Nespresso alternative.
More
Less
If you're looking for a Nespresso alternative other than Bestpresso, know that you have options. Woken Coffee and Gourmesso are two excellent options. Check out our Woken Review and Gourmesso review for additional details.
Related Article: Woken Espresso Pods