How is it that most people often forget to take their vitamins but NEVER forget to drink their coffee? The unlikely marriage of vitamins and coffee may seem like a strange concept at first. But, as someone who has spent years drinking some of the best vitamin coffee available, I can say it's a creative concept that every coffee lover will benefit from and appreciate.

92% of Americans suffer from vitamin deficiency. Meanwhile, 64% of Americans drink coffee every day. These two facts represented a grand opportunity to merge vitamins with the world's greatest drink. In this article we'll go into the details of what vitamin coffee is as well as offer our recommendations on what the best vitamin coffee brands are.
Includes Alpha GPC, DMAE, L-theanine, and Taurine to improve focus

Boost of natural energy without a crash

Organic coffee that's extremely smooth coffee with no bitterness

Improves focus, concentration, and creativity

Turmeric, Cinnamon, Lion's Mane, Chaga, L-Theanine, and Black Pepper

Mix of Arabica and Robusta beans - refined sweetness and a extra caffeine

Includes Lion's Mane and Coryceps

Premium Arabica beans sourced from Guatemala and Colombia

Tasting notes of milk chocolate, graham cracker, apricot, along with a buttery finish

Includes B2, B3, B5, B9, B12 & Biotin, D3

Improve concentration, strengthen immunity, help with anxiety

Medium Roast Colombian Heirloom Coffee
Best Vitamin Coffees of the Year
The following selections have been curated for both their flavor and efficacy. As a brief note, the term nootropic coffee is used in this article a number of times. Nootropic coffees are considered one of many types of vitamin coffees which we'll cover in more detail later in this article. They are formulated specifically for memory, cognition, and focus.
Benefit: Improve Focus, Concentration, + Athletic Performance
Kimera Koffee has been a long-time favorite of ours when it come to quality vitamins to improve brain function. We did a detailed Kimera Koffee review some years back and to this day is something that we still appreciate. As an organic nootropic coffee formulated for focus and concentration, it's a product that is delicious as it is effective. Their coffee contains 725 mg of brain vitamins. This brew offers a substantial vitamin boost for your brain via all-natural add ins such as Alpha GPC, DMAE, L-theanine, and Taurine. As a premium vitamin coffee, it delivers a burst of brain energy without the crash that typically accompanies high caffeine brews.
On the coffee front, Kimera Koffee sources premium beans from the Dominican Republic and roasts them to either a medium and dark roast. Both options deliver a full and robust taste that has virtually no bitter aftertaste. It's smooth as silk.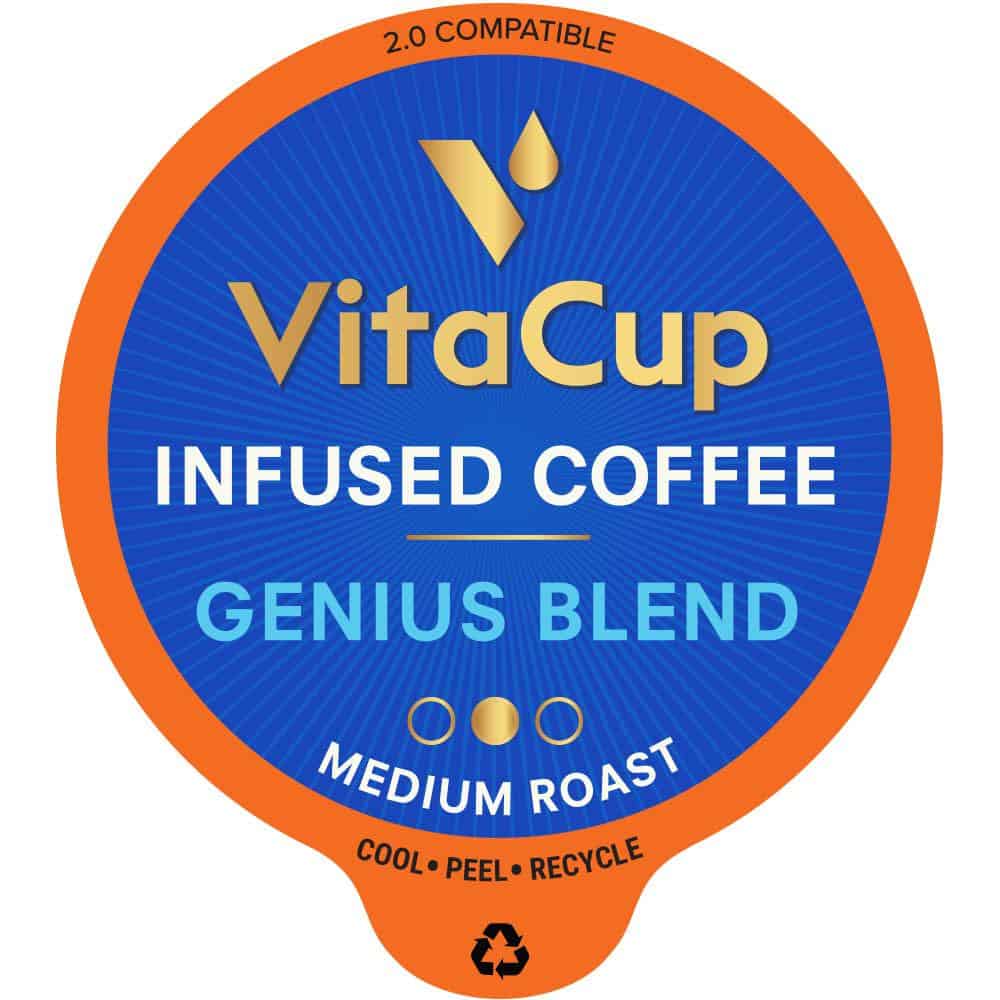 Benefit: Varies Based on Specific Product
VitaCup is a company that's been around for some time now and in the eyes of many, is one of the pioneers of the vitamin coffee world.
They offer both vitamin infused coffees and teas. I personally haven't tried their teas, but have experienced the delightfully deep flavor of their coffee pods. Their selection is very broad with coffee that helps you with energy and metabolism, focus, weight loss, wellness, digestion, skin care, and memory just to name a few.
On the coffee side of things, VitaCup sources premium Arabica beans. This is one of the best vitamin coffees out there being that they emphasize superior quality and all natural ingredients.
You can get 20% off your first order by signing up for their newsletter.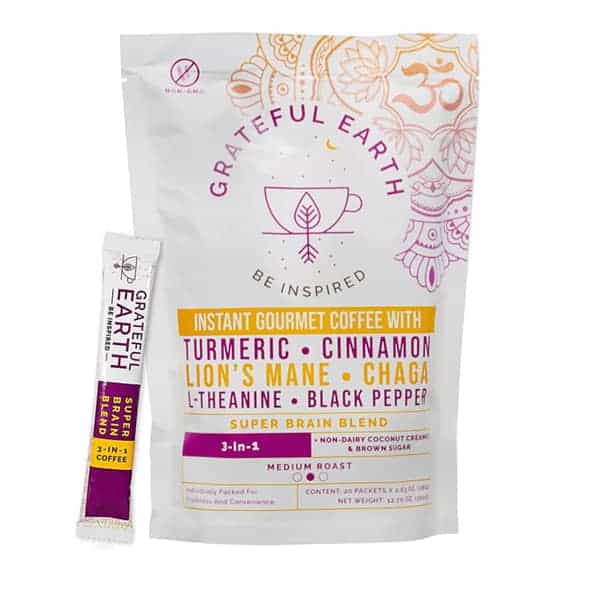 Benefit: Improve Brain Function, Memory, Focus
We came across Grateful Earth Coffee not long ago and it didn't take us long to fully appreciate just how effective, convenient, and enjoyable this nootropic coffee is. This is in fact instant coffee but please don't let that fact cause you to write off this product. This incredibly tasty coffee rivals specialty-grade coffee which is saying a lot given that it's instant and full of natural substances to help improve cognition. It includes Turmeric, Cinnamon, Lion's Mane, Chaga, L-Theanine, and Black Pepper to help boost energy, focus, and creativity. Check out our Grateful Earth Coffee review for additional information.
On the coffee side, it's a unique blend of gourmet Arabica and Robusta beans which yields a slightly sweet flavor that's packed with extra caffeine. It's sweetened with non-dairy coconut creamer and brown sugar for a supremely refined taste.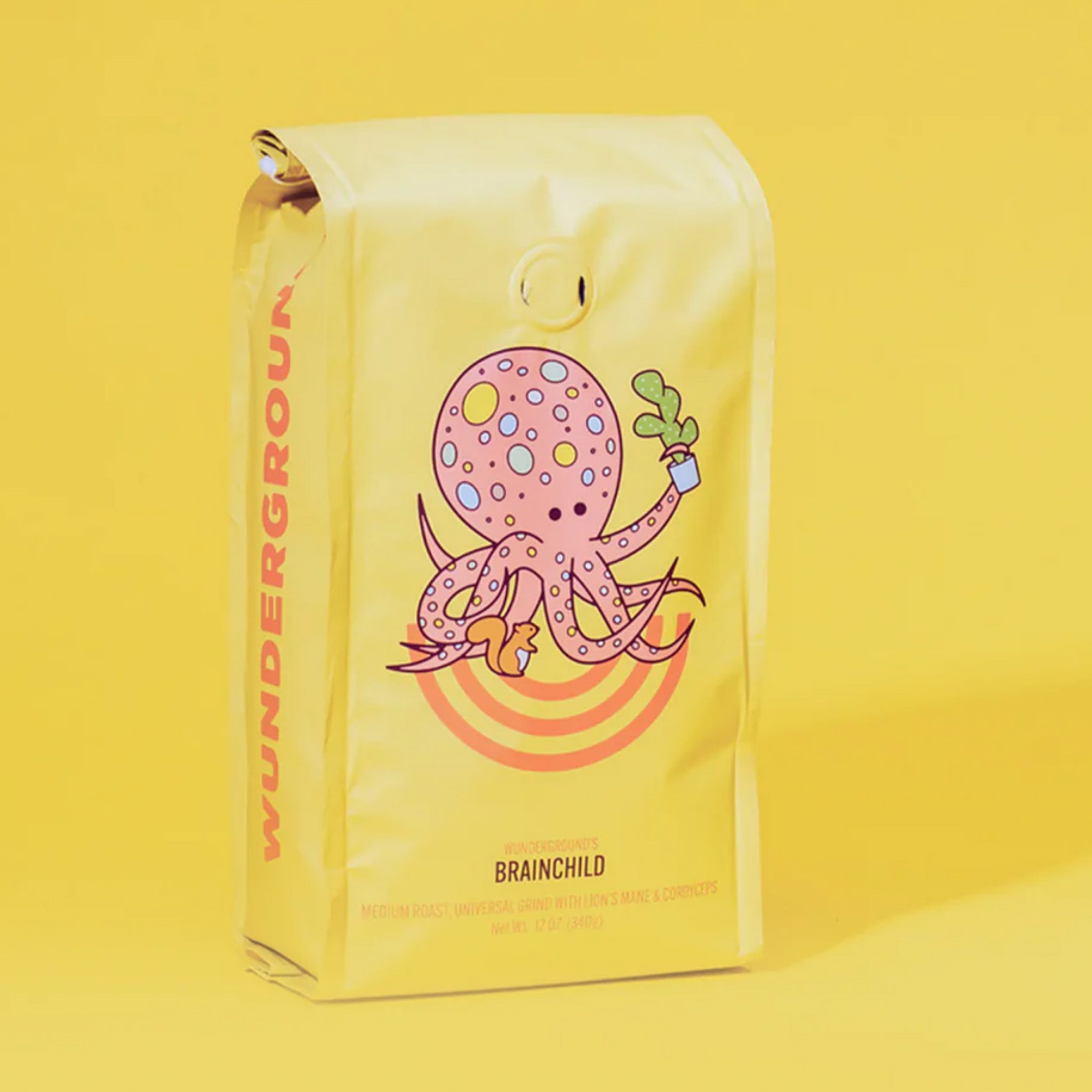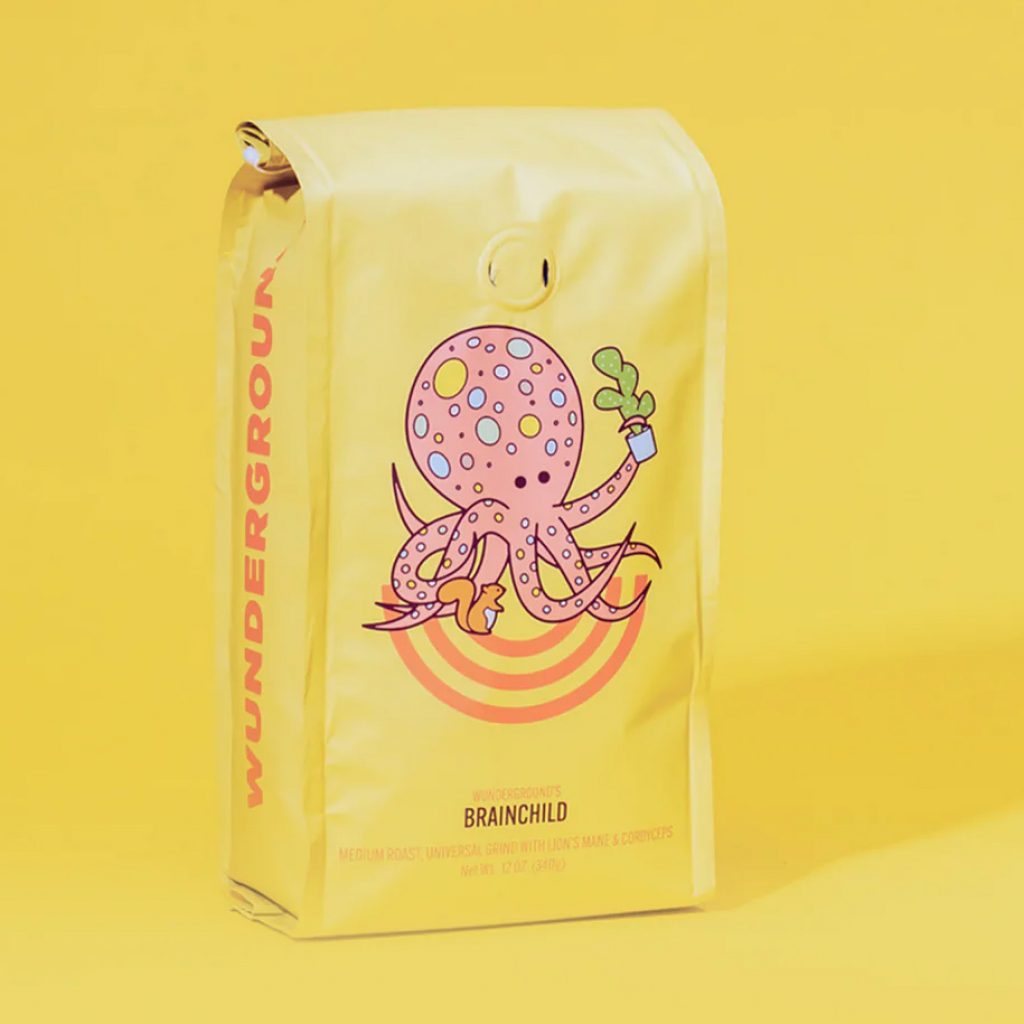 Benefit: Improve Memory and Focus
Wunderground Coffee's Brainchild Coffee captures the best in what nootropic coffee has to offer. This blend sources premium Arabica coffee beans from Guatemala and Colombia and medium roasts them to perfection. Lion's Mane and Cordyceps are then added to the beans to super charge them with nootropic benefits. This combination allows for a supreme focus without any crashes. Formulated for specifically brain function, memory boost, anti-aging, super focus, and high performance.
The tasting notes are worthy of coffee snobbery (and that's a good thing). You'll taste milk chocolate, graham cracker, apricot with a buttery finish. What you won't taste is any mushroom flavor. Check out our Wunderground Coffee review for additional details about this premium nootropic coffee.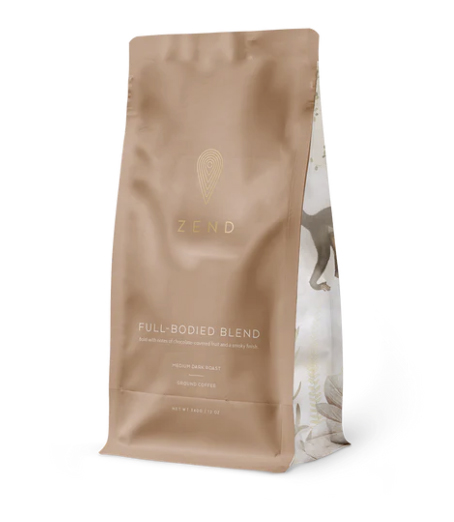 Benefit: Healthy skin, hair, nails / Stress Relief / Redue Inflammation
Zend Coffee offers an line of three different functional coffee blends each conferring their own health benefits. Their Beauty blend is formulated to help produce healthy skin, hair and nails. It contains Hyaluronic Acid, Biotin, and Vitamin C. Meanwhile, its Serenity blend focuses on stress relief by incorporating ingredients such as L-Theanine and Rhodiola Rosea. Lastly, the Recovery blend assists with heart health and reducing inflammation. It contains Cinnamon bark powder, Tumeric root extract, ginger root extract, and black pepper extract.
One of the best things about Zend Coffee is that they give customers flexibility over their brew. Customers can choose between a variety of single origin coffees and creative blends. Next, they can choose to add a functional blend of ingredients based on specific health goals. In the world of vitamin coffee, such customization is rare making Zend Coffee the perfect option for the health-conscious coffee snob.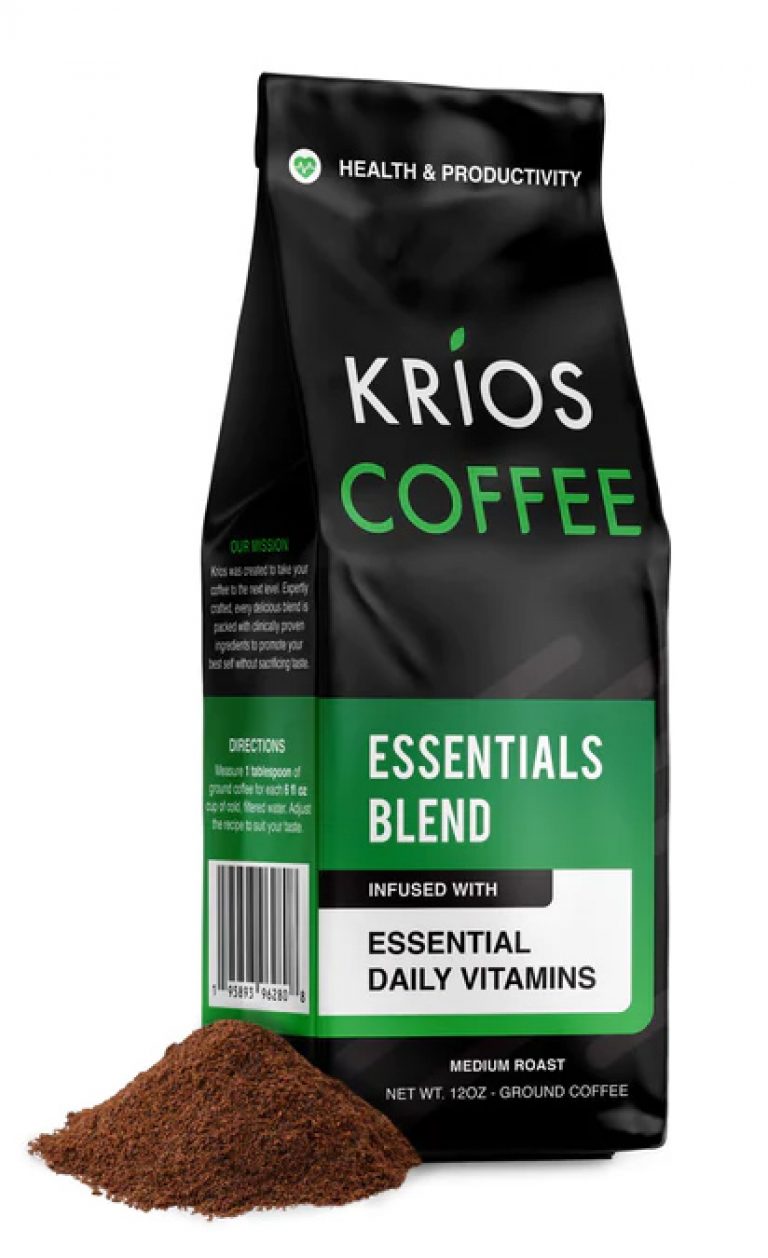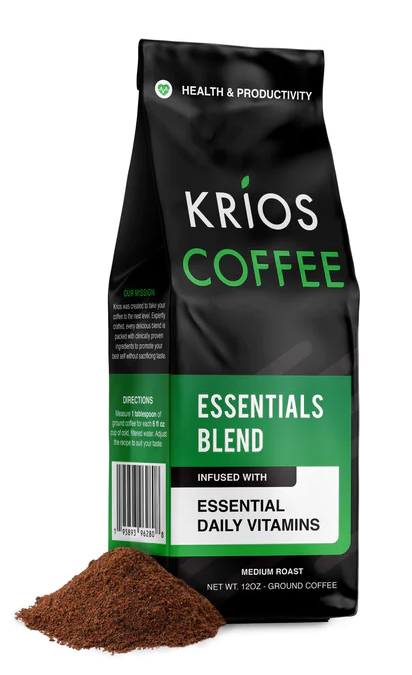 Benefit: Mental + Physical Health
Krios Coffee continues our list of the best vitamin coffee brands. Like many other brands on this list, they use only natural ingredients. Their Essential Blend in particular leaves you feeling rejuvenated and energized while delivering a smooth and rich medium roast coffee experience. Their blend includes B2, B3, B5, B9, B12 & Biotin.
B Vitamins are the proven building blocks for a good foundation of mental and physical health. They confer a variety of benefits including concentration, clarity, memory, mood, and energy levels.
Use our Krios Coffee coupon and get 15% off your order:
BESTQUALITY15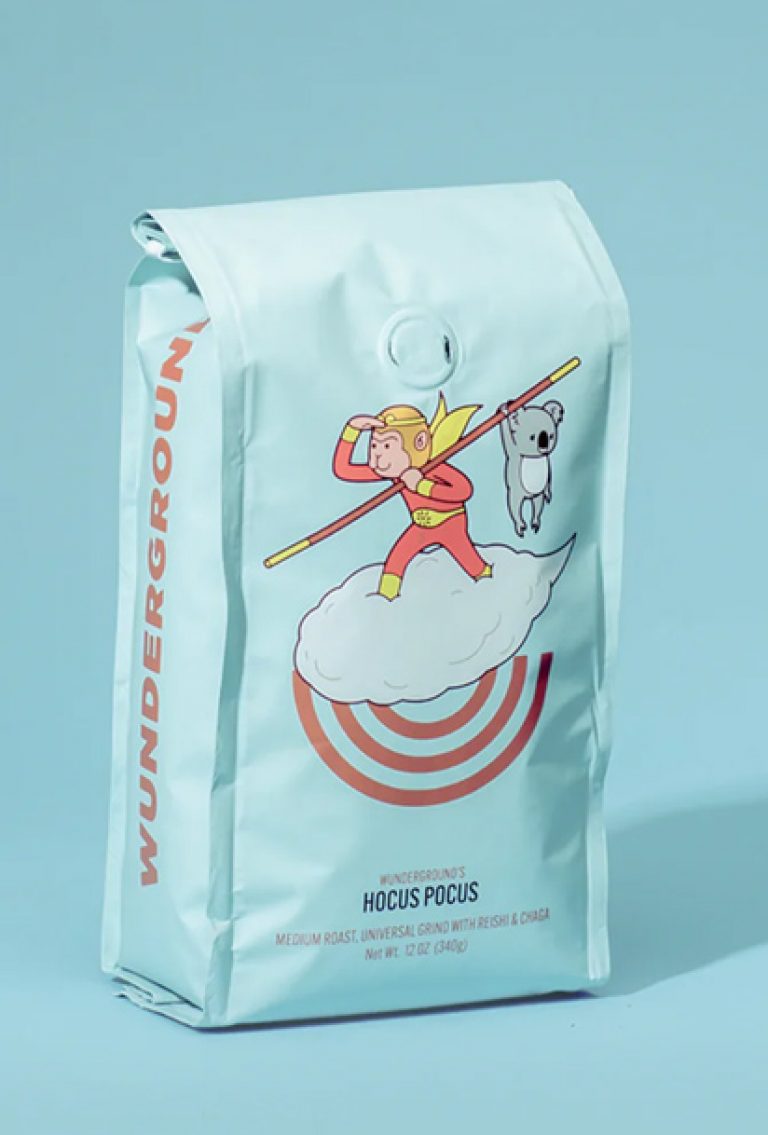 Benefit: Gut Health + Immune System Support
This is the second time Wunderground has makes this list of best vitamin coffee brands. Their magical Hocus Pocus blend sources organic Guatemalan coffee beans grown through sustainable farming practices and infuses them with Reisha and Chaga mushrooms.
The result is a brew that boost your immune system while helping you maintain a sense of calm. Reisha is known as an anti-inflammatory, anti-viral, and immune stimulator.
This is a medium roast coffee.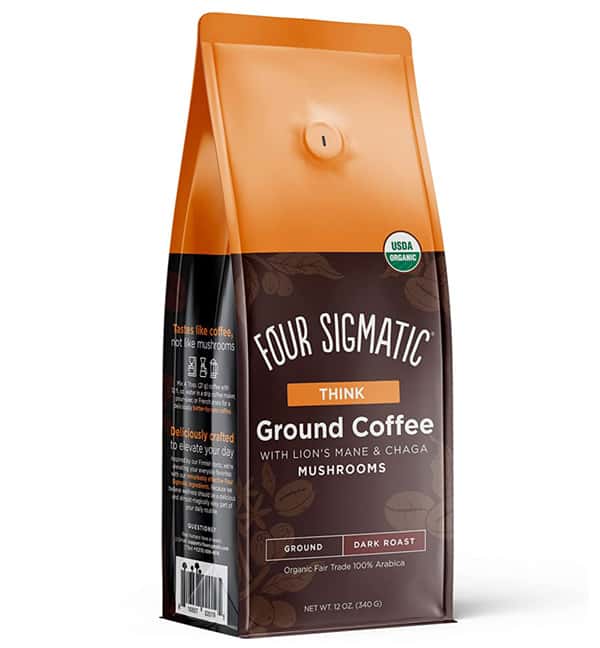 Benefit: Support Healthy Immune Function
Four sigmatic finds its way onto this list of best vitamin coffees for a number of reasons. First and perhaps most importantly, this coffee does NOT taste like mushrooms. Quite to the contrary, it tastes like an impeccably smooth and flavor full high-end brew. Their quality mushroom coffee contains only half the caffeine of regular coffee but grants you double the mental clarity as it's chocked full of 500mg of organic Lion's Mane and Chaga mushroom powder. The antioxidant properties from the Chaga mushroom help support healthy immune function as well.
This coffee delivers a smooth, strong, yet crash-free experience that will satisfy even the most uncompromising connoisseurs. USDA Organic, Fair Trade, and single origin, this company sets equally high standards for its coffee as it does its nootropics.
This coffee comes in only ground form.
Honorable Mention
Rounding out this list of the best vitamin coffees is Uplift Coffee's Lean Bean product. The appropriately named coffee brand, sources high-end Robusta coffee (which typically has 2x the caffeine of its Arabica counterpart) and adds adaptogens and mushrooms to help deliver a solid brain boost. The end result is a full-flavored brew maximized for wellness.
Their ingredients are 100% plant based and do not contain any added sugars or emulsifiers, making this an ideal option for the health-conscious coffee lover.
Uplift Lean Bean coffee utilizes a potent mushroom blend of Reishi, Maitake, Shitake, Lion's Mane, Cordyceps, Turkey Tail, Chaga, Oyster. Additionally, it combines an adaptogenic climbing vine called Jiaogulan and another stress-reducing adaptogen called Ashwagandha.
Best Vitamin Cold Brew
Oaza is a nootropic cold brew company that offers a delicious focus-inducing drink made from only all-natural ingredients. It's formulated with electrolytes to help offset the diuretic effects of caffeine and keep the body hydrated. For those who may not know, the caffeine in coffee makes you pee. Drinking a healthy cold brew such as this helps replenish lost electrolytes.
Oaza uses only oat milk and other plant-based ingredients to achieve their impressive flavor while delivering the cleanest energy boost possible.
200 mg of caffeine
0 Sugar and <30 calories for all flavors
Infused with Electrolytes and L-Theanine
Less acidity vs. traditional coffees for easier digestion and smoother taste
Not all coffee lovers love their coffee hot. Cold brew is a fresh new way of brewing your coffee that delivers a completely different type of coffee experience. For starters, cold brew is made by steeping beans in cold or room temperature water for anywhere between 5 – 24 hours. The result is a sweeter and less acidic brew that's delightfully refreshing. Fortunately, the nootropic industry has made its way into this cold brew market. Our top pick for the best vitamin cold brew is Oaza Cold Brew.
Having covered a wide selection of the best vitamin coffees brands out there, let's now take a closer look at what makes vitamin coffee so special.

What is Vitamin Coffee?
Vitamin coffee may seem like a passing trend or a gimmicky attempt at your hard-earned coffee bucks. But that's far from the case. As mentioned at the start of this article, I've spent years drinking a variety of the best vitamin coffees out there….even before it became popular. I've found that it's a super convenient way to kill to birds with one stone. The more we age, the more we tend to appreciate the importance of health. Taking vitamins and natural supplements has become a daily part of life for me and so vitamin coffee was natural fit for my lifestyle.
Vitamin coffee is exactly like it sounds. It's coffee infused with vitamins. However, there's far more to the concept of vitamin coffee that just that.
These vitamins can span the gamut and while including other natural substances that confer health benefits. They range from B vitamins such as B1, B5, B6, B9, B12, Vitamin D, Tumeric, Lion's Mane, MCT Oil, and plenty more. Each type of vitamin coffee is curated to address specific health concerns. This includes everything from supporting immune function and stamina to boosting cognition, focus, and memory.
How Does Vitamin Coffee Taste?
This is understandably the biggest concern coffee lovers have when they first hear about the idea of vitamin coffee. However, fret not. The best vitamin coffee brands are meticulous about their formulation to ensure there are no weird or unpleasant flavors. They know that can't sell coffee if it tastes like vitamins. I remember how skeptical I was about drinking vitamin coffee at first. But I soon realized these concerns were unfounded. In my experience, the vitamin coffees will offer an unadulterated flavor but with all the benefits of vitamins.
What types of Vitamin Coffees are Available?
The vitamin coffee industry has grown leaps and bounds in the past few years. There's something for almost every type of health issue.
Nootropic Coffee
For example, nootropic coffee, a term we mentioned at the beginning of this article, refers to coffee that has substances that specifically improve cognition.
For some brief history, the term "nootropic" was first coined by Corneliu E. Giurgea who was a Romanian psychologist and chemist. He specified that a nootropic must meet the following requirements which incidentally disqualifies caffeine from being a nootropic.
Enhance the memory and learning process
Enhance resistance of learned behaviors to conditions with the tendency to disrupt them
Protect the brain from physical or chemical damage
Increasing the effectiveness of the tonic cortical and subcortical control mechanisms
Be non-sedating, have minimal side effects, or none at all, and be non-toxic
Related Article: Best Nootropic Coffee
Coffee for Immune System, Stomach Health, Metabolism, etc
While nootropic coffee is considered a large subsection of vitamin coffees, there are plenty of other types of brews that will give you the health support you need. As an example, there are brands that offer products that focus on stomach health and gastrointestinal care. Some of these are considered low acid coffees although not every low acid coffee has vitamins in them.
Vitamin coffees focused on improving metabolism and diet may include Garcinia cambogia which is a naturally derived exotic fruit extract. These types of coffee can help with satiety.
Vitamin coffee is a fairly broad category of product so we won't cover every single type here in this article. The idea is to inform the reader of the sheer number of options that are available. Of all the vitamin coffee brands available, VitaCup offers the broadest selection of coffees formulated for specific health issues.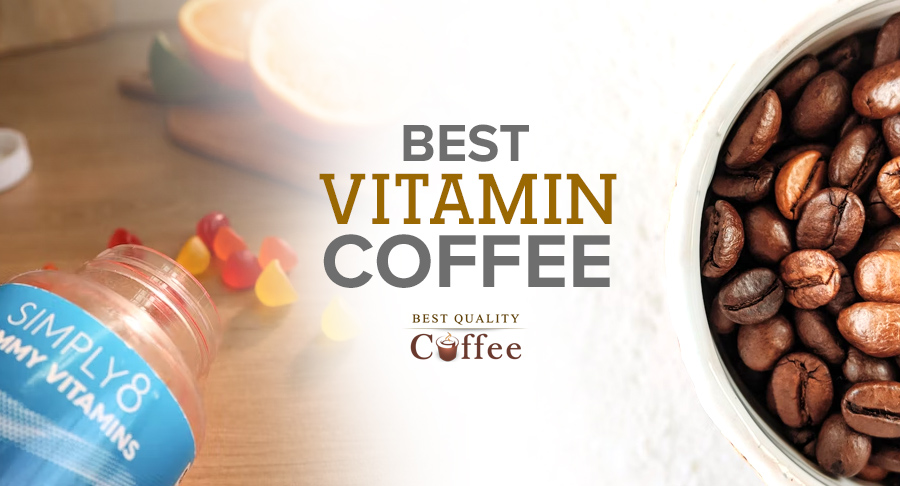 What are the benefits of Vitamin Coffee?
This is a broad question that warrants a broad answer. As we've discussed, depending on the vitamins present in the coffee, there will be different types of benefits conferred.
Most of the best vitamin coffee brands will produce a brew that has minimal if no caffeine crash
Steady and sustained source of energy
Confers a variety of health benefits
Convenient
What are the Benefits of Nootropics
The benefits of nootropics are many and equally varied. Because the term nootropics covers a wide variety of substances that improve overall cognitive function, each substance will offer a different benefit. For example, Four Sigmatic leverages concentrated mushroom extracts while Kimera Koffee contains natural amino acids such as Alpha GPC, Taurine, DMAE, and L-Theanine. Meanwhile, VitaCup is choked full of vitamin B's. Being that each coffee uses different nootropics, each a coffee will deliver different benefits.
Having said this, nootropic coffees as a whole offer the following benefits.
Improve memory and focus
Foster creativity
Increase blood flow in the brain thereby supporting the regeneration of brain cells
Speed up learning processes
Improve your mood
Increase motivation and focus while exercising
Combat physical and mental stress by regulating brain chemicals
Nootropics can be very fast-acting no different than caffeine. In the same way that first sip of coffee gives you a near instantaneous boost of energy and clarity, so to can nootropics give you instant brain power. Whether it's studying for an exam or aiming to meet a near-approaching deadline, nootropics can give you what you need when you need it.
Choosing the Best Vitamin Coffee?
Let's be honest here. I'm a coffee lover first. That being said, I won't drink coffee that tastes bad no matter how healthy is it for me. I'll leave the reader to decide whether that's a mature perspective or not.
But in the end, when it comes to choosing the best vitamin coffee, you'll want to choose something that's as delicious as it is healthy. This will boil down to the infusion process as well as the quality of coffee.
Choosing the best vitamin coffee is not unlike choosing your favorite regular coffee. The main difference is identifying your goals for what health benefits you want to derive from your morning brew.
Grind and Delivery Form
Vitamin coffees come in all forms including whole bean, pre-ground, and coffee pods. However, most vitamin coffee will come preground form since adding vitamins to ground coffee can help with absorption.
If you're a fan of the K-Cup or coffee pod, we suggest going with VitaCup.
Roast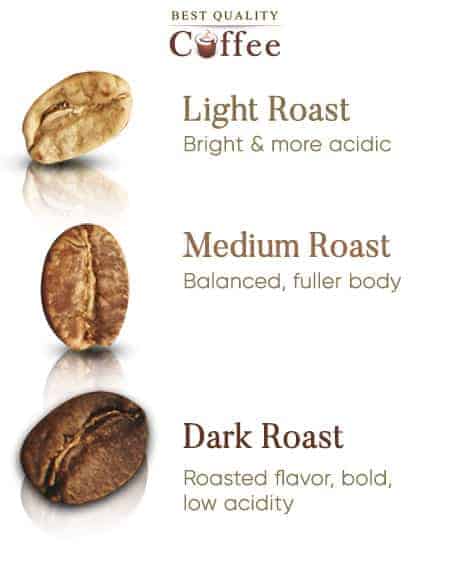 Light roast coffee will allow more of the bean's natural flavor to express itself.
On the other hand, darker roasts will deliver a richer and bolder flavor mixed with a slight smokiness that naturally results from the bean being exposed to hot temperatures for a long period of time. Kimera Koffee and VitaCup offer excellent choices for a quality dark roast vitamin coffee.
Related Article: Differences between coffee roasts
What Are Your Health Needs?
Each vitamin coffee will have a varying mix of vitamins and ingredients. Additionally, these ingredients will be present in different quantities. When selecting the best vitamin coffees, consider what areas of your health you want to improve. For example, are you looking to improve mental clarity and focus or is it immune support that you need to strengthen? In any case, be sure to read the description on the packaging to know the specific focus of the given vitamin coffee product.
Final Thoughts: Best Vitamin Coffee Guide
Hopefully this guide will have provided you with a foundational understanding of what vitamin coffee is all about. Who'd have thought that drinking coffee could actually help make you healthier and smarter? Coffee is already known for its natural antioxidants so adding vitamins just further makes this magical brew all the more beneficial.
Please note that this information is for educational purposes only. If you have any health concerns, please consult your doctor or healthcare professional.
For the health conscious coffee lover, check out our list of the best healthy coffees.
Related Links: Check out our selection of exotic K Cups to enjoy the best of both worlds.