[Updated: September 28, 2023] September marks the official arrival of one of coffee's most significant events of the year: The release of the best Pumpkin Spice Coffee. As one of the most popular coffee flavors ever conceived, pumpkin spice coffee has won over the hearts of coffee lovers around the world. And these are folks who neither have an affinity for pumpkin, pumpkin pie, nor spice. But there's just something captivating about this comforting seasonal coffee flavor that coffee lovers around the world can't get enough of.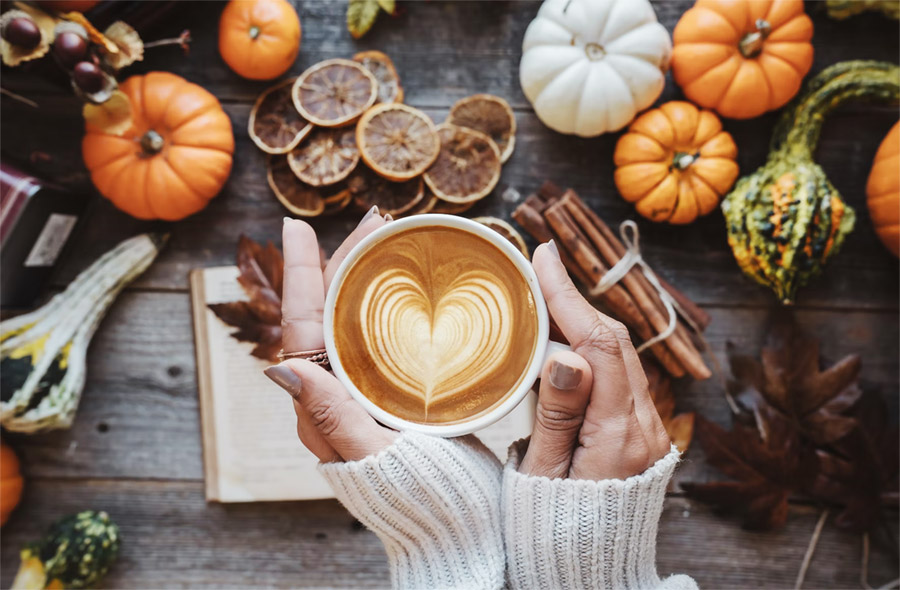 Pumpkin spice coffee is a seasonal favorite that many people enjoy during the fall months. It is made with a blend of coffee beans and pumpkin spice, which typically includes cinnamon, nutmeg, cloves, and ginger. Pumpkin spice coffee can be enjoyed black or with milk and sugar.
There are many different brands of pumpkin spice coffee available, and it can be difficult to know which one to choose. This guide will review the best pumpkin spice coffee brands of 2023, so you can find the perfect cup of coffee to enjoy this fall. In this list, we also feature the best pumpkin spice K Cups for those with Keurig brewers.
Low acidity with very full flavor

USDA Organic, Mycotoxin-free

Get 20% off with code: BESTQUALITY

Coffee grown in Volcanic Soil

Only natural ingredients used

Get 12% off with code: BESTQ12

Naturally flavored with syrupy and sweet notes

Beans sourced for high level of antioxidants

20% offf by signing up for newsletter
The Best Pumpkin Spice Coffee of 2023
Lifeboost Pumpkin Spice Coffee
Lifeboost Coffee tops our chart of the best pumpkin spice coffee for more than just a single reason. Having spent much time with their coffee (review), we've found their specialty-grade encompasses the Third Wave Coffee movement. Their Pumpkin Spice coffee is a well-balanced medium roast sourced from a small farm in Nicaragua. Enjoy the natural and thrilling taste of cooked pumpkin, organic cinnamon, nutmeg, and cloves to sweep you away to an autumn paradise. Get 20% off your entire order by using this code: BESTQUALITY
What we like most:
Single Origin
USDA Organic
Mold Free, Mycotoxin Free
Low acid coffee which means it's easy on your stomach
Volcanica Coffee Pumpkin Spice
Volcanica Coffee has been a long-time favorite of ours for the simple fact the quality of all their coffees is exceptionally high. To the benefit of coffee lovers around the world, Volcanica Coffee offers this flavor all year round. Medium roasted to perfection, this coffee is made from only natural ingredients and delivers the joys of tasting pumpkin pie in a singular coffee experience. Use our exclusive Volcanica Coffee discount code and coupon to get you 12% off your entire purchase. Code: BESTQ12
What we like most:
Uses all natural ingredients

Grown in Volcanic Soil producing a unique flavor profile (hence the name)

Customer satisfaction guarantee
Real Good Coffee Pumpkin Spice
Real Good Coffee (RGC) is an aptly named coffee brand that we've had a chance to try as well (review). And we loved it. Best known for bold-tasting coffee, their pumpkin spice flavored coffee is essentially their light roast but infused with this delicious autumn flavor. The decision to light roast this delightful coffee bean allows for more of the beans natural flavors to come out. It's full-bodied and teeming with flavors of nutmeg, cinnamon, and allspice.
What we like most:
Sourced from Central America
Roasted in Seattle
Customer satisfaction guarantee
Responsibly Sourced
Starbucks Pumpkin Spice
Of course no list of the best pumpkin spice coffees would be complete without the one that started it all. Starbucks pumpkin spice coffee sources 100% arabica coffee and features notes of cinnamon, nutmeg, and pumpkin. This is a seasonal blend that's only available certain times of the year. As such its availability is very limited. This medium roasted brew uses only natural flavors and doesn't taste artificial which is a huge bonus. Enjoy a truly deep and multi-sensory pumpkin spice coffee experience that will warm your heart and palate on a brisk autumn morning. All we can say is…thank you Starbucks for creating this flavor.
What we like most:
Naturally flavored
Refined, balanced, yet robust pumpkin spice flavor
Out of the Grey Coffee Pumpkin Spice
Out of the Grey Coffee has produced a pumpkin spice that yields a smooth, warm, and enticing flavor of spicy cinnamon. It also offers notes of sweet syrupy brown sugar and pumpkin. They call this brew Pumpkin Snuggle and it's a fitting name. This is a medium dark roast that offers a particularly robust taste and full body. This coffee, like Lifeboost, is low acid coffee so it's gentle on the stomach but strong on the taste buds. They also offer this seasonal flavor in decaf via the natural Swiss Water Process.
What we like most:
Naturally flavored
High level of antioxidants
Low acid and easy on the stomach
Best Pumpkin Spice K Cups and Coffee Pods
For those who are looking for the best pumpkin spice K Cups and coffee pods, we've got you covered as well. To no surprise, some of them will be repeats of the above coffee brands as they also offer their delightful flavor in the convenient K-Cup delivery form.
Maud's Pumpkin Spice K Cups
Maud's "It's The Great Pumpkin, Mrs. Brown" Pumpkin Spice Blend is a classic amongst Maud's wide selection of coffee flavors. The brand has earned a name for its high end coffee pods and has already become an American classic. Their pumpkin spice coffee is made from 100% Arabica beans and is drenched in warm and crisp autumn flavors. This coffee is a medium roast and would be described as having a distinct, well balanced pumpkin flavor…not too strong and not too weak.
What we like most:
Very smooth coffee

Balanced pumpkin spice flavor

Recyclable Coffee Pod
Starbucks Pumpkin Spice K Cups
It would be a travesty if the very pioneers of the pumpkin spice flavor didn't offer it K-Cup and coffee pod form. Fortunately, Starbucks does and their pumpkin spice K Cup captures all the glorious taste of their whole bean and ground coffee in this convenient form. This is a light roast so you'll get to taste all of the subtle nuances this bean has to offer.
What we like most:
Naturally flavored
Refined, balanced, yet robust pumpkin spice flavor
Green Mountain Pumpkin Spice K Cups
Green Mountain is no stranger to the world of quality K Cups. This global brand in partnership with Keurig is actually responsible from bringing the K-Cup Pod to the masses. Their pumpkin spice K-cups are always big sellers each year and deliver a warm spice flavor accompanied with a decadent creamy body. Light roasted to perfection, this coffee sources 100% Arabica coffee beans.
What we like most:
Recyclable K Cups
Full flavor
Peet's Coffee Pumpkin Spice K Cups
Peet's Pumpkin Spice K Cups are perfect for those who prefer a lighter roast and lighter body for their seasonal coffee. This naturally flavored brew offers comforting notes of toasted nuts, cinnamon, and nutmeg that captures what the pumpkin spice experience is all about. Overall, it has a more grounded yet distinct flavor when compared to some of the other coffees on this list. We love the fact that it's single origin coffee sourced from Brazil.
What we like most:
Naturally flavored
Recyclable K Cups
Single Origin
Dunkin Pumpkin Spice K Cups
Dunkin' Coffee fans can now rejoice with the arrival of this seasonal Pumpkin Spice K Cup. It captures all the classic flavor of Dunkin's baseline coffee but with added flavors of pumpkin, nutmeg, and cinnamon. These beans are medium roasted to accentuate their natural flavors while being infused with a pumpkin spice taste that will delight the senses. As with all Dunkin' coffee products, this coffee offers a bold and robust flavor that's perfect for those who like a strong brew.
What we like most:
Medium Roast
Recyclable K Cups
Classic Pumpkin Spice flavor
What's the History of Pumpkin Spice Coffee?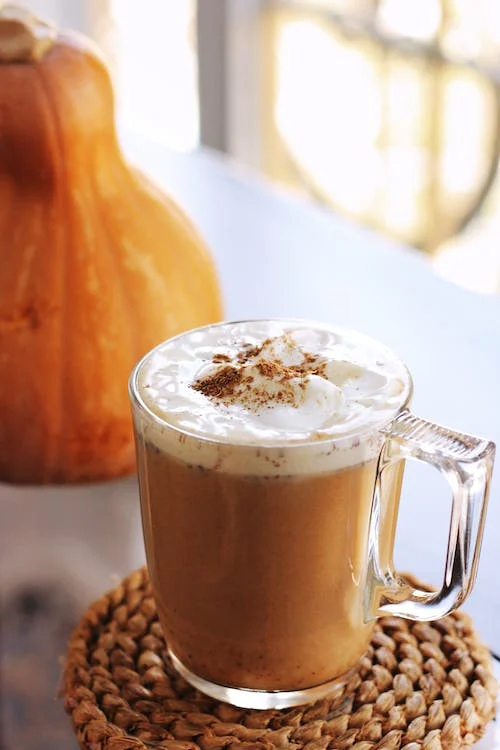 Honestly, the thought of mixing coffee with any flavor of pumpkin or spice might seem odd to someone who doesn't know better. But the pumpkin spice was first introduced to the market back in 2003 by none other than Starbucks. It became one of the franchise's most popular flavors. The demand was so high that it could've been fairly classified as a craze. Believe it or not, when this flavor first came out it didn't even have any pumpkin flavoring in it. It was simply an ingenious balance of spices and complementary flavors.
It wasn't until 2 years later in 2015 that the company decided to using a "pumpkin puree" instead of artificial flavorings. And thus a new era of Starbucks pumpkin spice was born.
Since Starbucks first released this flavor, other coffee brands have jumped in on the craze and come up with their own fantastic combination of Fall flavors. Some coffee companies even offer this "seasonal flavor" all year.
As with all coffee flavors, Pumpkin spice coffee can purchased in whole bean, ground, or K-Cup form. The best Pumpkin Spice K Cups will typically be 100% arabica beans and single origin.
It's an indulgent coffee that's easily one of the best flavors of coffee ever invented.
Related article: Best Flavored Coffee
Things to Consider When Buying the Best Pumpkin Spice Coffee
In truth, many of the things to consider when buying the best pumpkin spice flavored coffee also apply to buying any flavored coffee. And yet, it's still worth going over for those relatively new to the flavored coffee world.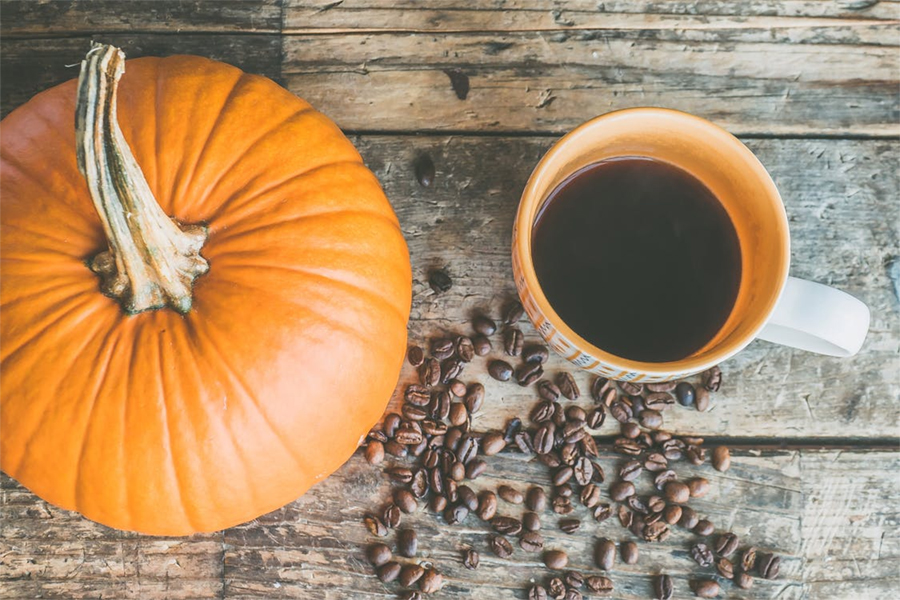 Roast Date
Freshness is super important when it comes to coffee…and especially when it comes to finding the best pumpkin spice coffee. Be sure you check the roast date to ensure you get the best coffee experience possible. Peak brewing times for beans vary from one coffee expert to the next, but typically you'll want to brew your coffee within 7 – 14 days of the roast date. Please remember that roast date and expiration date are two different things.
Price
The price for the best pumpkin spice coffee varies depending on the quality of the bean. It can range anywhere from $12 – $35 for a 12oz bag. Single origin beans will generally be more expensive while blends will be more cost-effective. Also affecting the price is the quality of flavoring. Natural extracts will usually cost more than artificial flavoring. I personally prefer natural flavoring when it comes to my flavored coffee. Pumpkin spice coffee that tastes to artificial or "chemically" is a turn off for me. But as the saying goes, to each their own.
Packaging
Packaging is important from the perspective of keeping your coffee fresh. You'll want the packaging to have a one-way air valve to protect your precious coffee beans from exposure to oxygen. Coffee beans go through a process called degassing where CO2 is released from the beans after roasting. The one way air valve allows the CO2 to leave while keeping the O2 from coming in.
Related Article: How to Store Your Coffee to Keep it Fresh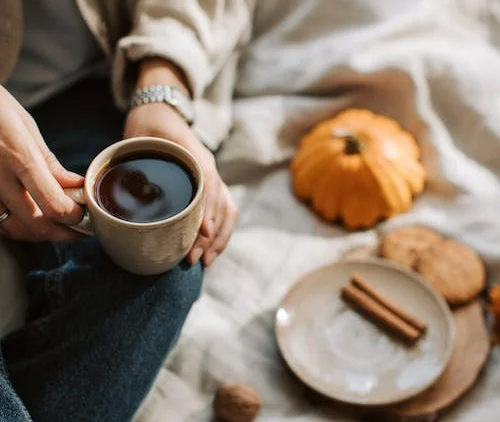 Whole Coffee Beans versus Ground Coffee
For the freshest coffee experience, always go with whole bean and grind them yourself. Pre-ground beans are convenient but it comes at the cost of freshness. As with other flavored coffees, Pumpkin Spice Coffee is available in whole bean, ground, and K-Cups.
Where are the Beans From?
A bean's country of origin will have a huge impact on its flavor. Even within each country there are further discrepancies in flavors since climate and soil quality from one area to the next greatly vary. That being the case, you can go with single origin coffee or blends. As mentioned earlier in this article, single origin coffees are generally regarded as higher quality since they're all sourced from the same geographical location. The quality is therefore consistent. Blends, as the term suggests, involves mixing beans from multiple places and as a result, can vary in quality.
What Type of Coffee Beans? (Robusta or Arabica)
Beyond what region a coffee bean was grown in, you'll also want to consider the "type of coffee bean". There are two main varieties: Robusta and Arabica. Robusta is a more bitter bean and contains nearly 2x the caffeine when compared to its Arabica counterpart. Arabica coffee beans are slightly sweeter and considered higher quality. You'll find that most specialty grade coffees will use Arabica exclusively. For the best Pumpkin spice coffee experience, stick with Arabica.
Learn more about the subtle differences between Robusta and Arabica Beans.
Choosing Your Roast for the Best Pumpkin Spice Coffee Experience
Pumpkin spice coffee is a unique taste unto itself. With definitive notes of clove, spices, cinnamon, nutmeg, and pumpkin this carefully-crafted combination of flavors should be matched with your roast. If you prefer a lighter body and more of the natural flavor of the coffee bean to come through, then go with a light roast. If you want a nice balance between a roast flavor and the natural bean's flavor, go with a medium roast. But for those who like a robust smokiness in their coffee, then a dark roast will be a good match.
Most of the best pumpkin spice coffee will be a light or medium roast. This is likely the case because coffee brands don't want the pumpkin spice flavor to be overshadowed by the flavor from the roast itself.
FAQ for Pumpkin Spice Coffee
Does Pumpkin Spice Coffee Have Pumpkin in it?
The answer to this commonly asked question is that it depends. You would think the answer should be a yes across the board. However, some coffee brands don't use any pumpkin at all while others such as Starbucks use a pumpkin puree. It's best to read the labels on the coffee packaging to find out whether there's actual pumpkin in pumpkin spice coffee. In reality, not having pumpkin in your pumpkin spice coffee isn't necessarily a bad thing as long as you like the taste. Ultimately, the best pumpkin spice coffee will be the one that you enjoy the most.
Are there any Benefits to Drinking Pumpkin Spice Coffee?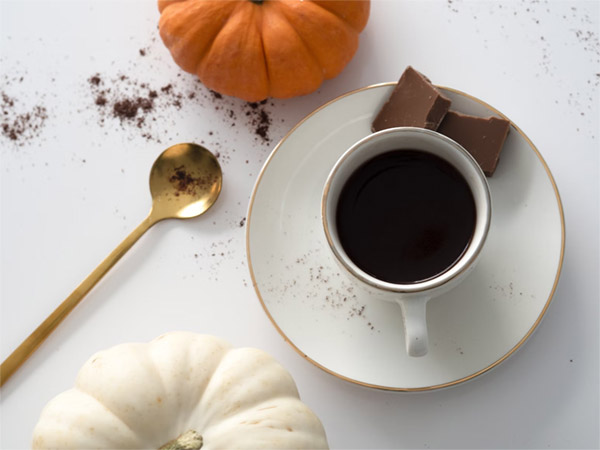 One of the benefits of drinking pumpkin spice coffee as opposed to a sugar-loaded Frappuccino is that it's a lot healthier for you. Cutting down on sugar intake is only a good thing. And with flavored coffees, you get a refined and subtle flavor that contains virtually no calories. This is especially important if you're practicing intermittent fasting or just fasting in general.
Can you Make Your Own Pumpkin Spice Coffee?
Up to this point we've discussed coffee that's been pre-flavored with pumpkin spice. However, did you know you don't have to go the store or coffee shop to buy the best pumpkin spice coffee? You can make it right at home. One of the benefits of making pumpkin spice at home is that you have the freedom to tailor it to your specific flavor profile.
You can buy nutmeg, cinnamon, clove, pumpkin puree, maple syrup, and/or pumpkin spice yourself and add them to your coffee as so desired. Of course you don't need to use all of those aforementioned ingredients. There's no shortage of pumpkin spice recipes on the internet so feel free to experiment with different ones until you find one that fits you.
When making your own pumpkin spice coffee at home, I'd recommend using a milk frother so you can achieve a creamy velvety texture. If your home coffee machine doesn't have one attached to it, a simple hand held milk frother will do just fine.
Side note: I'd recommend buying cinnamon sticks over the powdered form. I don't know if it's just me, but there the taste just seems more fuller and natural. Perhaps it's similar to the difference between whole bean and ground coffee. Alternatively, you can use premade pumpkin spice syrups to flavor your coffee.
For those who don't drink their coffee black, you can also use Pumpkin Spice coffee creamer to give your morning brew that festive and warm flavor we seek during the Fall seasons.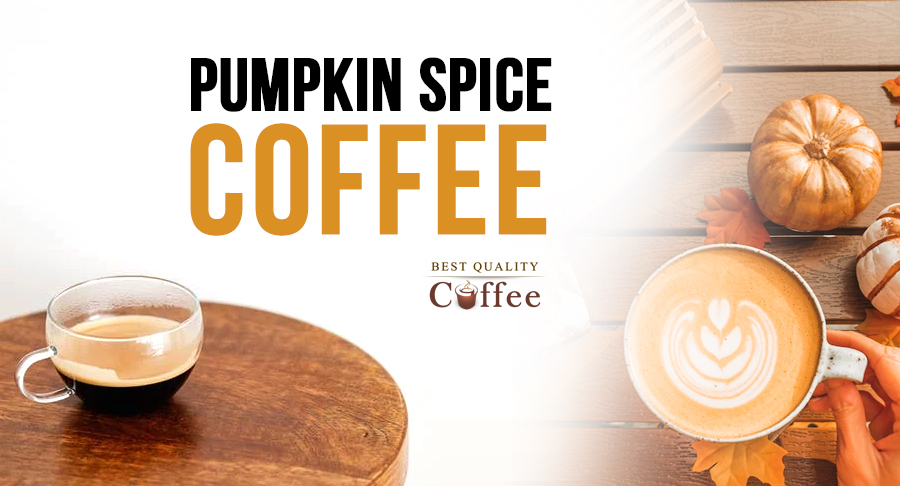 Is Pumpkin Spiced Coffee Seasonal?
The answer to this question again isn't straight forward. As mentioned earlier, some brands offer Pumpkin Spice coffee year round while others release this specialty flavor only once a year (typically the Fall, Thanksgiving, and Christmas season). The fact that this flavor is even offered throughout the year by some brands speaks to its booming popularity.
What's in a Pumpkin Spice Latte
It's worth noting that a pumpkin spice latte will contain different ingredients than pumpkin spice flavored coffee. Comparing the two would literally be like comparing apples to …. pumpkins. A pumpkin spice latte is undoubtedly sweet and rich.
Being that it's a latte, it will contain steamed milk of course. It's then enhanced with a mix of classic autumn spice flavors such as nutmeg, clove, and cinnamon. Sugar is also added to the drink which is lastly topped by whipped cream and a hint of pumpkin pie spice.
Final Thoughts on the Best Pumpkin Spice Coffee
This wraps up our guide to everything you need to know about pumpkin spice coffee. New flavors come and go but the coffee world has spoken and pumpkin spice is a flavor that's here to stay. As you can see from our recommendations, there are many excellent options to choose from when shopping for the best pumpkin spice flavored coffee. And while they are all solid choices, Lifeboost's Pumpkin Spice coffee is stands firmly as our top pick.
If you're pumpkin spice coffee isn't your cup of "tea', then there are plenty of other seasonal and holiday coffees to choose from.