Those who take their coffee seriously know the importance of a quality coffee grinder. In fact, investing in an affordable but solid coffee grinder can have a bigger effect on your final cup of coffee than spending thousands on a fancy coffee machine. Needless to say, a good coffee grinder is a worthy investment. For those looking to purchase a high-end coffee grinder but not spend high-end prices, you may want to consider the world of the open box coffee grinders. In this guide, we'll go over everything you need to know along with our top recommendations.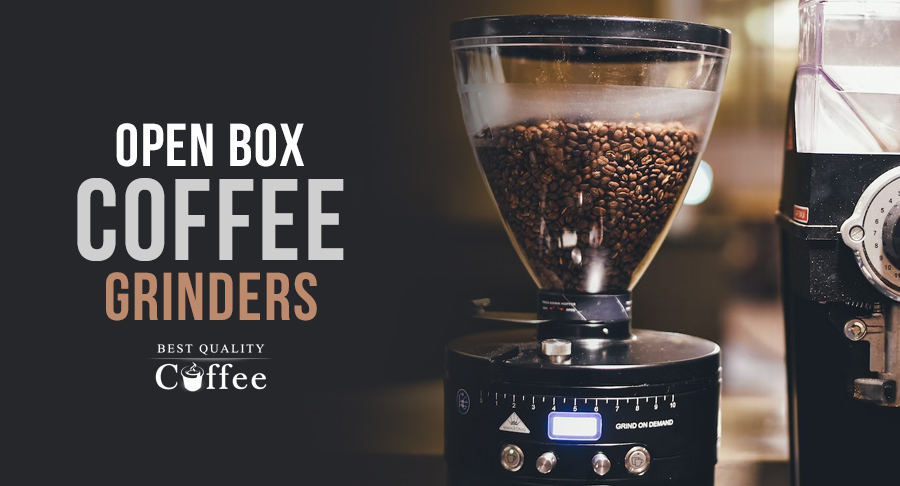 From simple $20 blade grinders to heavy duty burr grinders that cost as much as a used car, the price of coffee grinders varies greatly. Our list of open box coffee grinders covers a wide range of prices with the lowest being around $60 and the highest being over $1000. As is the case with the purchase of any piece of equipment, the best open box coffee grinder for you will depend on your specific needs.
Eureka Helios 80 Commercial Coffee Grinder (Chrome)
($1699 / $1349.97)
Starting off our list of the best open box coffee grinders is the Helios 80 by Eureka. This special chrome-colored model is a grand illustration of Eureka's top-notch craftsmanship and intuitive design. This commercial grinder was designed for the high demands of a high-volume coffee shop. Armed with an outsized 80mm burrset, this commercial grinder is efficient, durable, reliable, and extremely user friendly. It comes with a stepless grind adjustments for precision grind sizes. Additionally, it's bright touchscreen allows you to easily program three different dosing options while accessing a host of additional features. One highlight of this model that's often overlooked is its "high speed" maintenance feature which allows you to easily clean and replace burrs by removing just 9 screws.
80mm Burrs: Ultra-wide 80mm burrs and a large motor make the Helios 80 grind a double shot in under 3 seconds.
Stepless Grind Adjust: Quick, accurate grind adjustments are made easily with the top-mounted adjustment knob.
Touchscreen Control: A bright color touchscreen makes menu access a breeze.
Programmable Dosing -Set and save up to 3 grind times, or grind continuously, all on one screen.
Barista Ergonomics: Fun features like an adjustable and removable dosing spout, portafilter activation switch, and barista spotlights make the Helios a joy to use.
20A Circuit: The high-torque motor and large burrs require a 20a circuit and 5-20P socket.
This open box coffee grinder comes with a 1 year warranty provided by SCG
Solis Scala Zero Coffee Grinder – Open Box
($129 / $96.97)
The Solis Scala Zero is an excellent entry-level grinder for the coffee lover looking to fine tune their barista skills. A high value machine with a host of features including a 24 grind adjustment setting and an anti-static system for better static management. This open box Solis allows you reap the benefits of solid coffee grinder without paying full price. This coffee grinder comes equipped with an adjustable timer, anti-static spout, and an incredibly compact design to help you save on counter space.
Versatile Grinds: Optimized for budget espresso grinding, the Scala Zero gains additional grind settings, and better static management than the base Scala.
Stepped Settings: 24 grind adjustment steps makes getting the right grind even easier.
Timed Dosing: Save your ideal dose with the 60-second adjustable timer.
Anti-Static: An electrically charged anti-static system in the spout of the grinder helps reduce messy build-up in your grounds bin.
Compact: The Scala Zero's compact footprint and handy cord storage helps it tuck away on countertops and cabinets.
This open box coffee grinder comes with a 1 year warranty provided by SCG
Solis Scala Coffee Grinder – Open Box
($99/ $62.97)
Solis makes it onto our list of the best open box coffee grinders once more. This time it's the base mdoel of the Solis Zero for those just getting their feet wet in the world of precision coffee grinder. It's a very compact machine that uses conical burrs to produce quality grinds for your favorite brew methods. With 14 stepped grind settings and an adjustable 1 minute grind timer, this open box Scala is highly efficient and ideal for the budding barista. Best suited for drip coffee and other slow brew methods, this entry-level grinder offers tremendous value for especially its open box price. It comes with a 1 year warranty supported by SCG
Conical Steel Burrs: Sharp steel burrs boast quick, cool grinding.
Stepped Grind Adjust: 14 dedicated grind settings offer easy dial-in for Aeropress, pour over, French press and everything in between.
Timed Dosing: The Scala comes equipped with a built-in grind timer adjustable in 5 second increments.
Compact Footprint: Measuring in at a photo-sized 5″x7″ footprint makes the Scala easy to tuck away when not in use.
Tool-Free Disassembly: Burr access is a twist of the hopper away for cleaning and maintenance.
This open box coffee grinder comes with a 1 year warranty provided by SCG
Eureka Mignon Brew Pro Coffee Grinder – Open Box
($679/ $543.97)
Looking to make a morning cup of brew that can compete with your nearby cafe? The Eureka Mignon Brew Pro, with its stack of practical features, will make that dream a reality. Designed for drip coffee, this commercial coffee grinder offers a calibrated single rotation grind adjust and custom 55mm brew burrs. Achieving ultimate precision in your filter coffee is made simple with this open box Eureka Mignon coffee grinder. It also grinds your coffee in under 5 seconds while keeping the noise to a minimum within its sound-insulated case. The Open Box Brew Pro design is finished with a dual-function timer, tritan plastic for the bean hopper and catch bin, and a nifty grind system that starts with a single tap. This product comes with a 1 year warranty including parts and labor by SCG.
Buy Open Box Eureka Mignon Pro
Rancilio MD 40 Commercial Burr Espresso Grinder – Open Box
($1100 / $825.97)
The Rancilio MD 40 Grinder is a commercial-grade espresso grinder that's the smallest of the MD line. It's constructed from die-cut aluminum wrapped in polished steel and has a UV protected bean hopper that can hold over a pound of roasted espresso beans. It's designed to be a workhorse of a machine and boasted the ability to grind over 7 pounds of espresso beans in the span of an hour. It also features an integrated doser which makes it easy to tap out the perfect amount of grounds. This machine delivers quality, consistency and productivity without compromise. This open box coffee grinder comes with a 1-year warranty including parts and labor by SCG.
Eureka KR Doser Espresso Grinder- Polished Aluminum – Open Box
($2049/ $879.97)
Perfectly suited for larger high-volume coffee shops, the open box Eureka KR Doser machine is a performance coffee grinder tailored for long lines and morning rushes. Equipped with a 68mm conical burr, this machine is as efficient as it is precise. It can grind with pinpoint accuracy with little need for calibration over time. It's ideal for the coffee shop that needs speed without sacrificing quality. Other time-saving features include easy disassembly and cleaning without sacrificing your grind setting and a doser that lets you grind espresso en masse for quick back-to-back shots. Purchasing an open box Eureka KR doser espresso grinder allows you to save on almost 60% off its original price. This open box Eureka KR doser grinder comes with a 1 year warranty including parts and labor by SCG.
Conical Burrs: Large 68mm conical burrs excel at feeding and promise less grind adjustments than comparable flat burr grinders.
Bottom Burr Adjust: Like all other Eureka grinders, the Open Box KR adjusts from below the motor. This lets you disassemble and clean your burrs without losing your grind setting.
Stepless: A stepless grinder adjust offers more accurate dialing grind settings than stepped models.
Doser: This grinder is designed to grind into a doser for multiple shots.
1 year warranty including parts and labor
Buy Open Box Eureka KR Doser Espresso Grinder
Eureka Atom Pro Espresso Grinder – Open Box
($1599/ $1199.97)
The Atom Pro is a machine best described as swift, silent, and specialized. Designed for ultra-consistent single-dose grinding for both espresso and pour over brew methods, the Eureka Atom grinder features new long-cut 75mm burrs, an outsized fan-equipped motor, and the ability to grind a shot or pour over in seconds flat. This commercial coffee grinder will take your the accuracy, consistency, and speed of your grinding process to the next level. It also has magnetic portafilter/basket holders which are a very nice touch. It comes with a 1 year warranty by SCG that covers both home and commercial usage.
Specialty Burrs: Custom-cut 75mm steel burrs set the Atom Pro for a high-consistency single grind size.
High Torque Motor: A more powerful 920 w motor makes short work of espresso or brew grinds.
Cooling Fan: A built-in cooling fan helps keep grind temps lower over multiple grinds.
Manual Dosing: No timed dosing here! The Atom Pro features a single on/off switch to control grinding.
Blow-Up Hopper: A 1.1 pound (or half kilo) blow up hopper helps the Atom Pro single dose with less retention.
Magnetic Hooks: The Atom Pro features two magnet-equipped mounts for v60s/portafilters or brew baskets.
1 year parts and labor for both home and commercial usage
What's the Difference between a "Open Box" and "Refurbished"?
Each company may have their own "exact" definition on what each of these terms mean.
However, in general, open box machines never needed any major refurbishing or repairing. An open box coffee grinder could be a demo model or simply the result of buyer's remorse. Open box coffee grinders will have had gentle or light usage and may have been returned just because someone had a change of heart.
In either case, no actual restoration or refurbishing was ever needed and the grinder will be in perfect working condition. We recommending buying your open box coffee grinders from Seattle Coffee Gear, a trusted name in the coffee equipment industry. They offer warranty and service on their open box products so you can enjoy peace of mind along with your purchase.
Refurbished coffee grinders will also be in perfect working condition. However, the equipment will have undergone some kind of restoration or refurbishing work. This means that at some point, the machine may have not worked properly. Don't get me wrong. A refurbished coffee grinder can still offer excellent value provided it was refurbished by the manufacturer or a certified service provider.
As just mentioned, each company may have subtle differences in how they define Open Box and refurbished so we'd recommend checking their website for the specific answer.
Additionally, open box and refurbished coffee grinders may or may not come with all the accessories that would accompany a new machine. Be sure to check such details before making your purchase.
Why Buy a Open Box or Refurbished Coffee Grinder?
The most obvious reason for buying a used coffee grinder is that you can save a lot of money. A coffee grinder machine is subject to relatively low wear and tear. It sits stationery on a counter and as a general rule, doesn't get bumped and knocked around much.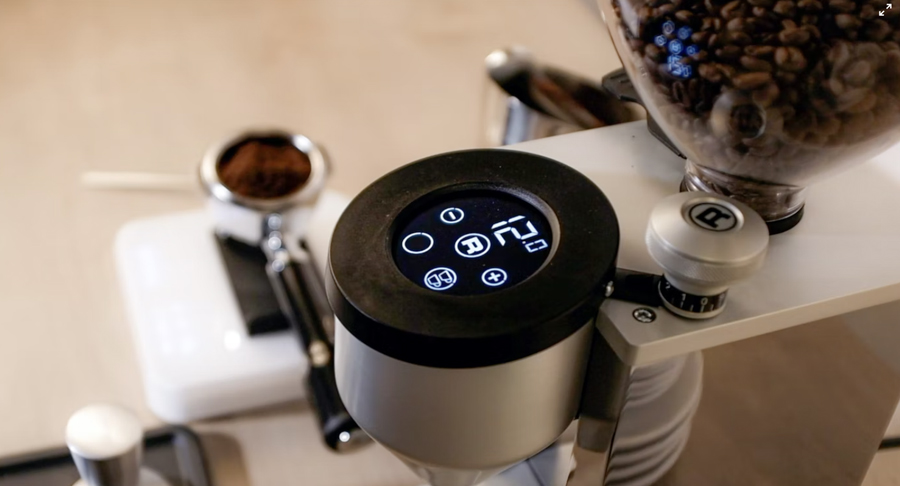 Depending on the open box or refurbished coffee grinder you buy, it's possible that you may have to replace the burrs and do some cleaning. After all, a coffee grinder is only as good as its burrs (or blades). If you have the know-how to replace coffee grinder parts, you can save even more money on your purchase. But if you're like most of us, you're better off buying a used coffee grinder that doesn't require you to do additional work.
In cases of refurbished coffee grinders, you should always know who refurbished the coffee grinder. Was done by the manufacturer or Joe blow in his home garage? The best refurbished coffee grinders will be refurbished by either the manufacturer or a certified service provider.
Also be sure to ask what type of warranty the coffee grinder comes with. Where do you send the machine in case of repairs? Who will do the repairing? When buying even the best open box coffee grinders, don't be afraid to pick up the phone and ask questions directly. Be sure that there's phone number where you can specifically speak with a customer service representative. Talking with someone from the company goes a long way.
Questions to ask when buying a refurbished coffee grinder
Who refurbished the coffee grinder
Does the refurbished coffee grinder come with a warranty. If so, how long and who will provide the service?
Is there a return policy?
Find out what previous work was completed on the coffee grinder in order to restore it to perfect working condition.
The Importance of a Good Coffee Grinder
Believe it or not, many coffee lovers don't realize how important the coffee grind itself is.
In their quest to produce the perfect cup of coffee, many invest hundreds and often thousands of dollars into upgrading their espresso or coffee machines only to see marginal improvements in their final cup of coffee. However, as mentioned at the start of this article, buying a simple but high quality coffee grinder can yield the biggest changes in your morning brew.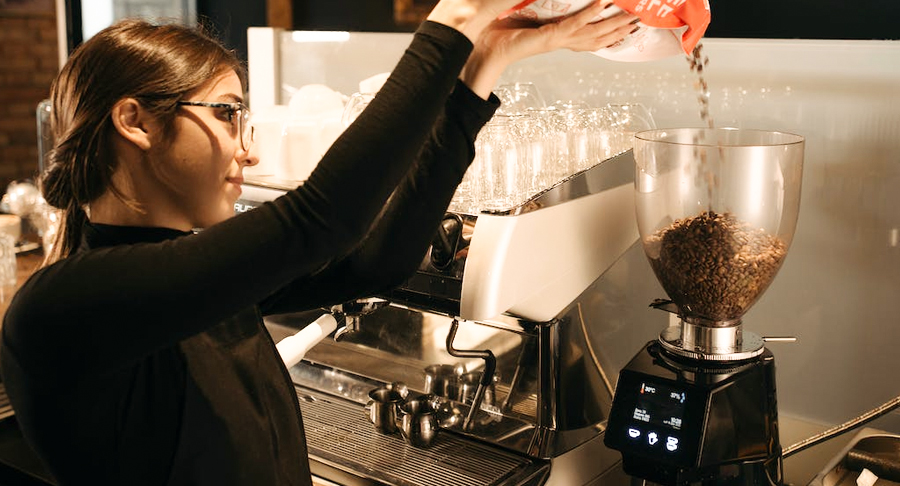 These open box grinders are handpicked for their quality and tested by our experts to ensure performance. Choose from conical or flat, stainless steel or ceramic burrs; stepped or stepless; and doser or doserless options to find the perfect match for your espresso machine.
What's Important When Buying a Coffee Grinder
When it comes to your coffee grind, the size and uniformity are extremely important. After all, coffee is a matter of chemistry and a whole slew of chemical reactions take place during the brewing process. While grind size gets a lot of attention, you may be surprised to learn that the uniformity or consistency of the grind is just as important. Blade coffee grinders typically produce a very uneven grind as a result of its inherent mechanics. Burr grinders on the other hand, offer the precision along with the consistency needed to produce the best cup of coffee possible.
As an overall rule, burr grinders are better than burr grinders.
Can I Use a Blender to Grind Coffee Beans?
The simple answer to whether you can grind coffee beans in a blender is yes. But should you? That's up for debate. Of course, if you have no other option then by all means go for it. Using a blender is better than trying to mash coffee beans with rocks.
The Vitamix blender even comes with a grains attachment that can be used to grind coffee beans. However, a blender no matter how the high quality, simply won't give you uniform grinds like a burr grinder will.
Related Article: Grinding Coffee in Your Blender
I've been drinking coffee for decades, and I can tell you that a quality coffee grinder will always beat out a blender. Coffee grinders grind beans to the correct size (not smashing them into uneven powder) so they brew evenly. Unlike blenders, grinders don't use blades – blades chop up beans too much and produce "dusty" grounds that can potentially damage your blender by clogging it and causing it to overheat.
Buying Open Box Coffee Grinders: Final Thoughts
In the end, whether an open box coffee grinder is the right fit for you will ultimately come down to your preferences and budget. As this article will have hopefully illustrated, going down the "open box" route can really help you get the most bang out of your coffee buck. Remember, it's always important to pay attention to the warranty that comes with your purchase. Some warranties only cover home usage while others cover both. Be sure to contact the specific seller to find out which one they provide for your particular model.
The journey toward the perfect cup of coffee involves fine-tuning many factors. While a coffee grinder is key to a good cup of coffee, we still can't overlook the importance of a quality coffee machine. If you're interested in purchasing a open box coffee machine or open box espresso machine, please check our guide.
Related Link: Are you interested in keeping your coffee hotter for longer. Shop the best coffee airpots and coffee carafes.