Believe it or not, the topic of flavored coffee can be controversial amongst coffee snobs and connoisseurs. These coffee lovers with refined palates submit that the magical coffee bean is to be left untampered with. While I can appreciate the authenticity of unflavored coffees, the world of flavored coffee has so much to offer…especially when talking about the best flavored coffee. Since not all flavored coffees are equal, we've compiled the ultimate list of the most popular coffee flavors that are certain to meet the abnormally high standards of coffee snobs. We'll also cover exactly how flavored coffee is made, and why it's worth a try.
If you're not in the mood to read, we've identified our top 3 picks that we believe are indicative of some of the best the world of flavored coffee has to offer. Be sure to check out our full list though as there are many flavors to choose from.
Use the chart below to identify your favorite flavor and see our recommendations for the corresponding coffee.
It's worth mentioning that our criteria for what constitutes the best flavored coffee is based on both the quality of the coffee bean, overall flavor, and the quality of the extracts used to flavor them.
The Best Flavored Coffee for Coffee Snobs
Lifeboost Coffee's French Vanilla is our top choice for best French vanilla coffee for a number of reasons. In addition to being single origin , organic, and low acid, these flavored Nicaraguan coffee beans are infused with natural French Vanilla oil extract. These extracts are derived only from their natural sources and ingredients. This translates into a French vanilla flavor that's deliciously distinct but not artificial in any way.
Derived Only From Their Natural Sources And Ingredients.
Zero Added Sugar.
Zero Added Calories.
Only the Highest Quality Essential Oil Extracts.
Natural Oil Based Extracts Versus Artificial/Chemical Extracts
Creamy and Bright

Buy Lifeboost French Vanilla
As one of the most popular coffee flavors, the Hazelnut has won over the hearts of millions of coffee snobs around the world. It's often considered a dessert coffee flavor with its sweet buttery flavor combined with a delightfully nutty aroma.
Fabula Coffee has produced a most impressive Hazelnut coffee. In addition to offering a mildly spicy and balanced Hazelnut flavor, it's low acid to boot so it's very easy on your stomach. This delightful brew is perfectly paired with a sweet dessert with its delicate notes of chocolate and cacao. It's sweetness rests on the tongue and has what we'd call long-lasting character. The coffee beans are sourced from Peru and medium roasted to perfection allowing the natural flavors of the bean to express themselves. Enjoy 20% of with this Fabula Cofffee discount code: BQC20
The flavor of the hazelnut is mildly spicy, with a slight tingle on the side of the tongue.
Low Acid
Single Origin
Very refined and subtle flavor

Buy Fabula Hazelnut Coffee
Out of the Grey Coffee is one of many coffee brands on this list who've perfected the art of flavored coffee. Their Chocolate Raspberry coffee is a grand illustration of this. There's just something about merging chocolate and raspberries that excites the senses beyond with either can do alone. Their coffee is a blend of Colombian Supremo, Guatemalan Antigua & Costa Rican Tarrazu beans and only natural flavorings are used. The taste of this coffee is intense and coffee lovers will be treated to both a rich dark chocolate experience matched with a tangy raspberry flavor. These beans are then medium dark roasted to perfection.
All natural flavors
Intense & silky flavors of rich dark chocolate topped with tart & tangy raspberries.
Medium Dark roasted

Buy Chocolate Raspberry Coffee
Fabula Coffee once again makes it on our list of best flavored coffees. This time, it's their buttery caramel flavored coffee.
Caramel is easily one of the most popular coffee flavors due to its robustly smooth and sweet characteristics. This decadently rich dessert flavor when combined with the refinedness of a high-quality coffee bean yields an experience that's captured the hearts of coffee lovers around the world.
As with many of Fabula's other flavored coffees, this brew delivers a natural taste that complements the natural flavors of the beans themselves. These Peruvian beans when combined with the sweet buttery caramel flavor make for a match made in coffee heaven. There are even subtle chocolatey notes to accent the experience. Enjoy 20% of with this Fabula Cofffee discount code: BQC20
Nutty, chocolatey coffee with a touch of buttery caramel
Low Acid
Single Origin
Very refined and subtle flavor

Buy Fabula Caramel Coffee
Copper Cow Coffee is a company known for its Vietnamese coffee which is a unique mix of Robusta and Arabica beans. This coffee is worthy of coffee snob standards in that it delivers a very heavy yet natural caramel flavor punctuated by a pinch of salt. It's true salted caramel coffee in every sense of the world. This authentic flavoring is simply because the brand uses only 100% natural flavorings. There are no mysterious artificial additives or synthetic concoctions. As a result, you'll be able to taste smooth and natural notes of rich chocolate and nutty undertones. As an added bonus Copper Cow Coffee sustainably sources their coffee and pays their Vietnamese farmers 2x the market rate.
Mix of Arabica and Robusta Beans for an extra kick
100% Natural ingredients
Strong natural caramel flavor with a pinch of salt
Rich chocolate, nutty undertones, and very smooth

Buy Copper Cow Salted Caramel Coffee
Coffee lovers with who appreciate the subtle sweetness of butterscotch in their coffee will appreciate this brew by Volcanica Coffee. Butterscotch is a close cousin to caramel, but by no means the same thing. Invented by Samuel Parkinson in Yorkshire, England in the early 1800's, this magnificent flavor is made with butter and brown sugar. The resulting mixture is then caramelized with vanilla, heavy cream, and salt.
If you've ever eaten butterscotch by itself, you might've felt overwhelmed by the sweetness. After all, it's known for its mind boggling sweetness. However, with this butterscotch flavored coffee, you'll be treated to a well-balanced flavored coffee brew where the butterscotch taste is subtle yet distinct enough to appreciate. Use our exclusive Volcanica Coffee discount code and coupon to get you 12% off your entire purchase. Code: BESTQ12
Sweet intense flavor of butterscotch toffee without any of the guilt.
Notes of caramel
Medium roasted

Buy Butterscotch Coffee
Competition for the best pumpkin spice coffee is fierce. It's literally one of the most popular coffeee flavors in the world of flavored coffees. Lifeboost graces this list once again with their natural oil based extracts used to flavor their coffee. This pumpkin spice single origin coffee delivers a mesmerizing flavor of pumpkin, cinnamon, nutmeg, and even clove essence. While this is considered a seasonal coffee flavor, it's no doubt a taste that can be enjoyed and savored year round.
No list of the best flavored coffee would be complete without at least one barrel aged coffee brew. Fans of flavored coffee would be doing themselves a disservice if they didn't explore the world of whiskey barrel aged coffees…and we say that even if you aren't a Whiskey fan.
The world of Whiskey barrel aged coffees was pioneered by Cooper Cask Coffee. They're a brand that's brought this particular niche' to the forefront of the flavored coffee world. We can say from personal experience that their sterling reputation in the industry is well-deserved. In order to infuse the Whiskey flavor into these premium Sumatran coffee beans, they are left to age in recently emptied Whiskey barrels for up to months at a time. The final result is an explosion of flavor with woody earthen notes and mild sweet tobacco. No list of the best flavored coffee would be complete without Cooper Cask Coffee.
Barrel Aged: Uprising (Son's of Liberty Whiskey): Single Malt American Whiskey
Coffee Beans: Sumatra Lintong
Medium Dark
Tasting Notes: Woody Earth, tobacco, tropical fruits, vanilla, caramel

Buy Whiskey Coffee
Royal Kona meets appears on this list of best flavored coffee for the first time with their Vanilla Macadamia Kona Coffee brew. In addition to its natural vanilla and macadamia nut flavorings, the coffee beans are a blend of 10% pure Kona. For those who don't Kona coffee is some of the most exotic coffee in the world and is grown in the world-renown Kona mountain region in Hawaii. This blend will whisk you away to the warm island sands of Hawaii with its unbelievably smooth flavor.
If you're a fan of Irish Creme, you'll appreciate Volcanica Coffee's premium flavored coffee offering. Their medium roasted Irish Creme treats you to an amazingly smooth, rich, velvety flavor that captures the authenticity of quality Irish Creme Whiskey. Irish Creme offers a most gratifying coffee experience that I'd highly recommend trying. It's impressively balanced and mellow while teeming with an uplifting taste. Enjoy the classic flavor of Irish Creme without the alcohol but with all the caffeine.
Boyer's Coffee takes our spot for the best pecan coffee with its light roasted brew. It's perfect for those who appreciate a refined and subtle pecan flavor with enhanced nutty notes throughout the entire tasting experience. This coffee has a mild acidity and a pleasing aroma that's certain delight your senses. Customer reviews tout the smoothness of the coffee and the absence of virtually any bitterness.
Very smooth coffee with no bitterness
Light Roast
Colorado crafted
Part of profits are donated toward building schools within their growers' communities

Buy Pecan Coffee
Fire Department (FDC) is a veteran owned and fire fighter owned coffee company known both for its charitable work and excellent coffee. We selected this particular brew for our list of best flavored coffee because of its depth and uniqueness of flavor. One of FDC's most popular is its Bourbon infused coffee which delivers the sweet and refined taste of spirit-infused bourbon coffee. The only thing better than its deep luxurious aroma is its equally rich taste. It's super smooth, super bold with subtle notes of chocolate and popcorn. Whether you're a fan of bourbon or not, you'll still likely appreciate the multi-sensory coffee experience this bourbon coffee offers.
Very smooth coffee with no bitterness
Medium Roast
Available in ground and whole bean options

Non-alcoholic

Veteran and Fire department owned company
Why Drink Flavored Coffee?
Flavored coffee, as a genre of coffee, attracts those who appreciate the natural flavors of a coffee bean while also desiring a little extra flavor kick.
From a health perspective, flavored coffee make excellent alternatives to sugar-loaded lattes which are guaranteed to spike insulin levels through the roof. They are also an ideal substitute for those who add copious amounts of syrup to their coffee.
Flavored coffees have virtually no calories. This is particularly helpful for those who are doing intermittent fasting or fasting in general as drinking flavored coffees will not break your fast. Also, for anyone who is on the ketogenic diet (like I am), drinking flavored coffee will not break keto either.
How to Find the Best Flavored Coffee Beans for Your Profile
Believe it or not, shopping the best flavored coffee beans is more than just knowing what flavor you like. There are many other variables that affect the final taste of a good cup of flavored Joe. Of course, all of these variables will be subject to the individual.
Consider the Roast
Like all coffee, flavored coffee comes in a variety of roasts. You can choose from light, medium, and dark. In some cases, coffee brands offer a medium dark which is obviously a half way point between a medium and dark roast. Light roasts typically allow more of the coffee beans natural flavors to express themselves. On the other hand, a dark roast will have a smokier flavor that's the result of longer exposure to roasting. A medium roast serves as an enjoyable balance between the two ends of the roasting spectrum.
Most specialty coffees will be either a light or medium roast.
Related Article: Learn the differences between roasts
Consider the Price
The price of flavored coffees varies. I've found that like with most things, you get what you pay for. Certain designations such as USDA organic, Fair Trade Certified, Shade Grown, and Rain Forest Alliance will typically increase the price of the coffee. Not all designations will carry the same value from one coffee lover to another. For example, I may place a premium on organic coffee where as another may find that it's far more important that the coffee was ethically sourced via Fair Trade practices. As someone who can appreciate saving money on their coffee, always check to see if a company offers discount codes or coupons. Often times, subscribing to a recurring subscription will save you additional money.
Consider Buying Single Origin Coffee instead of Blends
Single origin coffee is coffee sourced from a single farm or region. This typically results in a higher quality coffee experience as you'll be treated to consistent flavor and most importantly, consistent quality. In contrast to single origin coffee are blends. Blends are a mixture of beans from different farms or coffee growing regions. Blends can be great, but often times not all of the beans are of the same quality. With certain blends, lower quality beans are used as fillers.
Ethics and Business Practices
Whether you're buying flavored coffee or regular coffee, it's always a good idea to check out a coffee company's business practices. The coffee industry has a very broad supply chain. As a result, many coffee workers and farmers are drastically underpaid. Additionally, given coffee's global popularity and mass harvesting practices, the coffee industry has certainly left its environmental mark on the world. This being the case, it's worth finding out whether a coffee company practices sustainable farming and sources their coffee ethically.
How is Best Flavored Coffee Made?
Flavor is almost always added to the coffee beans after they are roasted. If flavor was added to the coffee beans prior to roasting, the flavor would dissipate and be lost during the roasting process. The flavor is added while the beans are still warm not long after being taken out of the roaster. The timing is actually very important in this process. If it's done too quickly while the beans are hot, the flavor would burn off. If done too late, the hardened shell of the coffee bean would prevent 100% absorption.
The flavor added to the beans can be either natural or synthetic. Natural flavors tend to taste…..well….more natural. Additionally, when you use natural flavors, you also benefit from any antioxidants or health benefits that come from the natural extract.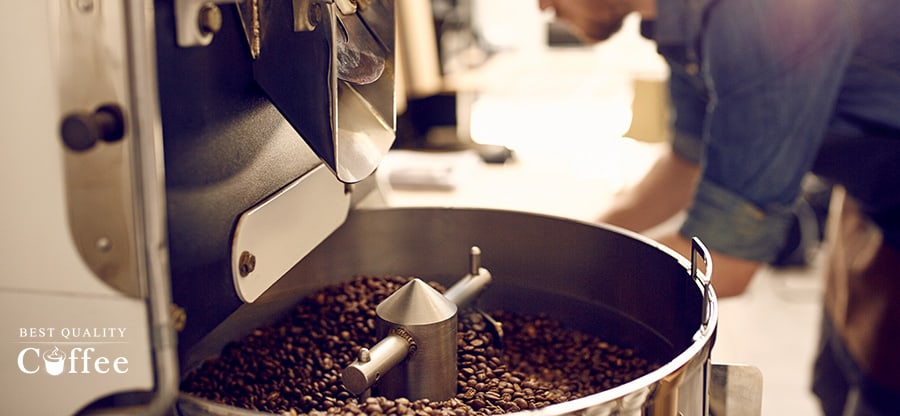 The best flavored coffee isn't made by just adding flavor oils to beans. Rather, it's a detailed process that involves sourcing the right beans with a flavor profile that complements the added flavors. It's a formulation more than an afterthought and the best flavored coffee brands out there are intimately familiar with this science.
What are some of the most popular coffee flavors?
Some of the most popular coffee flavors include the seasonal pumpkin spice, hazelnut, butterscotch, peppermint, French Vanilla, and of course, salted caramel. Many of the seasonal or holiday coffee flavors are highly coveted due to their limited availability. In fact, it's not uncommon for coffee lovers to buy their favorite seasonal coffees in bulk in order to have enough supply throughout the year.
Related Article: Best Seasonal Coffee
Adding Flavor to Your Coffee on Your Own
Aside from purchasing the pre-flavored coffee, you can naturally flavor your coffee at home. For example, try adding cinnamon sticks, clove, nutmeg or cocoa powder to your morning brew. An added bonus is that many of these spices are antioxidant-rich and confer additional health benefits.
Below is a list of ways to naturally flavor your coffee after it's been brewed:
Raw Honey
Cinnamon, Vanilla Extract, Clove, Nutmeg Cocoa Powder
Almond Milk
Ginger
Stevia or monk fruit (for those who don't want to spike insulin levels)
Ok, what if you don't feel like going out and buying all the individual ingredients to flavor your coffee? After all, being a coffee snob doesn't mean you don't appreciate convenience. If this is you you may want to consider using flavored sugar Java Melts. Java Melts is flavored sugar that's tailored for coffee. Incidentally, it can be used in baking as well. They offer a number of flavors frequently paired with coffee such as mocha, caramel, french vanilla, and hazelnut. One good thing about adding flavor to your coffee in this way is that you can "season" your coffee to your preference.

Don't forget you can also use syrups to flavor your coffee. Coffee syrups are a great way to flavor your coffee to your specific preferences. There are many coffee syrup brands to choose from with one of the most popular ones coming from none other than Torani. At the same time, many coffee brands themselves have entered this market and produced flavorings that pair especially well with the brews they offer. BrewPoint Coffee is one such example and offers syrups that can be used to flavor both your coffee or cocktail.
Related Article: Unique Things to Add to Your Coffee Ritual
The Best Flavored Coffee: Final Thoughts
Our hope is that this article offered a solid introduction in to the world of the best flavored coffee. We also hope that it helped to dispel any unfounded stereotypes that coffee snobs purists may have about flavored coffees.
Related Link: If you're a fan of light roasted coffees in the convenience of a coffee pod, check out our selection of the best light roast coffee pods on the market.
The best flavored coffee on the market (especially for coffee snobs) will typically be refined and subtle. When done right, the flavoring is naturally full but in no way overwhelming and the natural flavor of the coffee bean will still be distinct. The list we presented in this article is obviously subjective one being that everyone has a different flavor profile. But we can say for certain that these are some of the most popular coffee flavors available and will certainly help you to expand your coffee horizons.
We'll be regularly updating this list of the best flavored coffees. If our readers have any suggestions, please feel free to comment below and share your experiences.
If you're still not convinced and are simply a coffee purist through and through, check out our list of the best black coffee for some great options.
Related Article: Best Pumpkin Spice Coffee

Related Link: If you're a fan of light roasts and convenience, check out our selection of the best light roast coffee pods on the market.