The world of decaffeinated coffee or decaf coffee is an overlooked and misunderstood segment of the coffee industry. In decades past when decaffeination technology was still in its infancy, even the best decaf coffee often meant "diluted coffee". That's when the jokes began. However, today with the technology developing leaps and bounds, decaf is no joke and full flavored decaf is a full-blown reality. For coffee lovers who appreciate a late evening sip of their magic brew or simply want to reduce their caffeine intake, decaf coffee offers a perfect solution.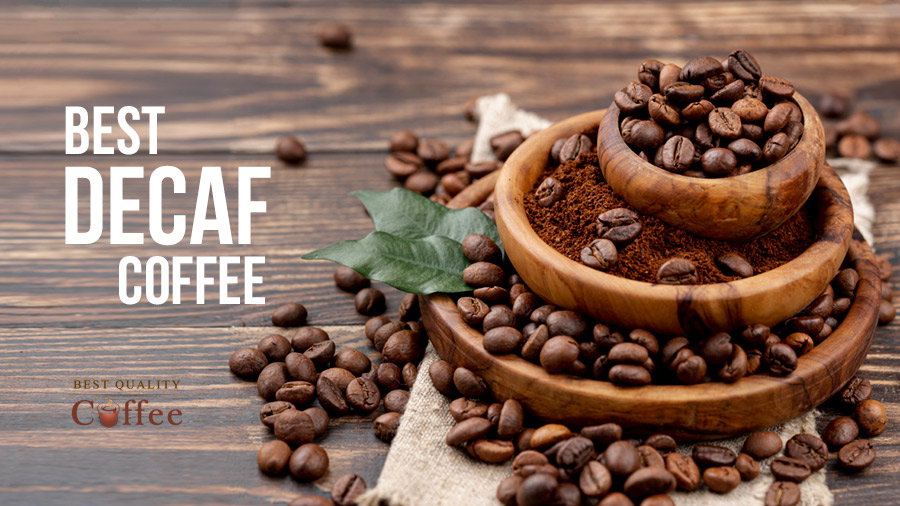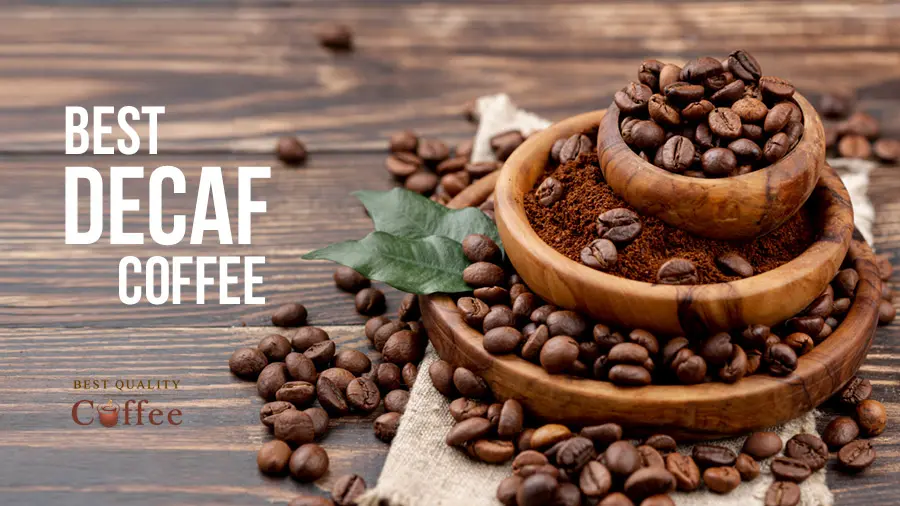 In this ultimate decaf coffee guide, I'll explain everything you need to know about caffeine free coffee while dispelling any myths of old. We'll also cover the best decaf coffee beans on the market.
If you're in the market for full flavored decaf, check out our top 3 picks below. You'll thank us later.
Coffee: Brazilian and Colombian

Notes: Rich & aromatic, full-bodied & delicious.

Decaf Process: Swiss Water

Notes: Nutty, Rich, Dark Chocolate, Full Bodied

Decaf Process: Mountain Water

Coffee: Nicaragua (Organic)

Notes: heavier body with deep, darker flavors, dry yet sweet

Decaf Process: Swiss Water
Table of Contents: Ultimate Guide to the Best Decaf Coffee Beans
The Basics of Decaf Coffee
The term decaf or decaffeination refers to the process of removing caffeine. Decaf coffee is simply coffee that's had most of its caffeine removed. We say most because technically no coffee bean is ever 100% decaffeinated.
We'll cover the specific methods of decaffeination later in this article.
Decaf coffee usually contains only about 2 to 5 milligrams of caffeine per cup compared to regular coffee which can have up to 100 milligrams of caffeine per cup.
Who Invented Decaf Coffee?
Ludwig Roselius, a coffee merchant from Bremen, Germany, is often credited with the distinguished title of the inventor of decaf. In 1905 Roselius stumbled upon the art of decaf by happy accident when a shipment of coffee beans took a salty soak in sea water, yielding a brew that was flavorfully devoid of caffeine.
Inspired by this unexpected occurrence, Roselius harnessed the effects of benzene, a chemical that could strip caffeine from beans. While the chemical was efficient, it was far from safe. Unfortunately, it was later discovered that benzene contained carcinogenic properties even in low quantities.
Nonetheless, while benzene is no longer used in decaffeinating coffee, the concept of caffeine-free coffee beans had taken hold. So how exactly is caffeine removed from coffee beans today? Read on to discover the different available decaffeination methods available.
Today, about 10% of all coffee consumption is decaf source.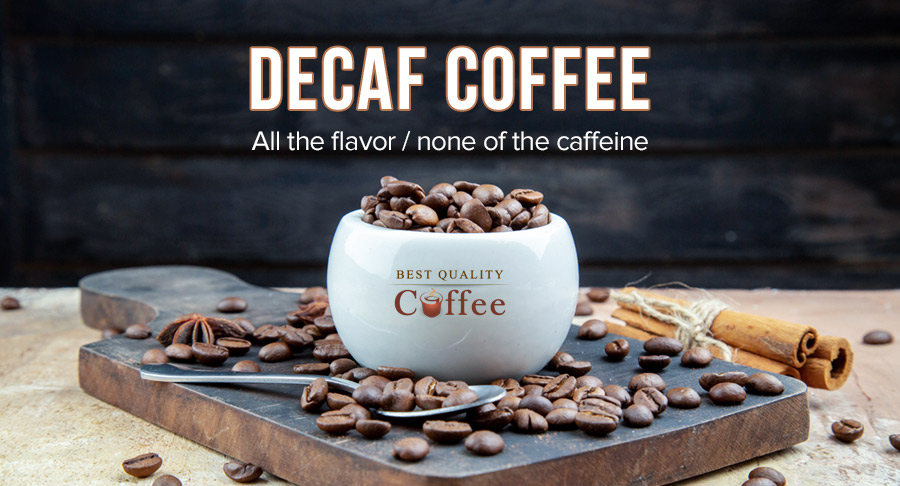 How is Coffee Decaffeinated: Decaf Methods
For those who may not know, there's no such thing as a coffee plant that produces decaffeinated coffee beans.
Note: While there has been some research in the area of genetically-modifying (GMO) coffee beans, it's still in its early stages and not considered a feasible commercial option in its current state source. ,
Coffee beans need to undergo a decaffeination process. This process is costly and takes extra time, labor, and money to complete. As a result, most decaf coffee beans will carry a slightly higher price tag than their caffeinated counterparts.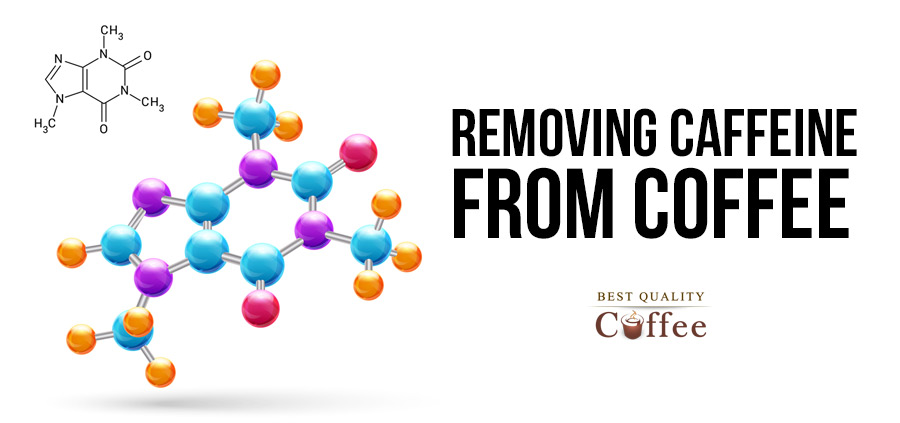 Ok, with that said, let's just right into the different methods for decaffeinating coffee beans. There are several available methods, each with their own advantages and disadvantages. We'll cover the main ones here.
Direct Solvent Decaf (Use of Chemicals)
The most common is solvent-based decaffeination, which involves soaking green coffee beans in a solvent, such as methylene chloride or ethyl acetate, to remove the caffeine. These solvents bond with the caffeine molecules effectively removing them from the coffee beans.
This method is cost-effective from a business perspective, but it has been known to effect the bean's flavor. The reason for this is that in addition to stripping away the caffeine, these chemicals also rob the coffee bean of precious flavor compounds. The end result is a brew that some result as tasting artificial and weaker than normal coffee. In some cases, coffee lovers can actually detect traces of the chemical's flavor.
Indirect Solvent Decaf (No Chemicals)
Swiss Water Process (SWP)
Perhaps the gold standard for decaffeination is the Swiss Water Process. As its name suggest, only water is used to make this happen. Unlike its name suggests, this method was developed and pioneered in Vancouver, Canada.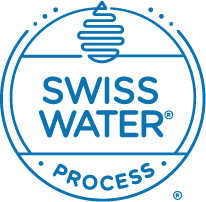 This chemical-free process does the most effective job at preserving the beans natural flavor compounds thus yielding a very clean cup of decaf coffee. However, it is expensive and labor-intensive. Without getting too nerdy with it, the process is as actually pretty fascinating and even brings back memories of stuff I learned in chemistry.
First, a batch of green (unroasted) coffee beans is soaked in hot water. The heated water opens up the pours of the coffee beans allowing both the caffeine and flavor compounds to be extracted into the water. This water is then passed through a charcoal filter that captures only the caffeine molecules while leaving the flavor molecules untouched.
What you're left with is a water that contains only the flavor molecules of the original batch of coffee. This precious water is key to the whole Swiss Water Process and is called Green Coffee Extract (GCE). Still with me? There's only one other step involved to bring this whole thing together.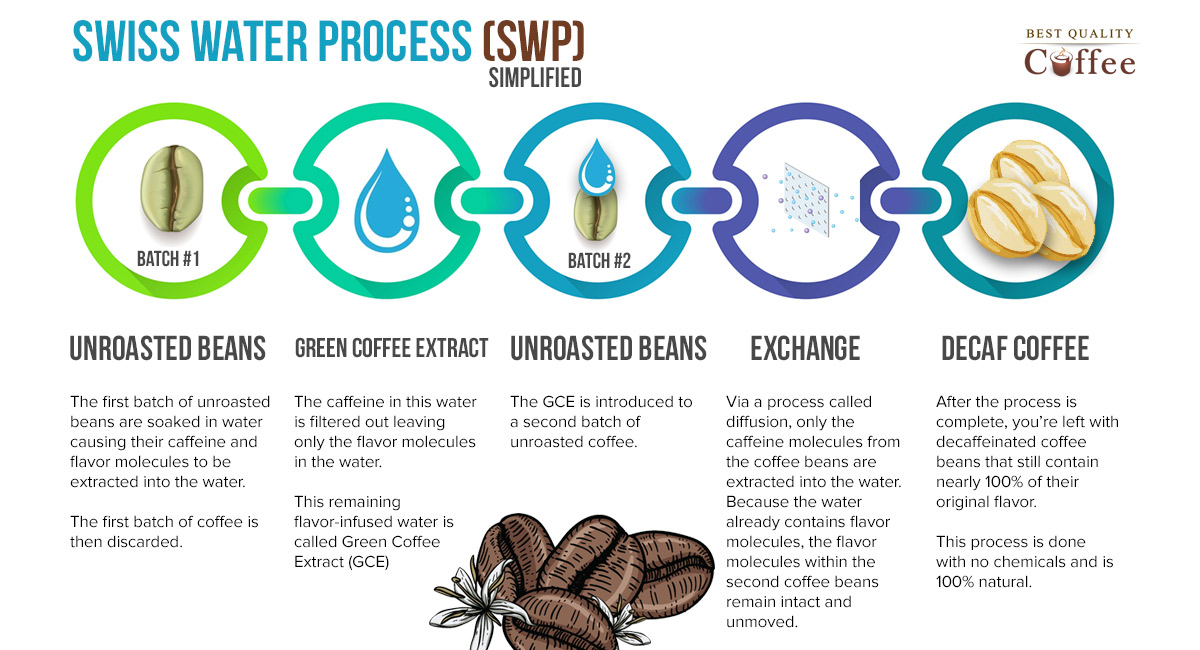 A new batch of unroasted coffee beans is then soaked in this GCE which as just mentioned is water filled with flavor compounds from the original batch. Via a process of diffusion, the water naturally pulls out the caffeine but not the flavor compounds. The reason for this is that the GCE already has flavor compounds in it. This fact means that the flavor compounds in the new batch remain unmoved and intact.
The caffeinated GCE is then passed through a carbon filter in order to be reused in the decaffeination process. This process can take around 10 hours or so per round.
The Swiss Water Process is a patented decaffeination method that uses only water to remove 99.9% of a coffee's caffeine content. Heat and time are also employed, but clean water is the only added ingredient.
Mountain Water Process: MWP
The Mountain Water Process (MWP) is virtually identical to the Swiss Water Process but simply under a different brand name. Where as the SWP plant is located in Canada, the MWP is located in Mexico. MWP was developed by Descamex, a Mexican company that specializes in the production of decaffeinated coffee. They use water sourced from the Pico de Orizaba mountain, the highest mountain in Mexico, to extract caffeine from coffee beans. Like with SWP, this is a process that is chemical-free and involves only water.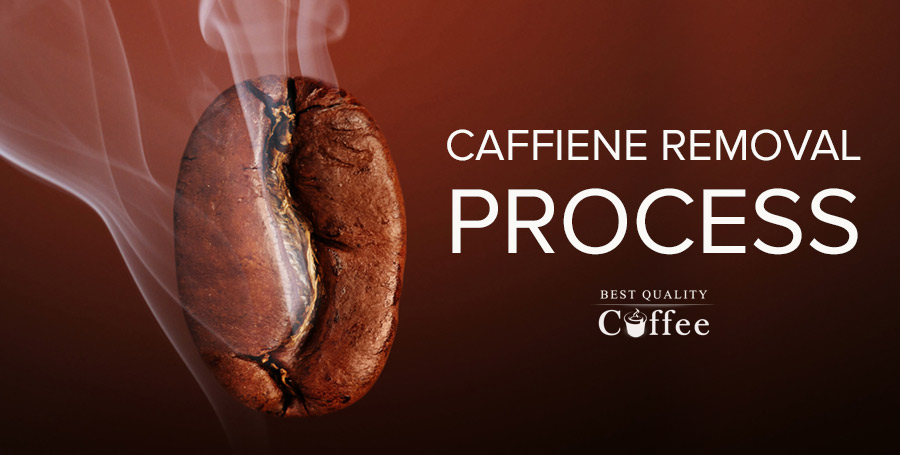 Co2 Decaf Process
Another solvent-free and chemical-free process is known as the CO2 Decaffeination.
First, green coffee beans are moistened with water to prep them for the CO2 treatment. Next, they're locked up tight in a stainless steel chamber, which is then pressurized with highly compressed CO2 gas. This gas is kept at just the right pressure and temperature to act like a liquid solvent. This causes caffeine to be extracted into the CO2 gas leaving you with a healthy batch of decaffeinated coffee beans.
Once the caffeine has been extracted, the CO2 gas goes through an activated carbon filter to remove the caffeine. The restored CO2 gas can then be used for the next batch of coffee beans.
CO2 decaf is considered a more natural and eco-friendly method of decaffeination because it doesn't involve any harsh chemicals or solvents.
Do decaf and caffeinated coffee taste different?
This question can often cause much division within coffee-loving communities. As mentioned earlier, decaf coffee used to carry a stigma of tasting diluted and weak in flavor. While that may have been true decades ago, nowadays the difference in flavor is marginal with many coffee lovers unable to even tell the difference. It's a fact that in today's era, coffee lovers no longer have to sacrifice taste in order to be caffeine-free.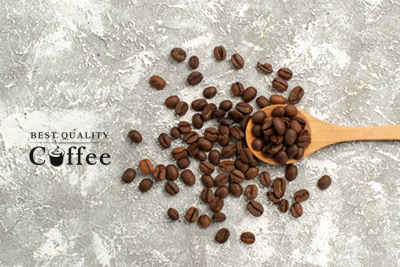 Solvent based decaffeination processes can sometimes leave behind an unwanted aftertaste. This is yet another reason to go with non-solvent and natural decaffeination methods. It's more expensive, but well-worth in my experience.
Some who would argue that there is in fact a difference in the flavor of regular coffee beans and even the best decaf coffee beans. This could have more to do with the absence of caffeine than anything else.
Caffeine, in itself, can also affect the taste of coffee. It can add bitterness and astringency to the brew, which will naturally be absent in decaf coffee. Caffeine has a refined acidity and bite to it that punctuates most regular cups of coffee. As such, decaf coffee is sometimes smoother and gentler on the stomach.
We recommend going with Swiss Water Decaf coffee as its one of the most effective and healthiest decaffeination processes available. The best decaf coffee on the market will usually be decaffeinated in this manner.
The Best Decaf Coffee Beans for the Coffee Snob
So what are some of the best full flavored decaf products on the market? There are literally tens of thousands of decaf brands to choose from. To make life easier, we've narrowed down this field to brews that we think coffee lovers with high standards will appreciate. We've selected our top picks based on roast preference: light, medium, and dark.
Best Light Roast Decaf Coffee
Light roasts typically allow more of a bean's natural flavors to express themselves.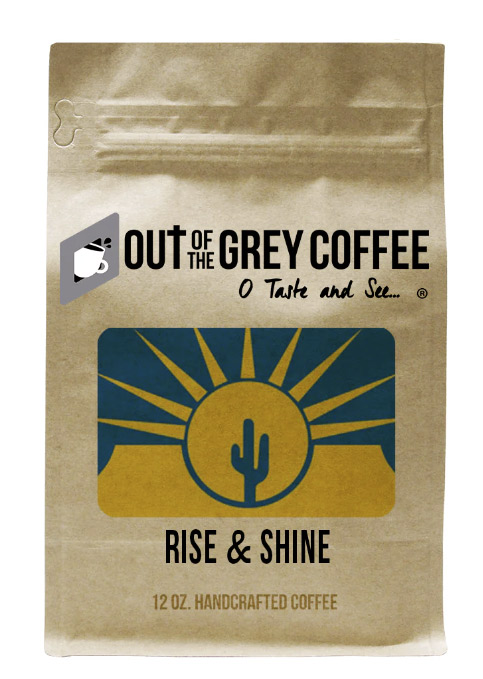 Out of the Grey Coffee is one of our favorite specialty coffee roasters with more of a selection that you could possibly imagine. We are thankful that as part of their vast selection, they offer an incredibly good decaf light roast.
This coffee is an enjoyable blend of Brazilian Santos and Colombian Supremo beans. The final cup is full-bodied, very smooth, and wonderfully rich.
Bean Origin: Brazil and Colombia
Roast: Light Medium
Process: Swiss Water
Best Medium Roast Decaf Coffee
Medium roast coffee is a great choice for those who enjoy a balanced flavor profile, as it allows for the unique characteristics of the beans to shine through without being overpowered by roasting flavors.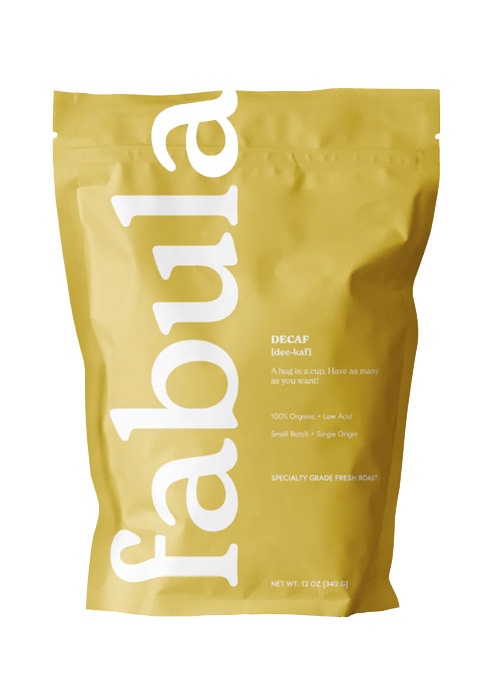 Continuing our list of the best decaf coffee options available is a decaf brew created by Fabula Coffee. Their decaf is one of the cleanest and most pure brews out there, capturing all of the full flavor of their premium organic and low acid Mexican beans. Decaf coffee is already characteristically smooth. But Fabula's decaf is smoothness on a totally different level. Medium roasted to perfection, these beans are a grand illustration of decaffeination done right.
Bean Origin: Mexico's Southeastern highlands
Roast: Medium
Process: Mountain Water
Extras: USDA Organic, Low Acid, Mold Free, Single Origin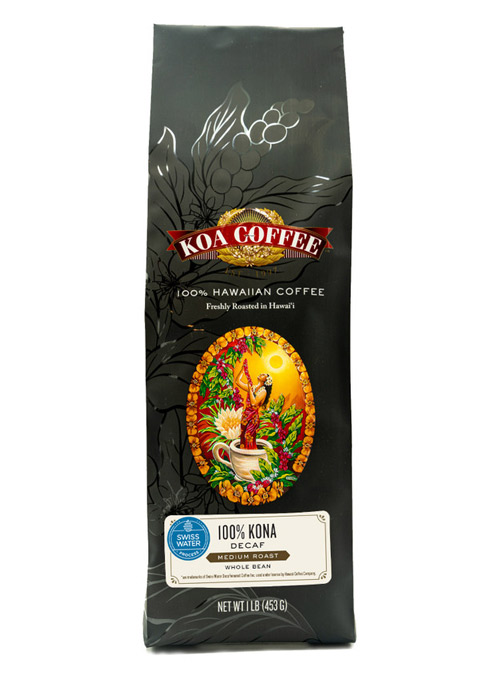 Kona Coffee is literally one of the world's most coveted coffees. Grown only in a specific mountain range in Hawaii, this particular bean has won over the hearts of coffee connoisseurs around the world. With its uniquely smooth, earthen, and rich flavor combined with pungent aromatics, Kona coffee is something that needs to be tried to be appreciated. Koa Coffee produces 100% authentic Kona coffee that's earned notoriety on a global level.
Bean Origin: Hawaii (100% Kona Decaf)
Roast: Medium
Process: Swiss Water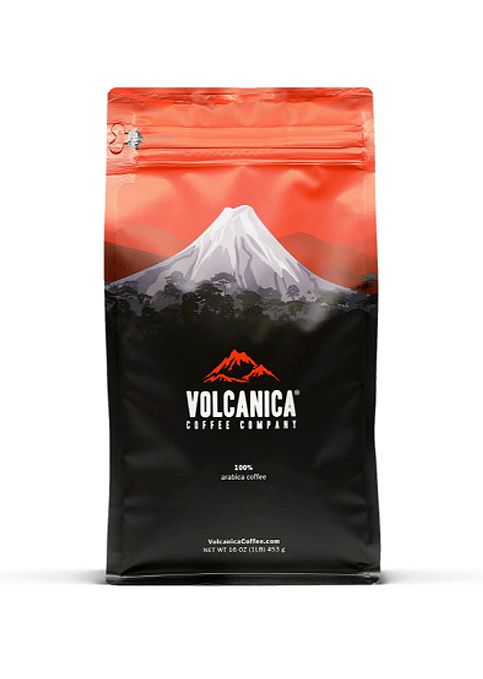 Like the other coffee brands on this list, Volcanica Coffee delivers a full flavored decaf sourcing premium Yirgacheffe beans. Like Kona beans, these are also some of the most prized beans in the world. Their bright, floral, and fruity characteristics are shining examples of the best in African coffee. This coffee is medium-bodied, brilliantly acidic, and containing rough fruity or winy tones. While this is considered a medium roast, it tends on the lighter side of the roasting spectrum. Use our exclusive Volcanica Coffee discount code and coupon to get you 12% off your entire purchase. Code: BESTQ12
Bean Origin: Yirgacheffe, Ethiopia
Roast: Medium
Process: Swiss Water
Extras: Fair Trade Certified, Single Origin
Best Dark Roast Decaf Coffee
Dark roast coffee is a suitable choice for those who prefer a bold and robust flavor profile, as the longer roasting time brings out deep, smoky, and caramelized notes in the beans.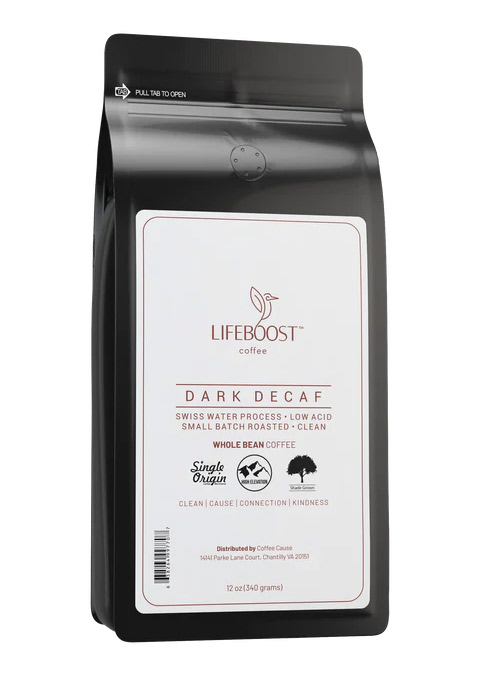 To start of this list of the best dark roast decaf options, we've selected Lifeboost Coffee. They source single origin beans from Nicaragua and similar to Fabula, deliver a impressively pure flavor. In fact, only 1% of coffee in the world meets Lifeboost's standards. As a low acid coffee, it's also super smooth while still allowing many of their specialty-grade bean's natural flavors to express themselves. This balanced dark roast offers a delightful depth of flavor and full body.
Bean Origin: Nicaraguan Coffee
Roast: Dark
Process: Swiss Water
Extras: Single Origin, Low Acid, Mold Free, Shade grown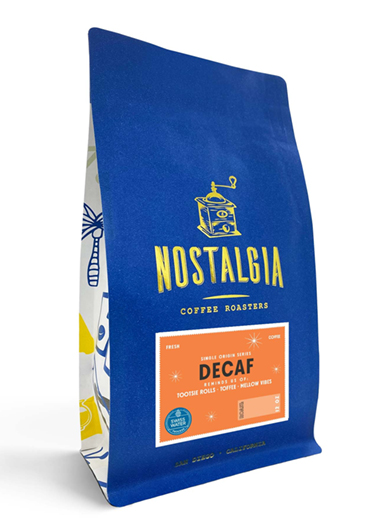 Nostalgia Coffee offers an excellent single origin bean sourced from Brazil. Best described as smooth, rich, and sweet, this coffee even has subtle notes of tootsie roll and toffee. If you like a sweeter bean then this is a good option for you. The top-shelf decaf coffee beans are then medium roasted to perfection to deliver a delightfully full-flavored experience but without the caffeine buzz.
Bean Origin: Single Origin Brazil
Roast: Medium
Process: Swiss Water Decaf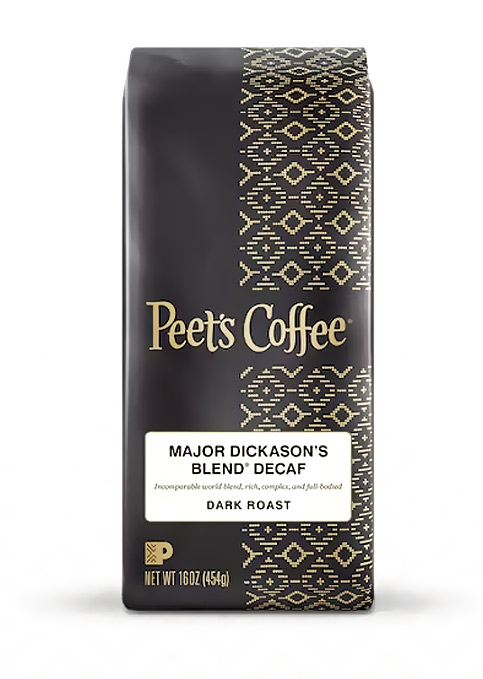 Peet's top-selling coffee is available in decaf form. Major Dickason's has been a fan-favorite for a long time and coffee drinkers will be delighted to know they offer a decaf version. This will easily be one of the most flavorful and strong decaf coffees you'll ever try. Peet's is known for packing a strong punch when it comes to flavor and we're happy to report their decaf coffee is no exception. Like many other coffees on this list of best decaf coffee, it's very smooth and deeply flavored.
Bean Origin: Blend of Americas, Indo-Pacific Beans
Roast: Dark
Process: Water Process (Non Solvent similar to Swiss Water but under a different brand)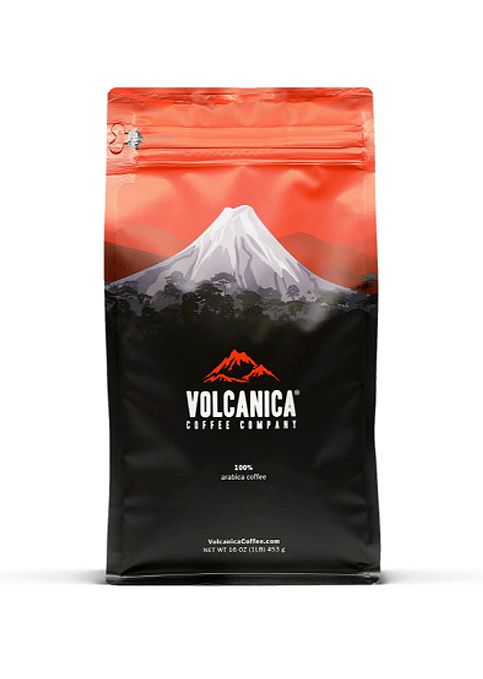 Moving down our list of the best decaf coffee options is another appearance from Volcanica Coffee. Their French Roast is their darkest roast and it offers all the intensity and strength you'd expect but without the caffeine. This dark roasted decaf delivers a deep and smoky experience with a complex richness. A superbly aromatic cup of coffee, this brew may not have caffeine in it but is certain to awaken your taste buds all the same.
Bean Origin: Arabica Variety
Roast: Dark
Process: Swiss Water
Extras: pH 5.4
Best Organic Decaf Coffee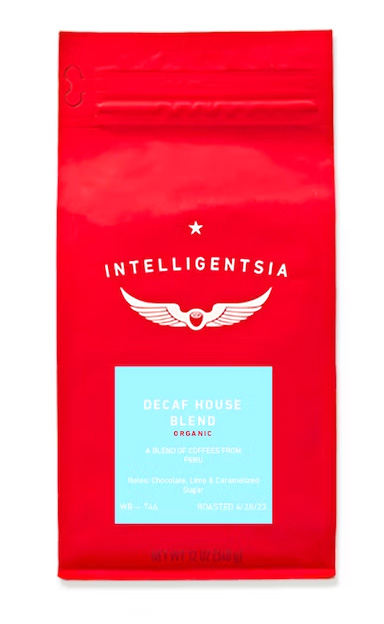 Intelligentsia Coffee is another brand on this list that needs little introduction, especially to those who regularly drink specialty-grade coffee. This is a USDA-organic water-processed decaf coffee with full blend of beans from Peru. It's perfect for those who enjoy a smooth chocolatey flavor profile. There's even a bit of lime in the finish that adds a refreshing accent to a delightfully rich coffee.
Bean Origin: Arabica Variety
Process: Water
How to Choose Best Decaf Coffee Beans
When choosing the best decaf coffee beans, there are several factors to consider, many of which are not unlike choosing regular coffee.
Roast Level
Roast level is an important factor, as decaf coffee can taste different depending on the roast. Light roasts tend to retain more of the coffee's natural flavor, while darker roasts have a more robust and intense flavor.
Coffee Bean Origin
So what are the best coffee beans for the decaffeination process?
Generally, coffee beans that have a lower density and are less porous are better suited for decaffeination because they are less likely to lose flavor during the decaf process.

Some examples of coffee beans that are considered to be less porous and denser include Colombian Supremo, Brazilian Santos, and Sumatra Mandheling. However, it's important to note that the level of porosity can vary depending on the coffee bean's specific origin, processing method, and roast level.
Beyond the specific country of origin, choosing the right varietal matters too. Arabica beans which incidentally are the bean of choice for specialty-coffee contain significantly less caffeine than the Robusta varietal. Robusta contains almost 2x the amount of caffeine than Arabica making the latter a better candidate for the decaf process.
Related Article: Differences between Arabica and Robusta
Flavor Profile
When it comes to choosing coffee, it's important to consider your own personal flavor profile. One thing to keep in mind is that the climate in which the coffee is grown can greatly impact its flavor. For example, coffees grown in cooler climates tend to have a brighter acidity and floral or citrus notes, while coffees grown in warmer climates tend to be more full-bodied with chocolate or nutty flavors. By understanding the flavor profiles associated with different growing regions, you can make more informed choices when shopping the best decaf coffee beans.
Price
Decaf coffee is more expensive than regular coffee given the extra steps involved in processing the beans. The price difference can be minimal but there's still a difference.
As mentioned earlier, direct solvent decaf coffee costs less where as beans that've undergone the Swiss Water Process or Mountain Water Process will cost more. For the best decaf coffee experience, we recommend going with the latter options.
Beyond the decaffeination method, the best decaf coffee will also carry the USDA organic, Fair Trade Certified, and Mold-free designations.
Does decaf coffee have caffeine?
As we mentioned, there's no such thing as a 100% caffeine-free coffee bean. So the simple answer is yes, decaf coffee does have caffeine. But it's in such small amounts that it's not likely to effect your ability to get a good night's rest.
If you're particularly sensitive to caffeine, go with Swiss Water Decaf coffee as this process extracts up to 99.9% of the caffeine.
How Much Caffeine is in Swiss Water Decaf?
For a coffee to be called decaf, it just needs to have 97% less caffeine in it, according to the USDA source. Swiss Water Decaf takes out even more caffeine, up to 99.9%, which means you can enjoy your coffee anytime without worrying about staying up all night.
Interesting Facts about Decaf Coffee
Even the best decaf coffee beans aren't completely caffeine-free. In fact, according to the FDA, decaf coffee must have at least 97% of its caffeine removed to be labeled as decaf.
The decaf process was discovered by accident, not unlike penicillin. A German coffee merchant named Ludwig Roselius accidentally discovered the decaf process when a shipment of coffee beans was soaked in seawater, which removed the caffeine source.
Decaf coffee is popular among athletes. Because caffeine is a diuretic, it can cause dehydration. Many athletes choose decaf coffee as a way to stay hydrated while still enjoying the taste of coffee. Check out this on coffee and dehydration for more info.
Decaf coffee can have health benefits. While caffeine can have some health benefits, such as boosting alertness and improving mood, decaf coffee still contains many of the antioxidants and other beneficial compounds found in regular coffee.
Decaf coffee can help reduce the risk of certain diseases. Studies have shown that regular coffee consumption, both caffeinated and decaf, is associated with a lower risk of diseases such as type 2 diabetes, Alzheimer's, and Parkinson's.
Decaf coffee has a shorter shelf life than regular coffee. This is because during the soak phase of the decaffeination process, the coffee bean's pores and internal structure was expanded. As a result, more CO2 , which helps inhibit bacterial growth, escapes during the roasting process. All this to say that it's even more important to check the roast dates of decaf coffee.
Half Caf Coffee and 1/4 Coffee
For those who aren't comfortable going cold turkey on caffeine, you may want to consider half caff coffee. Just like it sounds, half caf coffee is just coffee with half of the caffeine. It's made with a 50/50 mix of regular and decaf coffee. This is great for weaning yourself off of caffeine without shocking your system.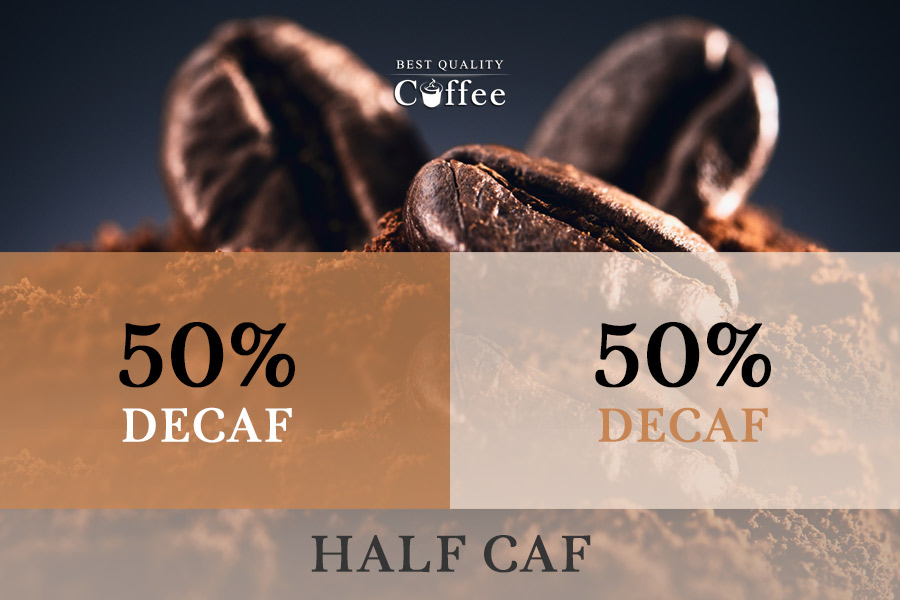 Check out the best half caf coffees of the year for some recommendations.
What is the Max Amount of Caffeine Per Day?
The FDA recommended drinking no more than 400mg of caffeine per day source .For some perspective, the average 8oz cup of coffee contains about 100mg of caffeine.
For pregnant women, the World Health Organization recommends consuming less than 300mg per day source .
Having said this, not all coffee contains the same amount of caffeine. Typically, a dark roast will have less caffeine than a lighter roast since its longer exposure to heat during roasting helps to evaporate the caffeine from the beans.
To Decaf or Not to Decaf: Final Thoughts
The world of decaffeinated coffee has received its fair share of attention over the years, both positive and critical. As has hopefully been illustrated in this article, decaf coffee may not be what you thought. I know there are many witty coffee memes out there about decaf coffee. Humorous as they be, they're pushing a narrative about decaf coffee that's simply no longer true today. The best decaf coffee does not equal "weak" coffee. That fact is clearly evidenced by the options listed above.
With the improvements in decaffeination technology over the years, millions of coffee lovers have whole-heartedly entered the world of caffeine free coffee. What was once considered a bland and unappealing alternative to regular coffee is now a viable option for coffee lovers who want to enjoy the taste and ritual of coffee without the jitters and sleepless nights.
The best decaf coffee options will deliver a full and robustly-flavored experience that's certain to warm your heart without increasing its beats per minute 🙂