Once upon a time there were only a few coffee subscription services available. Today, there are literally thousands of them, each fulfilling the unique caffeinated needs of diverse coffee lovers around the world. But as you might imagine, not all coffee subscriptions are equal. If you're a coffee lover with a standard of excellence that qualifies you as a bonafide coffee snob, then this article is for you. Below is a curated list of the best coffee subscriptions for coffee snobs and discriminating coffee connoisseur.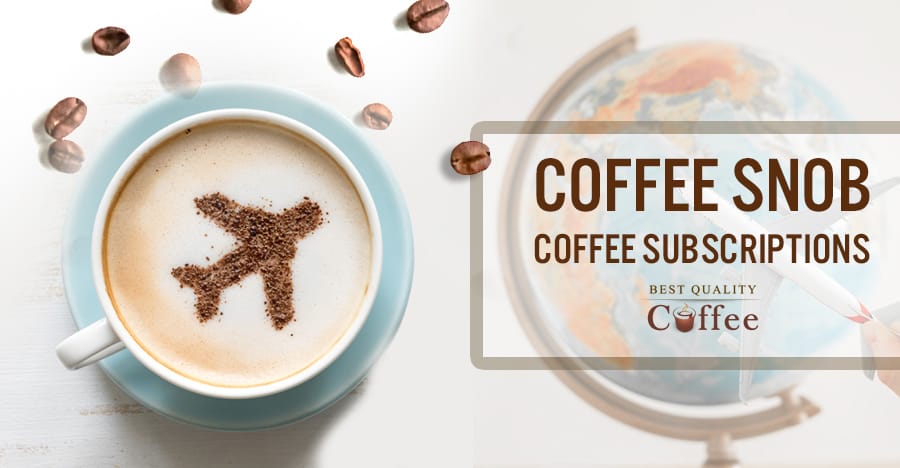 Coffee snobs and connoisseurs typically have a palate that's more discerning than the average coffee lover. As such, the following coffee subscriptions deliver notably high quality coffee that are well above the norm. For the record, we understand that they're many different metrics by which to a judge a coffee subscription. Presentation, packaging, and detailed history and tasting notes all contribute to an immersive coffee subscription experience. But as coffee snobs ourselves, what matters most to us is the coffee itself. It's with that in mind that we've created the following list of best coffee subscriptions for coffee snobs (like us).
Related Article: Best K Cups for Coffee Snobs
The Best Coffee Subscriptions for Coffee Snobs [2023]

Most coffee snobs will have heard of or tried Stumptown Coffee before. Their incredibly high-quality coffee beans have earned the respect of coffee connoisseurs around the world. As such, they start off our list of the best coffee subscriptions for coffee snobs. You can manually choose your favorite brews or opt for either their Roaster's Pick and Blend Shuffle. Both options have a rotation of coffees that are shuffled every 2 weeks to give the customer diverse coffee experiences. The Roaster's Pick is a rotation of the brand's finest single origin coffees (which is my preference). They even have exclusive coffees that are available only to Roaster's Pick subscribers. If you're a fan of blends, you can go with the Blend Shuffle which is equally impressive.
Starting Price: $23.00 / Month

Bean Box continues our list of coffee subscriptions worthy of coffee snobs. The company has a well-established name within the industry and roasts their coffees in Seattle and Portland. Given the superior quality and selection of the specialty coffee beans they offer, their service is designed to help expand your coffee horizons. Most of their specially curated coffees come from the West Coast and all of them are roasted just before delivery. Like any quality coffee subscription service, you can tailor your subscription to match your individual flavor profile. The price point is admittedly slightly higher than some of the other coffee subscriptions on this list, but in our opinion it's well worth the investment.
Starting Price: $24.00 / Month

Continuing our list of best coffee subscriptions for coffee snobs is Quintal Coffee. This coffee subscription is tailored to give its customers a deeply rich and authentic experience with the best in Latin American coffee. In addition to using only exquisite high-scoring beans, the company also sources and roasts their coffee in the country origin. This confers a number of advantages such as fresher harvests and a fresher coffee experience since the beans are in a raw green state for a shorter period of time. When coffee is in its green state, it's very susceptible to damage and degradation particular during the shipping period. You'll be able to taste the difference. Their price is also especially attractive given the quality of coffee they source.
Starting Price: $20.00

Trade Coffee is considered by many coffee connoisseurs to be one of the best coffee subscription boxes on the market. However, that alone isn't the reason why it made this list of best coffee subscriptions for coffee snobs. We recently had the opportunity to review their service and found their selection, quality, and process to be one of the most impressive of the bunch. The company has paired over 2 million coffees with their coffee-loving customers which in my humble opinion, speaks volumes. Trade curates their coffee from a pool of over 400+ premium specialty coffee brands. That's a whole lot of quality coffee to choose from! If you know your coffees, you'll immediately see that Trade Coffee is uncompromising in the coffee brands they work with. Similar to the other coffee subscriptions on this list, Trade gives you the ability to customize your taste profile so you can receive coffee flavors that you actually enjoy. For those who are feeling adventurous, you can select the option that let's Trade Coffee choose your brew for you. Check out our full Trade Coffee review for full details.
Starting price: $12.25
Get 50% off your first subscription with code: BQ50

Camano Island Roasters sources only the top 1% of Arabica coffee available making their coffee subscription well-suited for the uncompromising coffee snob. Additionally, their coffee is USDA Certified Organic, Shade-Grown, and Fairly Traded. Camano Island Roasters also specializes in single origin coffees for what we would consider the best coffee experience. Their coffee subscription allows you to personalize your roasts by choosing between over 20 different coffee varietals. One notable quality about their coffee is that their beans typically have half of the caffeine and acidity as other coffees.
Roasted and shipped within 48 hours
You select delivery frequency
No contracts or hassles – shipments can be delayed or canceled as you need
Customize the grind size
Save 7.87% off retail
Starting price: $38.99
Get $20 off of your first coffee subscription order
Subscribe to Camano Island Roasters

Tayst Coffee offers makes our list of best coffee subscriptions for coffee snobs for a number of reasons. Their coffee is rich, smooth, and full flavored as would be expected of any coffee to make this list. One notable feature about their coffee subscription is that they offer 100% biodegradable coffee pods. Their coffee is sourced from quality coffee farms that are certified by the Rainforest Alliance. Often times, coffee snobs aren't fans of flavored coffee. However, it's worth making an exception with Tayst coffee as their flavors are implemented in what we consider to be a deliciously balanced manner. Their coffee comes in medium and dark roasts along with a decaf option. I'd recommend their coffee to coffee snobs who prefer a dash of sweetness to their coffee experience.
Starting price: $22.00

Appropriately named, Atlas Coffee delivers some of the most exquisite single origin coffee from around the world, none of which you'll be able to find on store shelves. If you're into high-end exotic coffees, this is coffee subscription box would be a match made in heaven for you. The company makes it a point to procure coffees from some of the refined coffee-growing regions in the world including Guatemala, Brazil, Kenya, and Ethiopia.
Atlas Coffee offers fully customizable subscription options along with the option to be surprised with coffees across a broad roast and flavor spectrum. They offer an unbeatable guarantee that all coffees are delivered at peak freshness. Should the freshness be compromised in any way, they'll send you a brand new bag. The fact that their expertly-curated coffees aren't available in stores also speaks volumes to just how the rare and unique these offerings really are.
Starting price: $9.00
Subscribe to Atlas Coffee Club

Phil and Sebastian is a craft roaster based out of Canada and serves up delightful specialty coffee offerings. The company's coffee was featured in the New York Times, the CBC, and the Lonely Planet's Global Coffee Guide. Their subscription service is customizable allowing you to choose your preferred taste profile, frequency of delivery, and the amount of coffee you'd like to receive. They offer options for espresso, filter, decaf or even give you the ability to combine them as well. A unique ranking system created by their inhouse coffee geniuses allows you easily identify your preferences and match them with their coffee. With a wide variety of high-grade beans sourced from some of the best coffee-growing regions in the world such as Burundi, Colombia, Costa Rica, Ethiopia, and Panama, Phil and Sebastian makes for an excellent choice for any coffee snob.
Starting price: $27.15
Subscribe to Phil and Sebastian

Yes Plz is yet another coffee subscription that pushes the envelope of coffee standards to the point of coffee snobbery. Their rich single origin coffees and impressive blends are a delight to the senses and have a wide appeal across coffee lovers with varying profiles. The roasting geniuses over at Yes Plz create new roasts each week which is something we particularly appreciate. The company also specializes in small-batch roasting to ensure maximum quality and authenticity of flavor. As is standard with coffee subscriptions, you'll be able to customize your delivery size and frequency to your liking.

One thing to note is that Yes Plz only offers whole bean options, a decision no doubt made to ensure the freshest and best coffee experience possible. If you don't own a coffee grinder, then this subscription won't be for you. But then again, if you're a coffee snob in the first place, you'll likely have a grinder already 🙂
Starting price: $17

Think Coffee is another notable brand to make our list of best coffee subscriptions for coffee snobs. Choose your coffee by roast, blend, or single origin beans. Their top shelf coffee is sourced from world renown coffee-growing countries such as Ethiopia, Nicaragua, and Colombia. There's an even an solid decaf blend for those who crave a rich coffee experience without the caffeine. Think Coffee, as their name suggests, focuses on sourcing coffee responsible and maintaining equanimity throughout their supply chains. Proceeds from their coffee go toward helping causes such as clean water access, menstrual, worker housing, menstrual activism, and housing reconstruction.
Starting price: $16

Driftaway Coffee is another impressive coffee subscription that's earned its way onto this list of best coffee subscriptions for coffee snobs, earning a definitive spot on this list of best coffee subscriptions. Being the true connoisseurs they are, Driftaway Coffee treats coffee as multi-sensory experience as opposed to just a drink. It's apparent in their approach to coffee. To begin with, they start customers off with a taste-testing kit. Using words to describe flavor is highly subjective so being able to actually taste the coffee is invaluable when trying to figure out what you're preferences are. In continuing their artisan approach to coffee, Driftaway Coffee also offer in-depth information on their bean origins along with the unique ability to send feedback directly to the farmers themselves. How cool is that? It goes without saying that they deliver an extremely high-grade coffee guaranteed to expand your coffee horizons. Driftaway's coffee is a grand example of a quality coffee subscription box that's won over the hearts of many coffee newcomers and connoisseurs alike.
Starting price: $13.71

Enjoy freshly roasted high quality coffee at your doorstep on your schedule. Select from ground or whole bean coffee and choose the frequency of your subscription from every 1 week, 2 weeks, 1 month, or 2 months. Ground for drip. Onda Origins goes straight to the growers to source their beans in order to maintain the most equitable business model possible.
Starting price: $20.00
Subscribe to Onda Origins Coffee

If you're looking for a coffee subscription box that caters to K-Cup and coffee pod users, Angel's Cup will take you on an epic caffeinated adventure. This coffee subscription is designed for the true connoisseur who enjoys blind taste testing a near endless variety of coffees. This is for the individual who is constantly looking to expand his or her coffee horizons. Angel's Cup allows its subscribers to try up to 208 different coffees each year starting at $9.99/month.
After the coffee arrives at your door step you can use their accompanying app (available on iTunes and Android) to share findings and compare notes with some of the leading taste experts in the world. While my taste buds are ultimately what matter, it's always a fun and educational experience seeing how may palette stacks up to what the professionals say. This aspect of Angel's Cup makes it one of the best coffee subscriptions for coffee snobs. What's amazing about this service is that you can return any sample that you don't like for a full refund. Talk about a risk-free coffee.
Related Link: If you're a fan of light roasts and convenience, check out our selection of the best light roast coffee pods on the market.
Starting Price: $9.99

Rounding out our list of the best coffee subscriptions for coffee snobs is Nomad Coffee Club. Like many of the other esteemed coffee services on this list, Nomad Coffee Club offers brings you some of the best brews sourced from the best coffee-growing regions in the world, you can rest assured that a certain level of quality and taste with every coffee you try. Nomad Coffee Club focuses on delivering some of the best artisinal coffee from around the world and the company has earned a firm reputation in the coffee community as providing excellent coffee. Unlike some other coffee subscription box sites, their site is especially easy to use. We'll be posting our full Nomad Coffee Club review in the upcoming weeks. I've often said you can tell a lot about a coffee company by looking at its commitment to sustainability. Call it strange, but I've often observed a correlation between this and a company's customer service. Nomad Coffee Club delivers Direct Trade and Rainforest Alliance Coffee.
If you're interested learning more about this coffee subscription, check out our recent Nomad Coffee review.
Starting price: $19.00
So that officially rounds out our list of best coffee subscriptions for coffee snobs. It's worth mentioning that this list includes only U.S. brands. If you're based in the United Kingdom, check out this comprehensive list of the 22 best coffee subscriptions for the UK.
We'll be adding to this list regularly so please keep checking back for new options.
Tips on How to Choose the Best Coffee Subscription
To help you navigate the growing coffee subscription space and find the best coffee subscription for your profile, we've put together this simple guide. This guide applies whether you're a coffee snob or not.


Finding the right subscription box for you starts with knowing your coffee style and your goals. There are some basic questions that you should ask yourself as you search for the coffee subscription box that best fits you're taste profiles and preferences. Please note, there are absolutely no right answers. This list is simply to help you calibrate what you're looking for so you'll be able to identify the right subscription box when you see it.
Do I want to sample exotic coffees from around the world, or just stick with the type of coffees I know and love?
Do I care just about the coffee or also the story that comes with it. Many of the best coffee subscriptions deliver an immersive coffee experience that not only offers quality coffee, but also provides a history of the coffee and the people responsible for growing it.
Do I want to be able to customize my preferences or do I want to be completely surprised each month.
Do I just want coffee sent to me (don't really care about the fancy trimmings). If this is you, you'll most likely appreciate a simple coffee subscription such as Illy's coffee subscription as opposed to a full-blown coffee subscription box. Coffee subscription boxes focus on creating a full customer experience with many of them often offering tasting notes, coffee origin notes, brewing tips, etc.
What's the cancellation policy for the coffee subscription box. Reputable coffee subscription companies will make the cancelling process quick and easy. Along such lines, it's also worth checking to see how easy it is to contact their customer service in case there's an issue with cancelling your coffee subscription.
Best Coffee Subscription for Coffee Snobs: Final Thoughts
In closing, the best coffee subscriptions for coffee snobs will always prioritize quality, freshness, customization, and value. Based on these criteria, our top pick is Stumptown Roasters, a brand that's consistently put out top-notch blends and single origin offerings that capture the essence of the specialty coffee movement.

If you'd like to add your own suggestions to the above list of the best coffee subscriptions for coffee snobs, we'd love to hear from you. Please comment below and share your thoughts with fellow coffee snobs.
If coffee subscriptions aren't your thing but you still want to explore different coffee lovers, consider trying variety K Cup bundles or variety ground coffee bundles.