Most of us can't start our day without a cup of the divinely magical brew known as coffee. Brewing a cup or putting on a pot is as much a part of our morning routines as taking a shower and brushing our teeth
Given its global popularity, coffee has become a staple in both commercial and residential settings. Whether it's offered on a restaurant menu or as a standard office amenity, coffee is ubiquitous in every sense of the word. There are hundreds – if not thousands – of devices and methods of brewing coffee each with their own pros and cons.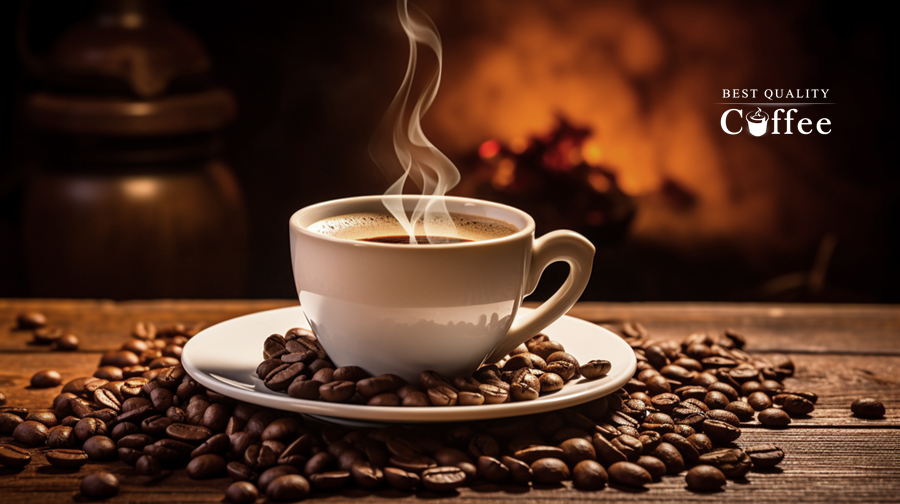 That said, here's a review of some of the main types of coffee makers along with some of the best brewing methods you can try in your home or office. This includes options like bean-to-cup machines for commercial use, which can efficiently produce the perfect cup of coffee for your business or workplace.
Best Brewing Methods
Drip Coffee Maker
If you have a family of coffee lovers, then a drip coffee maker is ideal as it's convenient and can produce multiple cups of coffee for everyone to enjoy. Drip coffee is typically smooth, light, and delicate. Some advanced machines have timers that pre-brew your coffee and keep it warm. Thus, you can wake up to your favorite beverage without lifting a finger. Moreover, the drip coffee machines are relatively quiet, and it's not likely to wake anyone up in the morning.
Drip coffee makers offer a wealth of benefits, making them a popular choice for both home and office settings. Their user-friendly operation allows for effortless brewing, while their consistent performance ensures a reliably delicious cup of coffee every time. Drip coffee makers come in a variety of sizes to accommodate individual needs, and their affordability makes them an attractive option for budget-conscious coffee enthusiasts. Additionally, their easy-to-clean design and programmable features further enhance their convenience and appeal.
Pros
Brews very hot coffee
Brews quickly
Delivers a strong, rich coffee smell
Cons
Too much heat can create a strong, burnt sensation
It's challenging to regulate temperature for the stovetop versions
Less control over brew variables such as temperature, water pressure
French Presses
Also called the plunger pot or press pot, the French press is among the most convenient machines. It's easy to use, cleans quickly, and you can carry it on your travels. The machine uses a mesh metal filter that directs all the flavor oils into your cup, while most models trap these essentials in filter paper.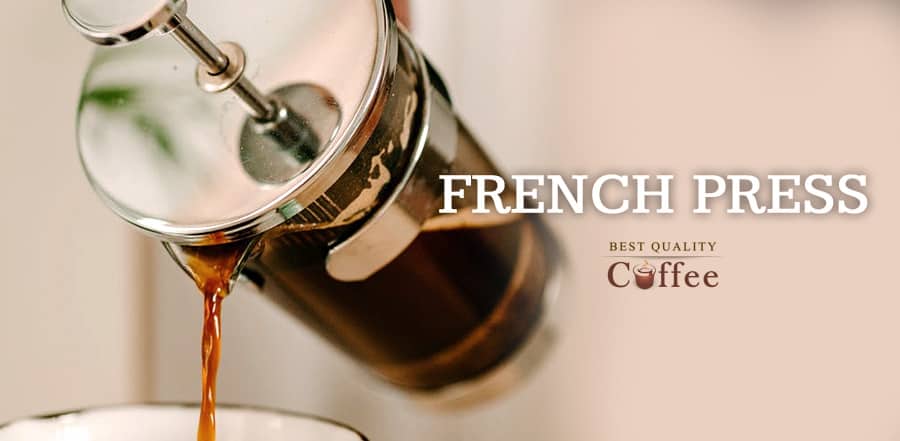 A French Press operates by delicately immersing coffee grounds in recently boiled water to craft a rich, robust coffee brew. The flavor becomes more intense with time, but the recommended time frame is four minutes.
French presses befit coffee enthusiasts who enjoy full-bodied and robust coffee. French Presses come in a variety of sizes ranging from 11.8 oz (3 cups) to 50.7 oz (12 cups).
Pros
Brewing takes place just below boiling point to prevent over-extraction
Brews flavorful and rich coffee
It's easy to control steeping time
Cons
You must heat the carafe first to maintain an excellent temperature
The beverage cools quickly
Pour Over
The pour-over brew method is favored by coffee connoisseurs for a number of reasons. The primary reason is that it allows the barista to fine-tune many different brewing variables such as water temperature, pressure, and timing. It produces a very refined flavor that accentuates many of the subtle notes of a given coffee bean. Another benefit of the pour over is that it requires no electricity. The pour over method can be incredibly simple or incredibly complex depending on how particular you are with you coffee.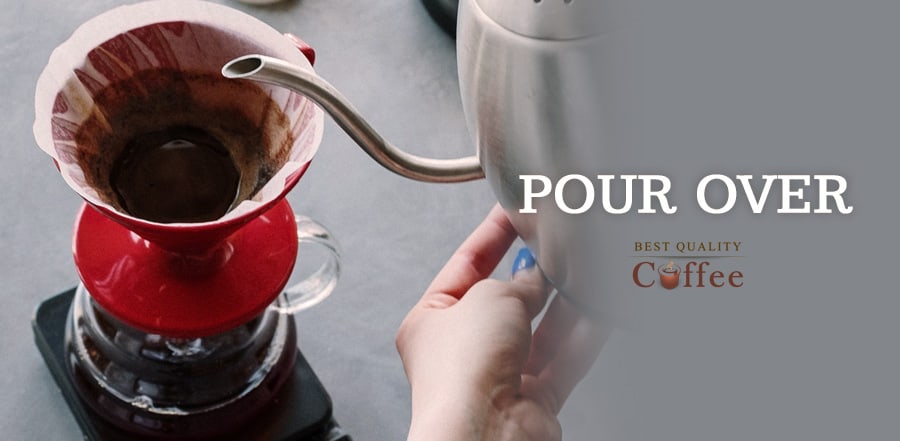 How to make a pour over
Place the filter paper on your funnel,
Add your coffee grounds, and
Pour water over it.
If you want to take this to the next level, check out our article on how to make the perfect pour over.
This procedure may require up to 15 minutes but can deliver quality, delicate coffee. You may have to grind your beans or purchase fresh grounds like their drip coffee counterparts. In addition, some filters can be wasteful, so you want to get yourself a quality reusable coffee filter. The latter can make clean-up more complicated than disposing of paper, but it's worth the effort.
The pour-over coffee maker is ideal if you're money-conscious. It'll cost you less than $50.
Pros
You only need hot water and filter paper
Can create a full-bodied coffee with a very refined flavor profile
Full control over all brew variables
Cons
Siphon Coffee Makers
A siphon coffee maker is also called a vacuum pot or vacuum coffee maker. This coffee preparation method is characterized by its gentleness as well as it's science fiction-like design. The water blends with the coffee grounds slightly below the boiling point. This lower temperature facilitates a more delicate brewing process, preventing the over-extraction of flavors.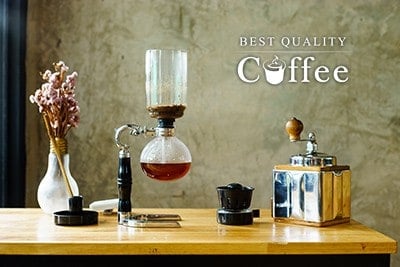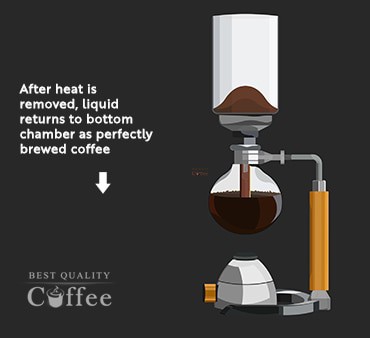 Siphon coffee stands out for its remarkably clean, bright, and flavorful profile. The gentle vacuum-powered brewing process extracts delicate flavor compounds, resulting in a crisp acidity, a balanced body, and a smooth finish. Siphon coffee is free from bitterness, showcasing lively citrusy, fruity, or floral notes.
Unfortunately, the machine may not be practical for daily use as it contains multiple fragile components. In addition, brewing each pot takes time and effort.
Pros
Gentle brewing
Delivers a very aromatic cup of coffee
Achieves a big and rounded coffee flavor
Elegant design worthy of being a conversation starter
Cons
Numerous components complicate cleaning
It isn't easy to regulate the base temperature in non-electric versions
Espresso Machines
Electric espresso machines occupy the higher end of the coffee maker spectrum, encompassing both user-friendly super-automatic models that operate with a single button press and intricate manual lever machines that demand a more hands-on approach. While espresso machines generally require a greater degree of attention and skill, mastering their intricacies can yield rich, flavorful espresso shots, making them a rewarding pursuit for coffee aficionados.
Like regular coffee, there are numerous methods for brewing espresso. For those who many not know, espresso is made from pushing pressurized water through finely ground coffee beans. It's more potent than drip coffee and is presented in smaller cups. This brewing method leverages manual, automatic, semi-automatic, or super-automatic machines. All these involve heating water and passing it through compacted coffee grounds under high pressure.
Pros
Delivers quality espresso
Can froth or aerate milk depending on model
You can use it as a base for other brews like cappuccino and latte
Cons
The process may require a learning curve with tamping, pressure, and quantities
K Cup Machines and Coffee Pod Brewers
Rounding out our list of popular coffee brewing methods is none other than the Keurig / K-Cup Machine.
Keurig K-Cup and coffee pod machines have revolutionized the way we brew and enjoy coffee, offering convenience, speed, variety, and consistent quality. These single-serve brewing systems allow you to brew a fresh cup of coffee in minutes, simply by inserting a pre-portioned pod or K-Cup and pressing a button. They offer a vast array of coffee flavors, roasts, and blends, ensuring that each cup is brewed with fresh, flavorful grounds, eliminating the risk of stale or inconsistent coffee. Single-serve brewing eliminates the need to measure coffee grounds, reducing waste and ensuring you always have the perfect amount for a single cup.
Pros
Effortless brewing in minutes
Diverse flavors and roasts
Fresh, consistent coffee quality
Portion-controlled brewing
Hassle-free cleanup
Compact and stylish design
Cons
Higher cost per cup
Environmental impact of pods although recyclable and compostable pods are growing in popularity
Limited control over brewing parameters
Conclusion: Best Brewing Methods
The above list of the best brewing methods is in no way all-inclusive and it wouldn't be fair to say one is better than another. Coffee is ultimately a simple matter of chemistry. Therefore, the brew method you choose will naturally have a major impact on your final brew. Don't be afraid to explore different ways of brewing your coffee to find out which is the best fit for you in terms of budget, time, and taste preferences.