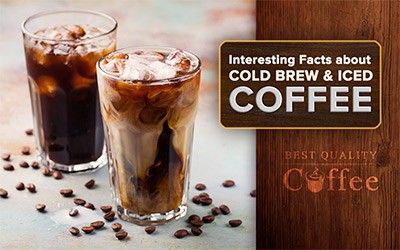 A warm cup of coffee may sound very appealing in the cold months but what the upcoming hot summer days? Believe it or not, there are many long-time coffee drinkers who've never even considered trying a cold brew. Some may have written it off as being nothing more than cold coffee or just coffee with ice. This article seeks to dispel that myth by sharing some benefits of cold brew coffee that many people and even coffee lovers are unaware of.
It's worth noting that cold brews and iced coffee are two very different things. Cold brew beans undergo a process of being steeped in water up to 18 hours after being roasted. On the contrary, is iced coffee is coffee that's simply added to ice.
Why is Cold Brew So Special?
Taste & Caffeine:
Cold brew coffee is made by steeping coffee beans in cold water for up to 18 hours. Because no heat is involved in this process, that burnt or bitter flavor that often comes with regular coffee is missing. This allows many of the sweet flavored undertones of a coffee bean to fully express themselves. In the end, this makes cold brew coffee generally sweeter than regular coffee. Many cold brew coffee drinkers don't need to add sugar to their cold brews for this reason. Cold brew coffee is also known to have more caffeine than regular coffee.
Acidity:
According to various scientific studies, cold brew coffee is significantly less acidic than regular coffee. In fact, cold brew coffee is known to be up to 60% less acidic than their hot counterparts. This is significant because the pH balance of your body is very important to overall health. For more information about coffee and acidity, check out our article on how to turn your coffee alkaline. From a health standpoint, the lower the acidity, the better. There are many who even suggest that cold brew coffee is sweeter because its less acidic.
Refreshing:
This one is a no-brainer. Having a cold brew on a hot day is one of those simple pleasures in life that has to be experienced to be truly appreciated.
Convenience:
Another one of the benefits of cold brew coffee is the convenience it offers. Cold brew stays fresh in the refrigerator for up to 2 weeks. Of course, regular coffee once brewed doesn't have a shelf-life worth speaking of. While this may seem obvious, being able to store your coffee for that long means you won't have to go through a brewing process every time you want some coffee. For those on a time crunch, you can easily stock up on the cold brews in the fridge that are sold in single serve portions. Cold brew in to-go options can be a great way to speed up the morning routine before work or as a great pick-me-up during the daytime hours. Look for varieties that can be purchased by the case if you're looking to save money (and who isn't?). For those who carefully regulate their diet, the FDA labeling on each cold brew bottle offers a convenient way to keep your regiment as well.
Variety:
There's a common myth that cold brew coffee offers only limited flavors. While it's true that regular coffee has more flavors to choose from, it would be a mistake to overlook the diverse selection available in cold brews. Some of the best options in cold brew coffee can be found for those who already enjoy mocha or chocolate flavored coffee drinks or lattes. If regular or original brews are more to your taste profile, consider checking out cold brew offerings that come without flavor or sugar-added.
Best Cold Brew Coffee Recommendations
Before jumping in head first, take a moment to consider your taste profile. If you like the fancy milk-based coffee drinks, a mocha-flavored or latte flavored cold brew would be a good fit. However, if you're more of a coffee purist, there are many pure black coffee brews out there as well. Check out our list of premium cold brew coffees to find out what cold brew fits you best.
Explorer Cold Brew
Our Top Cold Brew recommendation is a brand that we recently had the opportunity to review. Not only do they deliver an exceptional cold brew experience that's full-flavored and well-balanced and extremely convenient. It it does all of this while offering different levels of caffeine. They have high caff, regular caff, low caff, and even decaf so you can enjoy refreshing any time of the day. We awarded this cold brew brand a 5/5 in our Explorer Cold Brew review.

Califia Farms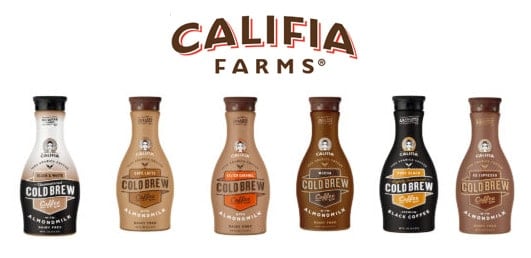 Califia Farms, is another premium quality cold brew company, offers a number of delicious flavors and use only 100% Arabica coffee. The company has gained a reputation for their natural and non-GMO products. Many of their cold brews come dairy-free and use almond milk as well. At the same time, they offer a line of pure black coffee cold brews that are no less impressive.

The benefits of cold brew coffee are quite diverse. From being less acidic to providing extra convenience, there are many practical reasons to consider drinking cold brew coffee. But in the eyes of most coffee lovers, one of the biggest benefits of cold brew coffee is it's simply the perfect way to stay caffeinated on a hot sunny day.
Cold brew coffees are also available in Pod form. Javahouse makes a cold brew coffee pod that is as refreshingly delicious as it is convenient.