Bean & Bean never ceases to impress me as one of the best coffee roasters out there. I make this statement based on years of reviewing some of their finest beans. This includes their highly coveted Panama Geisha coffee bean which took 6th place in the Cup of Excellence competition. So needless to say, when I was presented with an opportunity to review Hawaii Kona Extra Fancy coffee, I didn't hesitate. The company was kind enough to send me a bag in exchange for a honest assessment.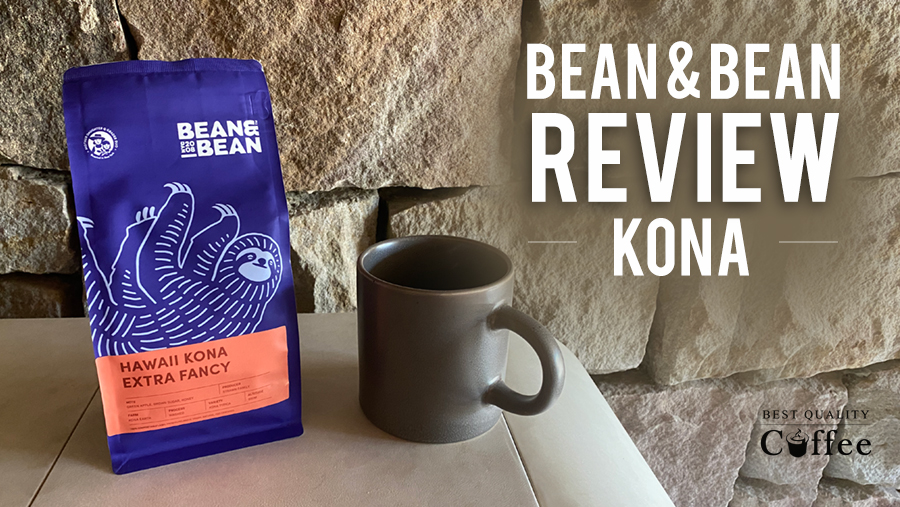 If you're not in the mood to read all of the details, check out my summary below of Bean and Bean's Kona.
| Feature | Description |
| --- | --- |
| Brand | Bean & Bean |
| Flavor | Smooth, rich, and complex |
| Quality | High-quality Kona coffee beans roasted to perfection |
| Price | More expensive than other types of coffee, but worth the price for a premium Kona coffee experience |
| Availability | Available in a variety of roast levels and grind sizes |
Before jumping right into this Bean and Bean Kona Coffee review, allow me to give a background about the Kona bean. Hopefully, it'll cultivate a deeper appreciation for the brew.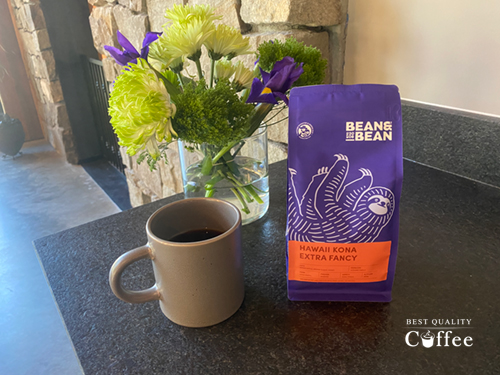 Anyone who has tried Kona coffee before knows just how special this type of bean is. Kona coffee supply is very limited because on average the farm that the bean is grown on is no larger than 3 acres. These beans are grown in a specific region aptly named the "Kona Belt" located on the big island of Hawaii. Its unique climate produces an incredible smooth yet complex set of flavors that coffee connoisseurs around the world covet.
You might be wondering what the designation of "extra fancy" means. No, it's not just an arbitrary adjective used for marketing purposes. Kona coffee beans are graded on an official scale by Hawaii Dept of Agriculture. "Extra Fancy" being the highest rating. It also comprises less than 1% of all Hawaiian coffee.
Kona Extra fancy (the highest quality and largest beans)
Kona Fancy
Kona No.1
Kona Select
Kona Prime (smallest beans that can contain up to 20% defective beans)
Having laid down a basic foundation of Kona coffee, let's get right into this review.
Bean & Bean Kona Coffee Review: Flavor
Bean & Bean prides itself on making some of the best coffee in the world. It's worth noting that the company is run by a mother / daughter duo both of whom are Q Graders. For those who don't know, Q Graders are certified coffee quality graders who undergo rigorous training and testing to assess coffee quality. They evaluate factors like aroma, flavor, body, acidity, balance, and overall quality. Q Graders play a crucial role in maintaining coffee standards, ensuring that coffee meets specific quality benchmarks. Their expertise helps coffee producers, roasters, and consumers identify exceptional beans, fostering a thriving specialty coffee industry. Needless to say, the company operates on very high standards.
Let's take a quick look at this Kona bean's details:
Extra Fancy Grade
Grown at 600 meters
Wash Processed
Farm: Lion's Gate
Needless to say, I was very excited to try this 100% Kona brew.
I ground the beans up in my coffee grinder until they were a fine grind. From there I followed the instructions on the bag and measured the correct amount of coffee for 6 cups of coffee. I brewed them in my drip coffee maker out of convenience and within a matter of minutes, my coffee was ready. I drank the first cup black to get the full and authentic flavor of the coffee.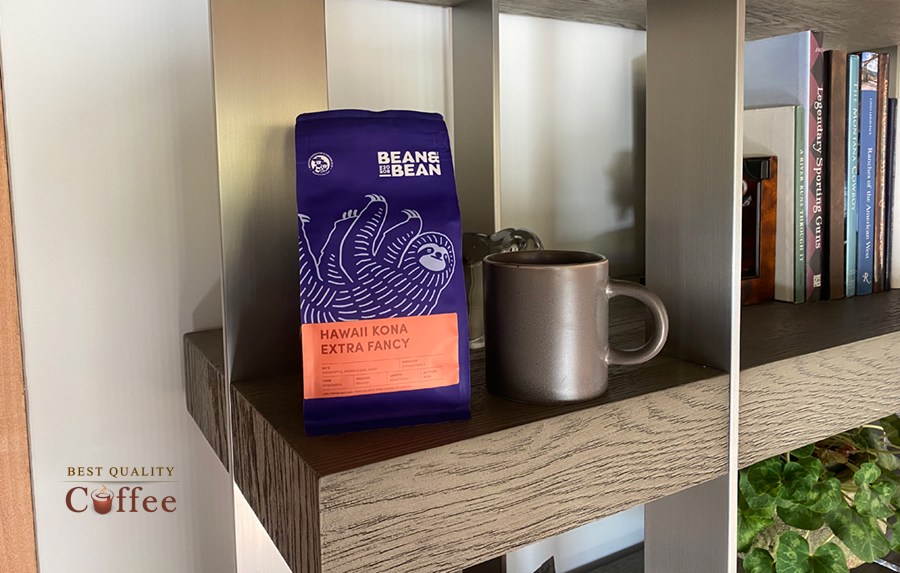 Bean and Bean Kona Review: Flavor
Immediately on the first sip, I was blown away about how smooth the coffee was. One of the smoothest cups of coffee I have ever had. It was also pleasantly sweet with a flavor profile consistent with its tasting notes of green apple and honey. It's a mild sweetness that's still unmistakable. Sometimes, a coffee's notes can be overpowering. This was definitely not the case here and I think the tasting experience was all the better for it.
I didn't feel the need to add cream or sugar because the flavors were so balanced and delightful to my taste buds. I went for another cup and found each one more satisfying than the last. I felt so honored to be selected to review this coffee as it was such a great coffee experience.
They say that the coffee is a medium to light roast, but I would put this in the light roast category (based on my own personal scale).
The Packaging
The packaging was standard to what I am used to from Bean & Bean. Simple and functional. I appreciate the simplicity of the packaging and subtlety of the messaging. On the back there is a note from the company, and on the front the signature sloth and font about the type of coffee. I really appreciate how they tell you how much coffee to use per cup. So often do I get coffee and it becomes a guessing game of figuring out how much coffee to brew. Not the case with Bean & Bean.
The Aroma
The aroma of a Kona coffee is undeniable. I've only been to Hawaii once, but tasting this coffee makes me want to go again. It's amazing how the olfactory senses are so closely connected with past experiences. If you can't swing a full trip to Hawaii, then this coffee will help cure the itch until the time comes for you and yours.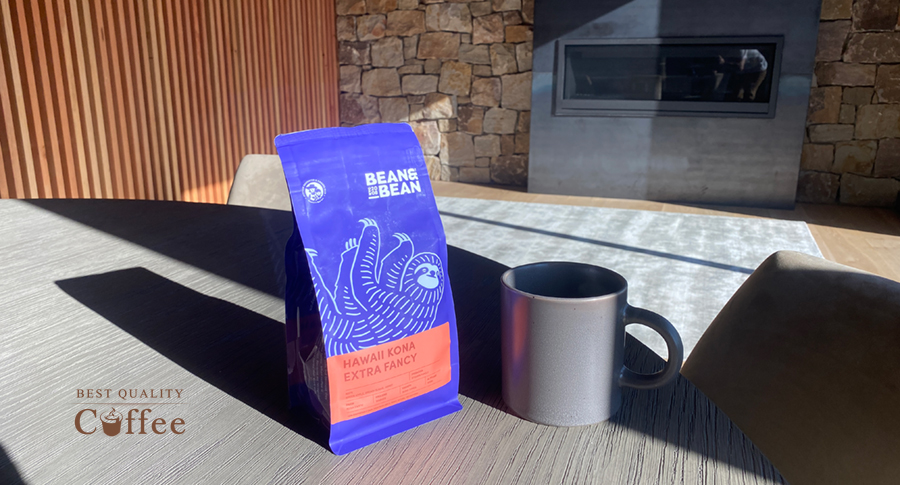 Bean and Bean Kona Coffee: Final Thoughts
Overall, this coffee really stands out above many of the other coffees I have tasted. The flavors are balanced and delightful signaling a quality of bean I've only come to expect from Bean and Bean. I'd recommend this Extra Fancy Kona to coffee lovers who have a preference for sweet, balance, and mild flavors. Keep in mind that the term mild is in no way a negative thing. It actually helps with creating an ultra smooth brew since there's no particularly overpowering flavor. Sometimes boldness in flavor can come at the expense of smoothness in texture.
As I mentioned at the start of this review, I've had the pleasure of reviewing some of the best coffees this brand has to offer. The only thing more impressive than their quality is their consistency. They are consistently exceptional.
If you're looking for another type of flavor profile, check out our list of top rated Kona coffees.