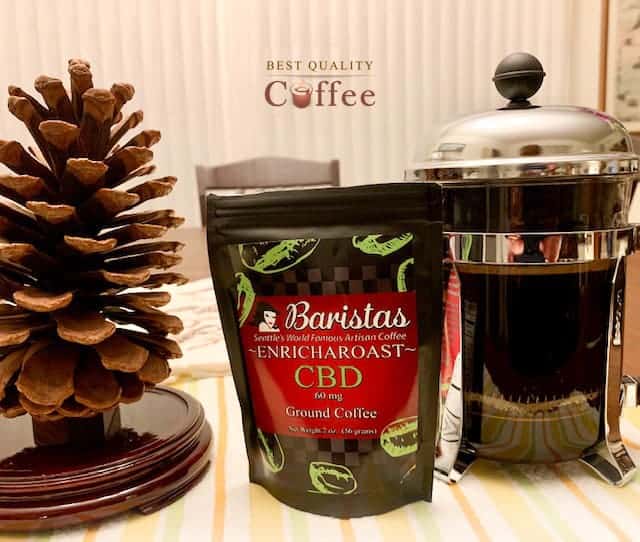 With the rapidly growing interest in the health benefits of Cannabidiol (CBD), CBD products are literally popping up everywhere. From gummies and cookies to waxes and lotions, companies are coming up with more creative and effective ways to introduce CBD into new markets. So it should be no surprise that coffee, the world's most popular drink, has also formed a relationship with CBD. One of the pioneering companies in this space is Baristas who offers their Enricharoast CBD coffee as an option for the discerning coffee lover. The company sent me some of their coffee to test out and I've written this Barista CBD coffee review to help you decide whether this is the right brew for you.
Related Article: Best CBD Coffee
As a very brief introduction, I'm an active coffee-loving woman in her late 60's. I love my coffee and it's been a staple in my life for longer than most people have been alive. I was introduced to CBD coffee some months back and have been getting my hands on as many different CBD coffee products as possible to get an idea of what works best for me.
What is CBD: Barista CBD Coffee Review
For those who may not know, CBD is a compound found in the cannabis or marijuana plant and is known as a natural remedy for a wide variety of ailments including anxiety and physical pain. We won't go over all the benefits in this article, but if you want to learn more about CBD check out Healthline's article here. Some say the benefits of CBD are controversial but in my experience and the experiences of those close to me, it's been nothing but a blessing on multiple levels. It's important to note that this CBD is full-spectrum which means it will not get you "high". THC is the primary psychoactive ingredient in cannabis and this coffee contains none of it. So without further ado, I'll get on with the actual Barista CBD coffee review.
How does the CBD Coffee Taste?
It's worth mentioning that Baristas is based out of the coffee mecca of the US: Seattle. It's a place where you simply can't fake good coffee. When I first opened the bag, I was greeted and treated to a delightfully strong and deep coffee aroma. Those who've read my previous reviews will know that aroma is very important to me. This coffee's aroma was exquisite and a joy to smell.
Barista's Enricharoast is a South American bean freshly roasted in New York City. I brewed the coffee in a standard French Press and patiently waited to take my first sip. As soon as I tasted it, I knew this coffee was special. In my lifetime, I've had my share of different coffees from super exotic single origin brews to a good ole Starbucks. Baristas CBD coffee is the smoothest coffee I've ever had. I don't say that lightly. As a lover of smooth coffees, I've found sometimes a coffee can be "too smooth" in that the coffee flavors are underwhelming. In these cases, you end up with a rather boring brew that tastes like you're drinking thick water rather than real coffee. However, with Barista's CBD coffee, you get a silky smooth taste that still offers a wide range of distinct and delicious flavor notes. This is a credit to just how well-balanced the acidity of this coffee is.
I had a friend over the other day who arguably takes her coffee even more seriously than me. She was very impressed by the coffee as well. In my opinion, this type of coffee is unquestionably good enough to satisfy even the most discerning coffee connoisseurs.
If you've ever tried Green Road's CBD Coffee, this coffee is stronger and bolder in comparison.
CBD Coffee Effects
As someone with a medical background, I always steer clear of making unsubstantiated claims. Having said that, I made a number of definitive observations on how this particular CBD coffee affected me. This isn't medical advice, and my experience is all I can offer. The most obvious affect was that I felt happier, calmer, and more at peace. It was relaxing but in no way did it make me feel drowsy or sluggish. In fact, it was quite the opposite. The calm feeling was accompanied by a noticeable mental clarity as I went about my day. It seemed like the mental clarity was just the natural result of being calm and more poised. Additionally, I noticed these periods of calm lasted throughout almost the entire day which was new for me. While this could've been the product of multiple factors, it was clear that the CBD contributed to a more sustained improvement of my mood. My friend who had tried some of the coffee earlier in the day, experienced the same thing.
In my experience, the biggest benefits of CBD are the most obvious over time. I drank this coffee over a period of 1 week and so it's too early to make any claims about long-term affects. I look forward to drinking more so I can get a better gauge and will be updating this Barista CBD coffee review accordingly.
Tip: When shopping the best CBD coffee brands, it's important to remember that's it not always about how much CBD is in the coffee. One major factor is something called bioavailability which is a measurement of how easily and effectively something is absorbed by the body. They accomplish this through proper extraction and infusion processes. Check out our article on CBD Bioavailability for more details.
Conclusion: Barista CBD Coffee Review
The short term effects of the CBD in this coffee already impressed me. But as a coffee lover first, it was the actual coffee that had me sold. Barista's CBD Coffee delivers on all counts for both the health-conscious coffee lover and the uncompromising coffee lover alike. I just wished I would've learned about it earlier.