The concept of making espresso "on the go" may seem like a strange thing for many espresso lovers. This is because making espresso as opposed to coffee requires specialized equipment capable of producing high enough water pressure. So when I heard you could make espresso on the go using a device called the Simpresso, I was intrigued. The company was generous enough to send me their product to stress-test and review. I admit it initially seemed weird to me but considering I often spend time exploring rural locations and the outdoors here in Montana, I thought this might be right up my alley. For this Simpresso review, I'll be sharing my experiences with this device so you can decide for yourself whether it's the right product for you.
If you'd prefer to skip down to the final conclusions, click here.

To provide some brief context, while I'm a coffee lover who enjoys espresso, I don't personally own an espresso maker other than a basic Moka pot. So my espresso consumption is generally restricted to the infrequent visit to the coffee house. I'm also the type of coffee drinker who likes to make my own brews at home where I can control the various aspects of the brewing process to suit my tastes. I often make my coffee while hiking or travelling the back roads using a small pour over method because of convenience and portability. At first glance, the Simpresso machine seemed to offer both of those features, but I still wondered about the quality of drink.
Simpresso Review: Product Design and Build
The Simpresso is slim, sturdy and small – about the size of 20 oz water bottle. All of the needed components nest conveniently inside the unit, plus there are four separate reusable smart capsules and a scoop for packing your own grind. It all fit nicely in a classy weatherproof, roll top carrying bag. It's apparent that their product designers focused on keeping this portable espresso maker compact and light weight. These traits make the Simpresso very well-suited as a an excellent camping espresso maker.
When I first held the machine, I could immediately feel a certain level of quality. It has weight but isn't heavy. The lever pump functioned very smoothly. In comparison with the pump levers of other portable espresso devices like the Nanopresso or Minipresso, the Simpresso requires less effort and force to operate. This is an especially welcomed feature considering the device is capable of putting out a 19 bars of pressure which is higher than many other portable espresso devices. The double-walled water chamber and cup were stout, and the smaller internal parts were no less robust.
Heated conversation about the "Simpresso vs Nanopresso" are inevitable. The Nanopresso has set a very high standard for espresso makers on the go. The Simpresso shares many similarities with its competitor but offers a number of additional benefits.
Skip to our Simpresso vs Nanopresso Comparison
Obviously, durability is an important factor whenever you're talking about anything portable. For those concerned about whether the Simpresso can stand up to the wear and tear of hiking and camping, don't be. It can. The Simpresso is also 100% BPA free and all parts contacting hot water use PCTG materials.
As noted above, the Simpresso allows for the use of custom grinds by using their eco-friendly smart capsules. Alternatively, the Simpresso can be used with prepackaged Nespresso capsules which are like "mini-kcups". For this Simpresso review, I went with Nespresso capsules.
The Simpresso is very easy to use. However, like a responsible product owner, I read the directions anyways and followed them step by step my first time around.
Boil water
Load the nozzle head with a capsule
Add water
Start pumping. It's that simple.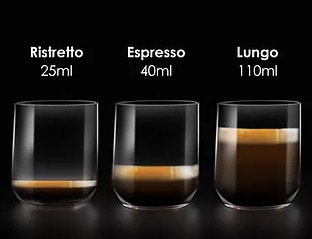 The water tank can hold 120 ml of water which is a lot compared to other brands. Additionally, it's fully transparent which allows you to easily see the three volume markers for making a ristretto, espresso, or lungo. For those who aren't hip to espresso lingo, these terms refer to the size of the shot ( .85, 1.35, or 3.7 ounces respectively.) The base of the water tank has a stainless steel filter followed by a needle that pierces the coffee capsule when the nozzle is screwed onto the water tank.
While it's really quite simple, understanding how the machine works will keep you from having any malfunctions so to speak. Over the next week I made several cups and realized a slower pump rate, at or below the recommended one pump per second, maintains ideal pressure and prevents any clogs. Other than that, rinse and dry when not in use. Another impressive quality of the Simpresso is how easily it can be taken apart for cleaning allowing for hassle-free maintenance.
Simpresso Review: Field Use
After several test runs at the house I broke away for a day hike. During the winter I'll often bring my stove and brew a cup of tea or coffee. These kind of choice luxuries, really add to the experience of being out in the snowy woods. My stove and cup is compact and lightweight and the well-designed Simpresso made for a perfect addition. I made my way through a beautiful canyon trail that usually sees a fair amount of summer time rock climbers. Today, I had it all to myself.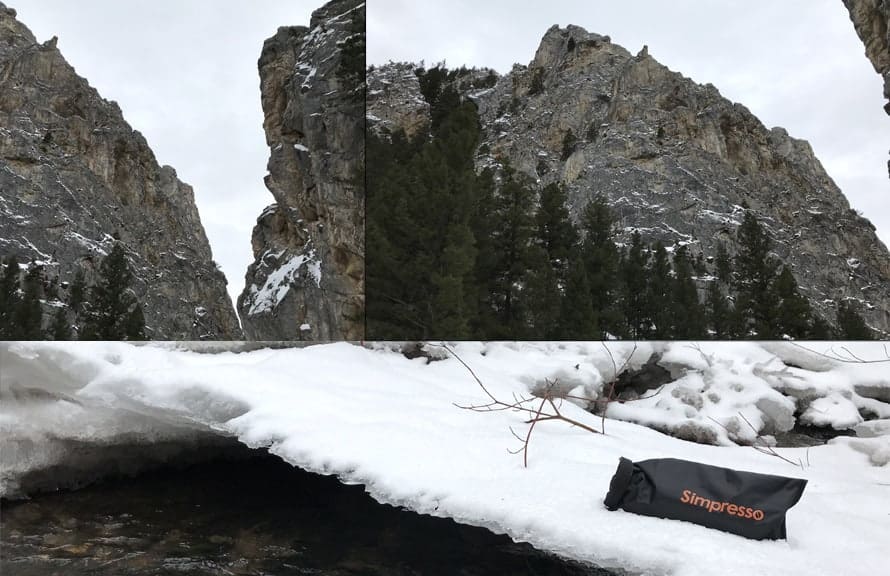 I found a nearby creek and began my search for a spot where I settle down and brew an espresso. An old camping spot with a small log table was the perfect resting place. I boiled water and a half a minute of pumping later, I found myself sipping on a deliciously rich shot of espresso. Believe it or not, I actually enjoyed the simplicity of the experience so much I forgot to snap a pic of the final product (both my hands were full). I mentioned earlier that this makes for an ideal camping espresso maker, and I know have the experience to prove it. And that brings me to the last part of my review…taste and quality.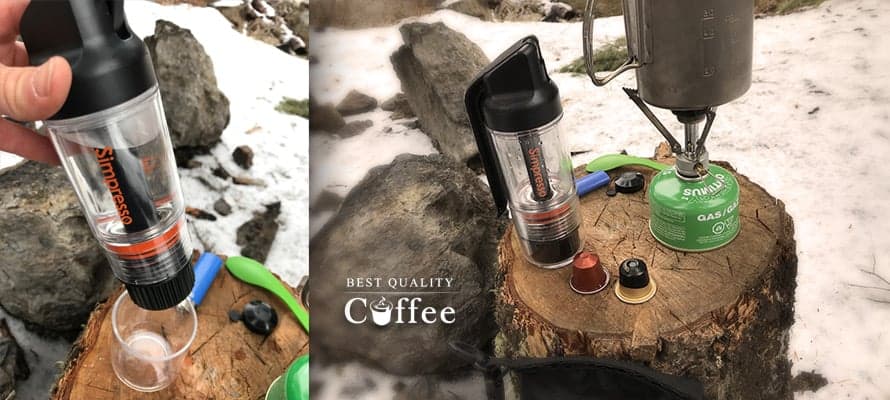 Simpresso Review: Flavor
Throughout my experience I never found it necessary to use the smart capsules with my own grinds. Partly because of the convenience, but mostly because I really loved the flavor and ease I got from the premade capsules. I tried the Envivo Lungo from Nespresso (orange capsule) and Nerissimo Bittersweet Indulgence 11 from Peet's. Both were great! However, I found myself sneaking the Nerissimo back at the house. It was designed for the Lungo size (3.7oz) and was near perfect.
Related Article: Check out our review of Outin which is a world's lightest portable automatic espresso maker.
The common concern about making espresso on the go is whether the final brew will taste as rich as if it were made from an espresso machine. Stories of diluted espresso aren't uncommon when talking about portable espresso makers since they're capable of producing limited pressure. Commercial espresso machines typically produce 15-20 BARs of pressure. The Simpresso generates between 15-19 BARs making it more than capable of generating the required pressure for a true shot of espresso. In my experience, this added pressure helped create a fantastically robust espresso with deliciously rich crema. The Peet's Nerissimo was designed for the standard espresso 1.35oz size and it was intensely rich as well. Both were a real treat with little hassle or prep time. At my estimated one pump per second rate, the lungo cup took about 30 seconds while the espresso size was around 20.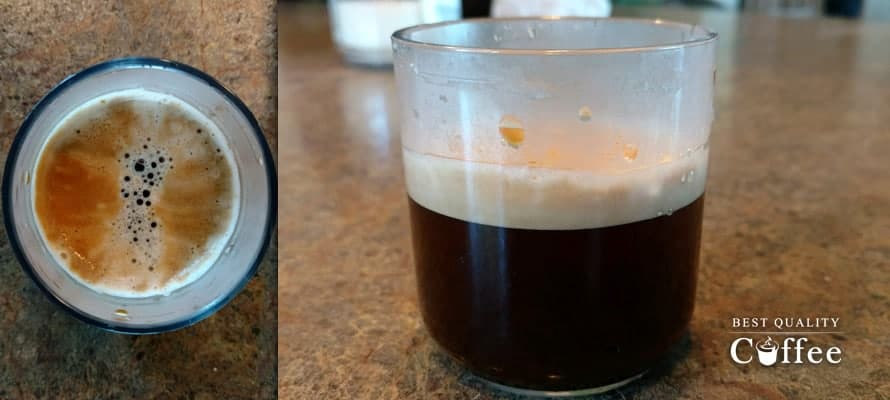 Simpresso vs Nanopresso: Comparison
Many shoppers are naturally asking what the difference is between the highly popular Nanopresso and the Simpresso portable espresso maker. The Nanopresso is a solid purchase that's garnered hundreds of positive reviews. In comparing the Simpresso vs Nanopresso there are few key differences that stand out.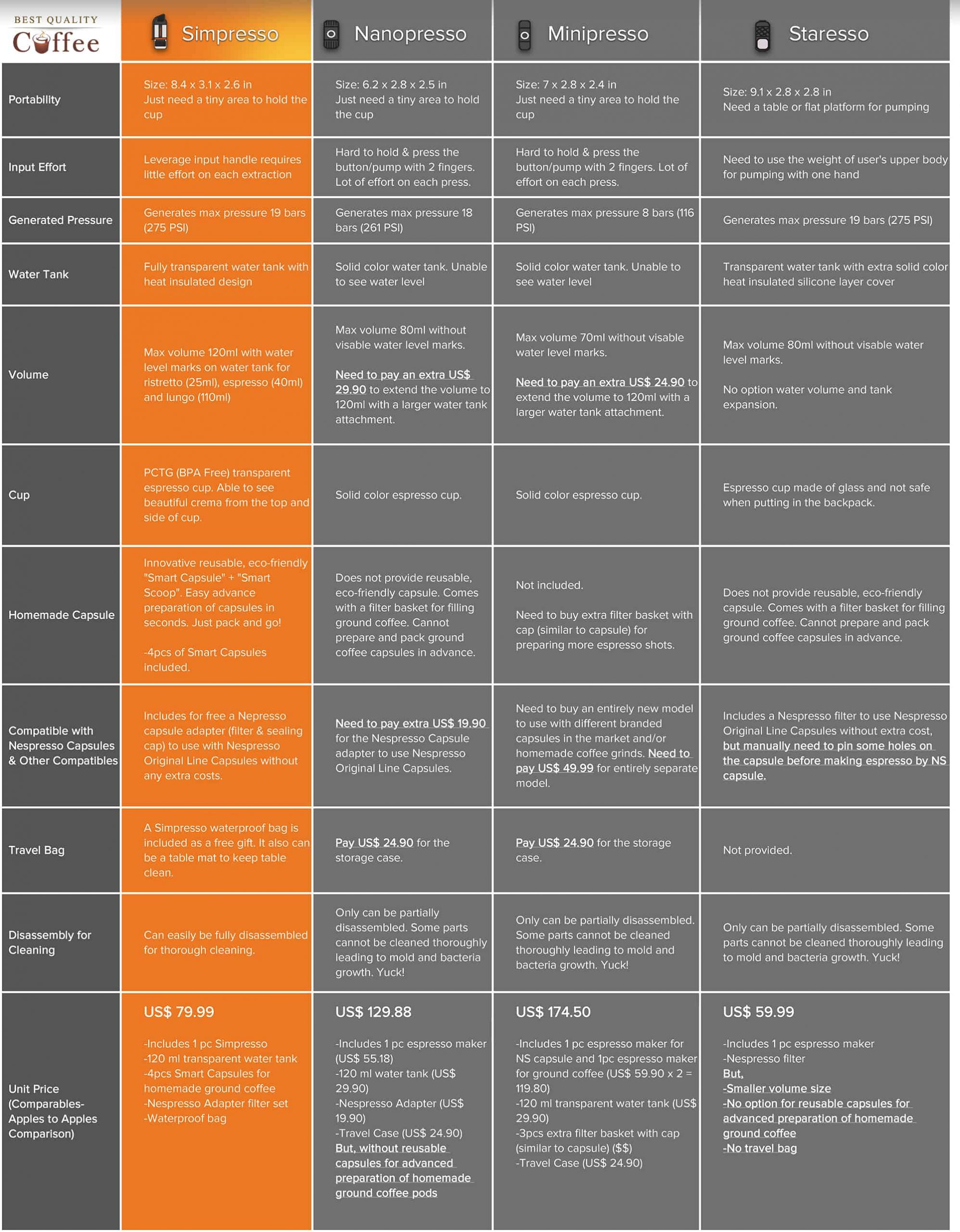 Simpresso can produce 19 bars of pressure while the Nanopresso can do 18 bars (not a huge difference but enough to mention)
Simpresso offers a full transparent water tank where as the Nanopresso is opaque (can't see water levels)
Simpresso comes with a 120ml water tank with level markers where as the Nanopresso base model only comes with 80ml and doesn't have markers
Simpresso uses smart capsules that are eco-friendly and reusable allowing for easy advance preparation. Nanopresso uses a filter basket for filling ground coffee thereby making it impossible to prepare and pack coffee capsules in advance.
[ See the image of the chart for comparisons with more portable espresso maker products]
Final Thoughts on the Simpresso
At the end of the day, the Simpresso offers a durable, highly-portable, single serve espresso option capable of producing espresso on par with you local coffee house. As I noted from the beginning, I'm an avid coffee lover but not an espresso connoisseur. Having said that, I can still no doubt identify and appreciate a great espresso when I taste one and by that standard, Simpresso delivers in full. If you're in the market for a quality portable espresso maker, you may also want to check out this chart to compare which compares the features of the Simpresso to some of the more popular products in this niche.
While I do enjoy the noise and clang of friends at the coffee house, my soul especially appreciated the results of the Simpresso among the silence of the towering cliffs and wilderness. After finishing my hike, I went home and treated myself to another shot while sitting in front of the fireplace.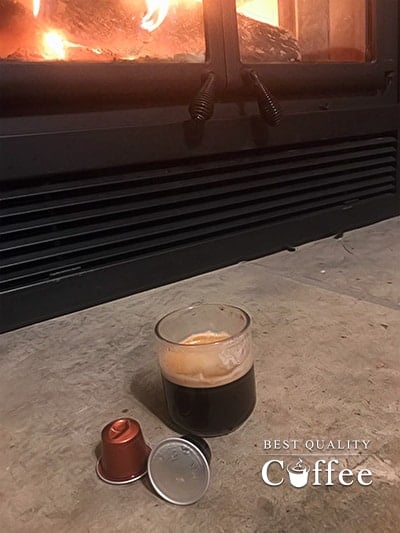 In concluding this Simpresso review, I must say that "Simpresso" is a very fitting name for an espresso device that's both simple and impressive. It's clear the creators of this device have gone to great lengths to make this literally one of the best portable espresso makers on the market.
If a portable espresso maker isn't a necessity for your lifestyle but you still want espresso in a convenient form, check out our selection of espresso K Cups.