The world of high-end espresso machines is fiercely competitive. Within this upper echelon of elite espresso equipment, Jura is a company that needs no introduction. For many decades, their Swiss craftsmanship has helped set new standards for what customers have come to expect from the industry. In this Jura GIGA 10 review, we take a look at one of Jura's newer espresso machines. And it's impressive to say the least.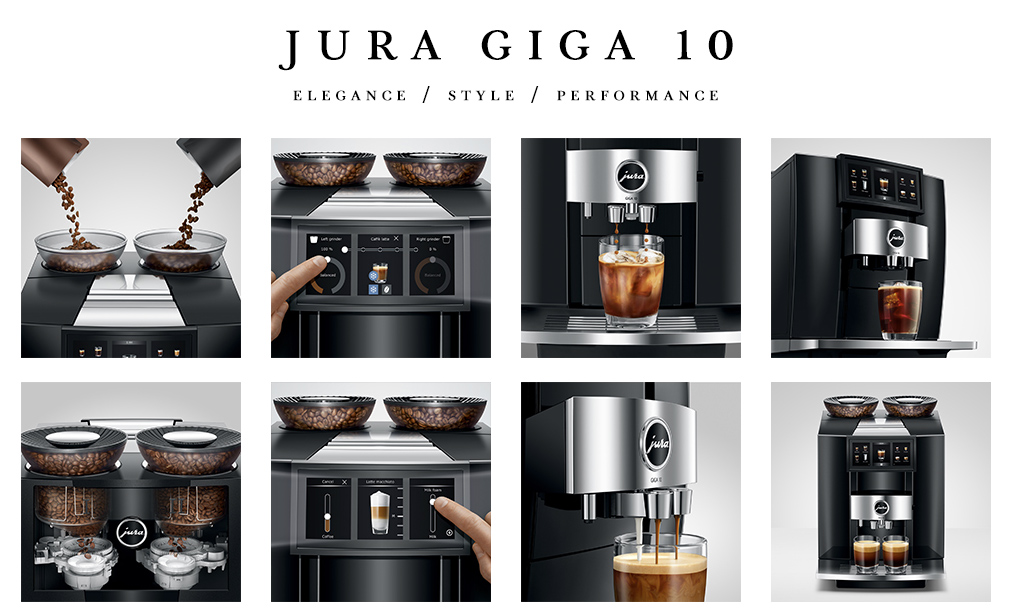 In spite of its high performance and output, this machine is listed as a home machine.
Before jumping right into this Jura GIGA 10 review, let's look at an overview of the machine's specifications. We'll cover these features in more detail later in the article.
Versatility: Experience the convenience of preparing both hot and genuine cold brew specialties with a simple touch. Enjoy the freshness of freshly ground coffee, as it's not capped. Choose from a wide selection of 35 options, and expand your range of flavors with the Aroma Selection function.
Operation: The large 6.7″ touchscreen Panorama Coffee Panel is specifically designed to provide optimal clarity and user-friendliness. Easily navigate through the menu and settings without any hassle.
Customization: Customize your coffee exactly to your liking with easy tap and slide controls. Adjust various options such as volume, intensity, bean container, coffee to milk ratio, and more, to create your perfect cup every time.
Grinder: Benefit from the convenience of two 10-ounce bean containers, each equipped with its own electronically adjustable ceramic disc grinder. The Automatic Grinder Adjustment feature ensures precise grinding to suit your preferences.
Technology: Explore the advanced features of the Jura Giga 10, including the exclusive Cold Extraction Process, Pulse Extraction Process, One-Touch Americano and Milk Specialty Function. The Eighth-Generation Brew Unit with 3D Brewing Technology allows for parallel preparation, while Intelligent Preheating ensures optimal brewing conditions.

Jura GIGA 10 Design
This is a very well-designed piece of equipment. It doesn't deviate to much from Jura's trademark style which in my opinion is a good thing. As the saying goes, "if it ain't broke, don't fix it".
While an espresso machine is primarily purchased for its function, we still shouldn't overlook the importance of its form. Fortunately, the Jura GIGA 10 is a grand example form and function seamlessly blended together. It's sleek character and exterior makes it an impressive centerpiece of any kitchen or office space.
The machine's housing is a mixture of stainless steel and plastic like many of Jura's other products.
The Jura GIGA 10 is decently large. It's dimensions are W- 12.6″ x H-16.3″ x L-19.6" / 40 lbs. As good-looking as it is it takes up a fair amount of counterspace so it's important to consider what real estate you're working with before making the purchase. With a height of 16.3″, it's a little taller than the Jura Z10. Be sure to also place it in an area with enough clearance to account for the extra height of the bean hopper.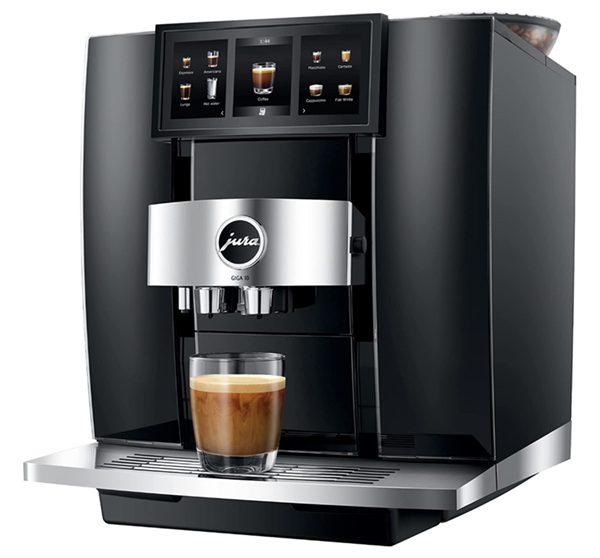 Jura GIGA 10 Review: Bean Hoppers
Having two bean hoppers in an espresso machine offers a multitude of benefits for coffee enthusiasts. No Jura GIGA 10 review would be complete without a mention of this incredibly convenient feature. It allows you to switch between different coffee beans effortlessly, providing a seamless and fluid brewing experience.
One of the significant advantages is the ability to enjoy a variety of roast profiles with ease. With two bean hoppers, you' can keep type of roast, blend, or single origin brew available at your finger tips.'ll always have options. I personally like keeping a light and dark roast ready at all times so that my cup of coffee can match whatever mood I'm in.
For those of us who enjoy the occasional decaf brew, you can use this extra hopper to store your beans separately from your caffeinated beans and have them available on-demand. Once you've experienced the efficiency afforded by dual hoppers, it'll be hard to go back to just one.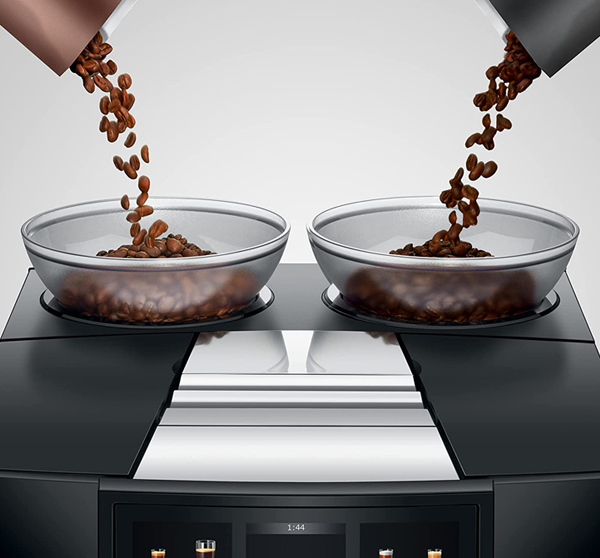 Jura GIGA 10 Review: Grinders
Dual hoppers means dual grinders. The Jura GIGA 10 comes with two adjustable ceramic disc grinders. These grinders can be electronically adjusted as opposed to turning knobs which in my opinion adds a nice modern touch to the user experience. As expected, these grinders are top-notch workhorses and offer the precision you'd come to expect from anything built by Jura.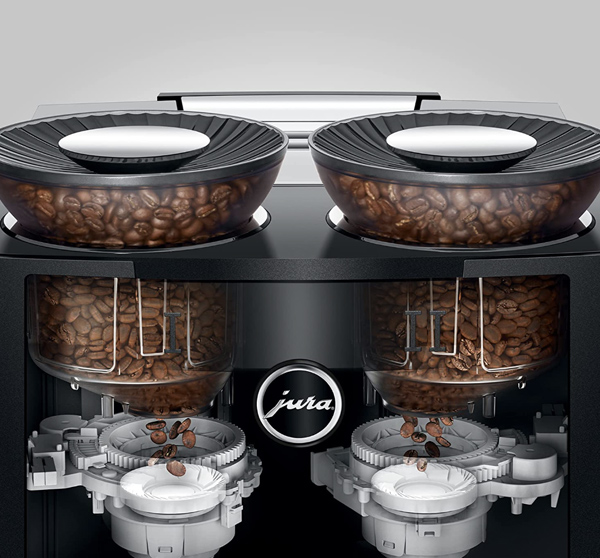 Jura GIGA 10 Water Reservoir
The GIGA 10's water reservoir holds 2.6 liters or 87.9 ounces. While this water tank is larger than other smaller model espresso machines from Jura, it would've been nice if the GIGA 10 could hold more. After all, when you have dual hoppers and grinders, you're likely to be cranking out more espresso than normal. Having to frequently fill up the tank in order to keep up with the output of the other features feels counterproductive and can serve as a bottleneck in some ways.
This is by no means a make or break as far as the purchase goes. Refilling a water tank slightly more often is not the end of the world. It's just something worth noting.
While we're on the topic of water, it's also worth pointing out that water is key to producing the perfect cup of espresso. This should come as no surprise since coffee is 98% water and you may be surprised by just how much influence water quality has on your final cup of coffee. It may seem obvious but many connoisseurs often overlook this critical factor. As such, the GIGA 10 comes with a Claris Smart Filter which ensures your water will be free of any unwanted contaminants.
How's the Espresso and Coffee of the GIGA 10?
So in this Jura GIGA 10 review, we've covered a number of features offered by this machine. But how is the coffee and espresso?
To get right to the point, the Jura GIGA 10 produces coffee and espresso of exceptional quality. In fact, it easily rivals if not surpasses that of coffeehouses that serve specialty coffee. And to me, that's saying a lot.
The ability to make 35 different coffee drinks means little if each drink isn't worth drinking. Jura knows that it's all about quality over quantity. It just so happens that this machine has both. The main reason this GIGA 10 is capable of brewing such impressive drinks is no doubt due to specific operating features that Jura wisely chose to include.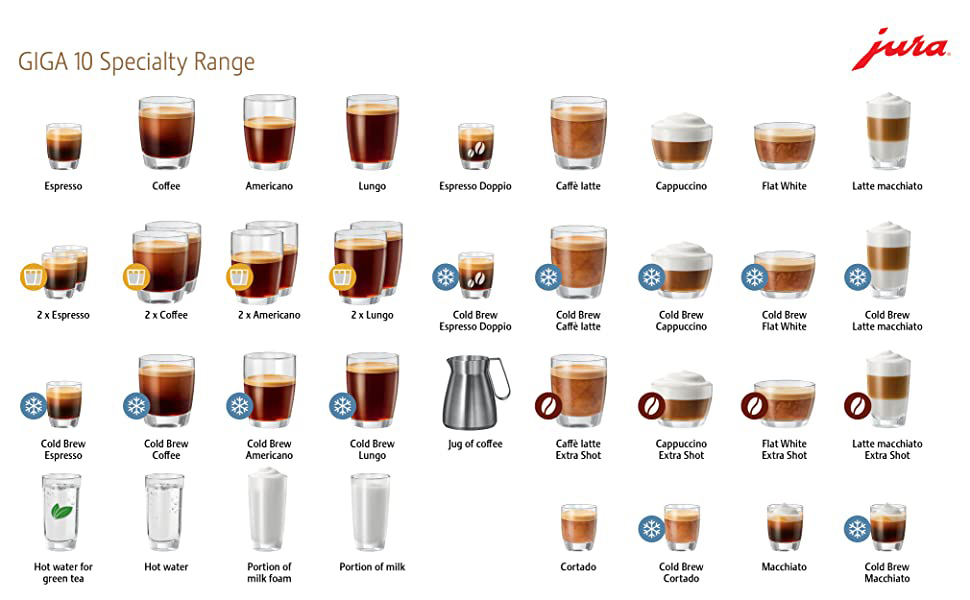 First, we have the innovative 3D Brewing Technology, which allows the water to evenly flow through the coffee grounds at different levels, resulting in an excellent cup of coffee with enhanced aroma and flavor. Coffee and espresso, no matter how you're making, it boils down to simple chemistry. And precise control over variables such as how evenly water is distributed over grounds can make the difference between a good cup of coffee and a transcendental one. This technology is a first for the GIGA line, although it can also be found in other models like the Jura Z10.
Another noteworthy feature is the Pulse Extraction Process (P.E.P), which is designed to fully develop the aromas and subtle flavors in the coffee. For those who may be unfamiliar with it, it's an innovative technology commonly found in higher quality espresso machines. It involves pulsating the water through the coffee grounds at short intervals and in precise bursts. This technique allows for the extraction of the coffee's full range of flavors and aromas by maximizing the contact time between the water and the grounds. By pulsing the water instead of maintaining a continuous flow, P.E.P promotes a more efficient extraction, resulting in a richer, more flavorful espresso. The controlled pulses also contribute to a more balanced extraction, preventing over-extraction or under-extraction, and ultimately delivering a superior and more satisfying coffee experience.

The Jura GIGA 10 also offers a cold extraction process, allowing you to enjoy a variety of coffee drinks, including cold brew specialty coffees and refreshing iced coffee.
If you're looking for some incredibly good quality to use with this machine, check out our list of the best black coffees of the year.
Jura GIGA 10 Maintenance: Easy or Hard?
Regular cleaning and descaling of your espresso machine are crucial to maintaining its performance and prolonging its lifespan. Cleaning removes residue and oils that can affect the flavor and quality of your coffee, while descaling removes mineral buildup. Descaling prevents potential clogs or damage to the machine.
That being the case, it's fortunate that cleaning is straight-forward with the Jura GIGA 10. It comes with an integrated self-cleaning program that takes care of all of this for you. This machine also features an easy automatic one-touch milk cleaning system as well as a onboard water filter monitoring system. In more ways the one the GIGA 10 is all about delivering high performance with low maintenance.
Jura GIGA 10 Review: Cons
While the Jura Giga 10 is a remarkable coffee machine in almost every way, there are a few downsides to be aware of:
Price: The Jura Giga 10 falls into the high-end price range, making it a significant investment. Few customers can afford to spend nearly $5k on an espresso machine. The fact that its price is a perceived con is not a shot against the machine itself. If you're looking to save money on your espresso machine purchase, considering buying factory refurbished Juras.
Complexity: The extensive customization options and advanced technology of the Jura Giga 10 may require a learning curve for users who are new to such machines. While it's easy to use, some users may find the plethora of options simply more than they want. Some users report that the interface isn't as intuitive as it could be and that the menu options seem limited.
Size and Space: The Jura Giga 10 is a substantial machine, and its larger footprint may pose a challenge for those with limited countertop or kitchen space. It's important to ensure that you have sufficient room to accommodate this machine comfortably.
It's worth noting that these potential downsides should be weighed against the numerous advantages and exceptional performance offered by the Jura Giga 10. Ultimately, the decision to invest in this machine will depend on your specific needs, preferences, and budget.
Jura GIGA 10 Review: Final Thoughts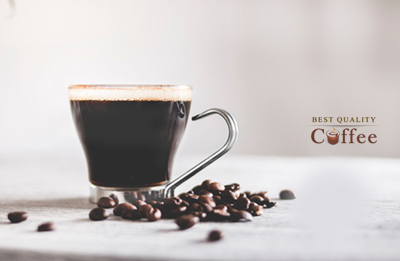 In closing this Jura GIGA 10 review, let's recap a few things. Obviously, anyone looking to invest in a super-automatic espresso machine of this caliber is someone who knows the value of an exceptional espresso.
The Jura GIGA 10 is a top-notch coffee machine that offers a multitude of features, making it ideal even for the most discerning coffee lovers. Its versatility goes beyond expectations, as it can effortlessly handle both hot and cold specialty beverages, bringing the coffee bar experience to your home without requiring excessive space.
Despite its higher price, investing in a GIGA 10 pays off quickly by way of money saved from buying local coffeehouse espresso. Not to mention, the convenience of being able to make such a high quality brew with such ease is something you can't really put a price tag on.
This exceptional performance is made possible by the thoughtful design choices incorporated into the GIGA 10. From the two bean hoppers and double grinders to the dual thermoblock heating systems, this machine artfully and masterfully delivers barista-style coffee drinks with minimal effort on your part.
Have you had a chance to try this product? If so, please drop a Jura GIGA 10 review in the comments and share your experience.
Jura GIGA 10 FAQ
What kind of warranty comes with the Jura GIGA 10
This machine comes with a standard 2 year warranty
Does the Jura GIGA 10 comes with WIFI connection?
Yes, it comes with a WiFi Connect transmitter which will allow you to easily connect with Jura's app called J.O.E. The Jura J.O.E. app allows you to customize and order drinks from the convenience of your Iphone or Apple Watch.
What's the cheapest price of the Jura GIGA 10
So far the cheapest price we've found is $4,999. We recommend making your purchase from 1stinCoffee which offers excellent customers service as well as a low price match guarantee.