The only thing that espresso lovers covet more than a good cup of espresso is a good espresso machine. And let's be honest. A quality espresso machine doesn't come cheap and at a minimum, is an investment. Perhaps you've had your eye on a specific machine that falls just outside of your budget. If that's you, consider stepping into the world of open box espresso machines.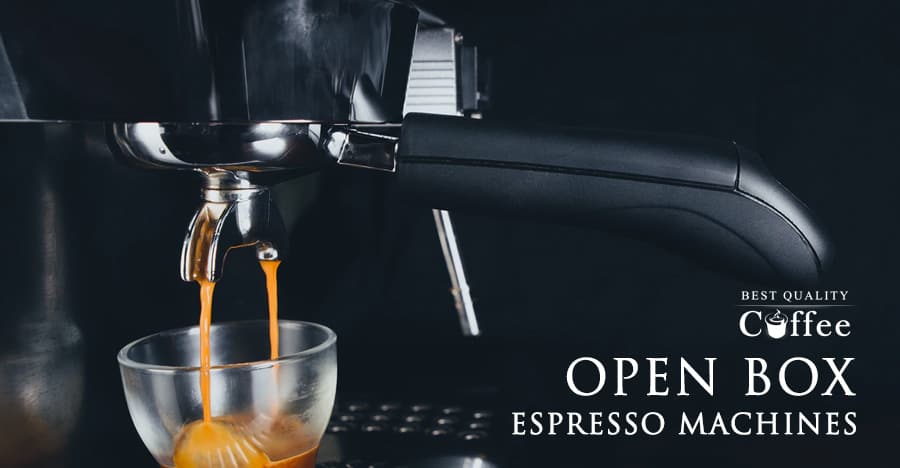 For some, the thought of an open box espresso machine or coffee maker can be off-putting. This article seeks to provide information that will hopefully address any natural concerns for those who are in the market. Please also note that open box espresso machines are quick to fly off the shelves given their high value proposition. We'll do our best to keep the availability status of these machines updated as frequently as possible.
For shoppers not in the mood to read our guide but just want recommendations on the best open box espresso machines, see our top 3 picks below. Note: Open Box espresso machines sell very fast and so their availability changes quite frequently. For real time listings, click here. Be sure to check out the rest of our list for additional options including those that are more budget friendly.
One Touch: A drop-in milk siphon makes milk drinks a single touch

Drink Programming (Over 10 specialty drinks)

Hand-Made: Crafted in Milan


Plumbable

Insulated Boiler
Open box espresso machines are an excellent way to get the performance you're looking for without having to pay the full price. It offers a way to enjoy the performance benefits of an espresso machine without breaking the bank.
As a matter of fact, with open box purchases you can sometimes save over 25% off the original retail price.
Before getting right into this topic, you should know that with any open box espresso machine, you should check with the retailer to see what exactly the term "open box" means. As is with the case with buying any open box item, you'll need to ask questions so you can have true peace of mind. The most obvious questions are:
Why was this returned?
What type of warranty does it come with?
Is there a return policy on this open box espresso machine?

Do not hesitate to reach out to the retailer to get answers to this pertinent questions.
This brings us to the next point. Be sure that the retailer actually HAS someone to call and that they offer accessible customer service. Email is all well and good in this day and age. But nothing replaces being able to speak to a live person on the other end.
With these questions in mind, we've found that Seattle Coffee Gear is one of the best retailers online for open box espresso machines, primarily because of their stellar customer service. Gale and her team have earned a strong reputation in an industry that's admittedly hard to please. Customer service is an important consideration in any purchase, but it's especially important when purchasing an open box product of high value like an espresso machine.
Aside from customer service, we recommend Seattle Coffee Gear because ALL of their open box espresso machines come with the original manufacturer's warranty. That's huge deal and in my opinion an area that's a non negotiable. We would only recommend buying open box espresso machines and coffee makers that come with an original manufacturer's warranty.

Open box espresso machines from Seattle Coffee Gear will have seen minimal or light usage. They will also have been returned within the 30-day return window that comes with new equipment. The reasons for such returns can be due to buyer's remorse and not necessarily because of equipment malfunction. Open box espresso machines may have minor scuffs, temporary water marks, or small dings. Having said this, every open box espresso machine will be in perfect working order.
Adding to customer peace of mind is that the company is certified to work on and repair a wide variety of espresso machines so you can be sure your getting quality work. The importance of this fact cannot be understated. Some sellers claim to be able to work on a given espresso machine, but few can tout actual certifications. For more information on Seattle Coffee Gear's repair services and capabilities, click here.
Another thing to note about open box espresso machines is that sometimes they will not come with accessories. Every item is different so be sure to check the specific details of each specific product listing.
For SCG's full list of Open Box espresso machines, click here.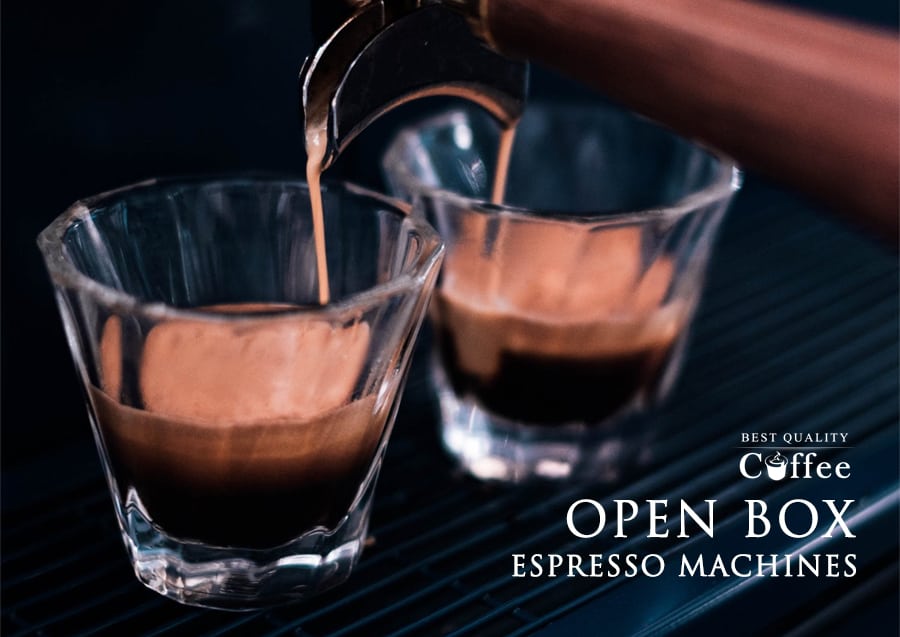 Open Box Jura We6 Espresso Machine
Starting off our list of best open box espresso machines is the Jura We6. One of Jura's most popular models, this easy to use machine allows you to make 8 different specialty coffee drinks with the simple touch of a button. Equipped with the Aroma G3 Grinder, this grinder is quiet, efficient, and fast ensuring beautifully consistent and precise grinds. This super automatic espresso machine is designed for the bulk coffee needs of a small office. Of course, it can be used for a family at home as well. It features a PEP extraction technology, automatic water and grounds bin tracking, and smart water filtration. Save over $400 on this Open Box Jura We6.
Aroma G3 Grinder that's quiet and fast
Capable of making 8 specialty drinks
Intelligent Pre Brew Aroma System – preinfuses your grinds for optimal extraction
Pulse Extraction Process for greater intensity of flavor
Open Box Rocket Appartmento Black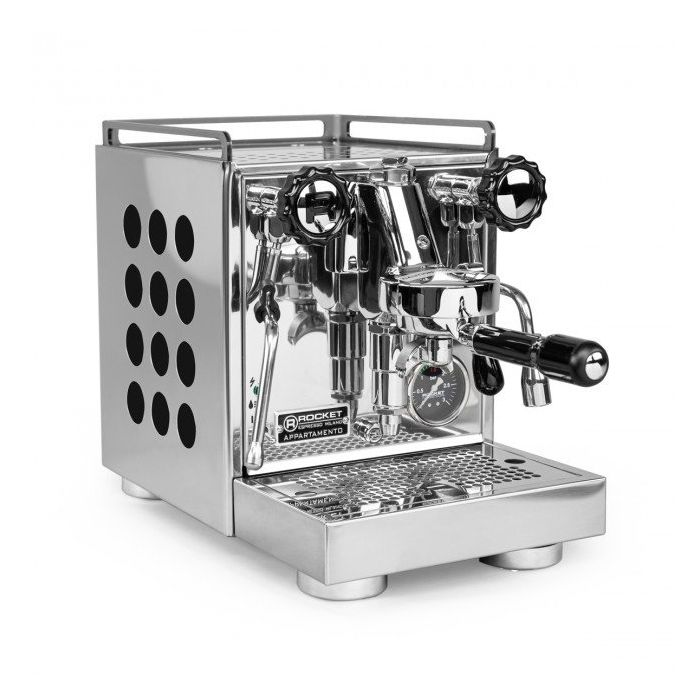 This sleek, chic, stainless steel Rocket Appartamento espresso machine is Rocket's most compact machine and ideal for prosumer level espresso lovers who put a premium on space. Enjoy open box espresso machine pricing while getting all the classic features of a prosumer level machine such as a heated group head, mechanized pre-infusion, and articulated steam and hot water wands. It's worth noting that steam and hot water outlets are typically not found on compact espresso machines so this is a pleasant surprise. Another unique feature of the Rocket Appartamento is that it can brew and froth milk at the same time thanks to its built-in heat exchanger.
This machine boasts a custom black paneling.
Compact design that allows this prosumer level machine to fit in most kitchens
Features steam wand and hot water outlet
Simultaneous frothing and brewing thanks to the heat exchanger.
Open Box Miele Espresso Machine CM5300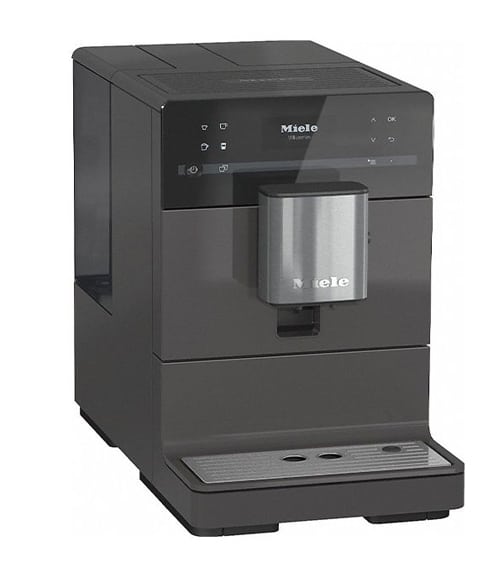 Enjoy all the perks of the Miele CM5300 espresso machine at open box pricing. Its sleek, slim, and smart design is compact and is a great machine for those looking to save counter space. You can make a premium macchiato in style with this machine's convenient one-touch feature. Brew for one or two, the Miele CM5300 offers a dedicated 2x drink button. This can feature can also be used for filling oversized travel mugs. This machine also comes with automatic milk cleaning, easy-cleaning spouts, and automated maintenance programs that take the work out of your morning cup.
Creamy milk froth for coffee specialities – Cappuccinatore
Perfect results and intense coffee flavour – AromaticSystem
Two coffees at once at the touch of a button – OneTouch for Two
Convenient cleaning and maintenance programmes
Open Box Miele CM6350 Coffee System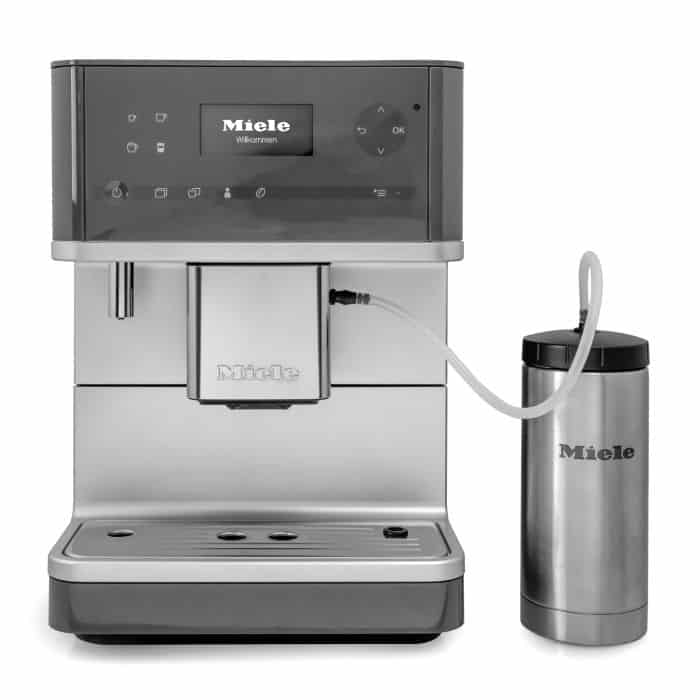 The Miele CM6350 is a grand illustration of form and function at its best. This super automatic espresso machine offers it's best-in-class espresso shots, one-touch milk drinks, and custom profile programming. With the ability to make up to 40 ounces of coffee at once, the Miele CM6350 makes for a solid option for both homes and small offices. Other features include auto-on and auto-off timer modes, an active-heat cup warmer, a hot water spout for brewing Americanos and tea, barista cup lights, and an insulated milk carafe with automatic rinse profiles and hands-free cleaning.
Creamy milk froth for coffee specialities – Cappuccinatore
Perfect results and intense coffee flavour – AromaticSystem
Two coffees at once at the touch of a button – OneTouch for Two
Convenient cleaning and maintenance programmes
Pre-warmed cups always to hand – heated cup rack
Open Box Jura D6 Espresso Machine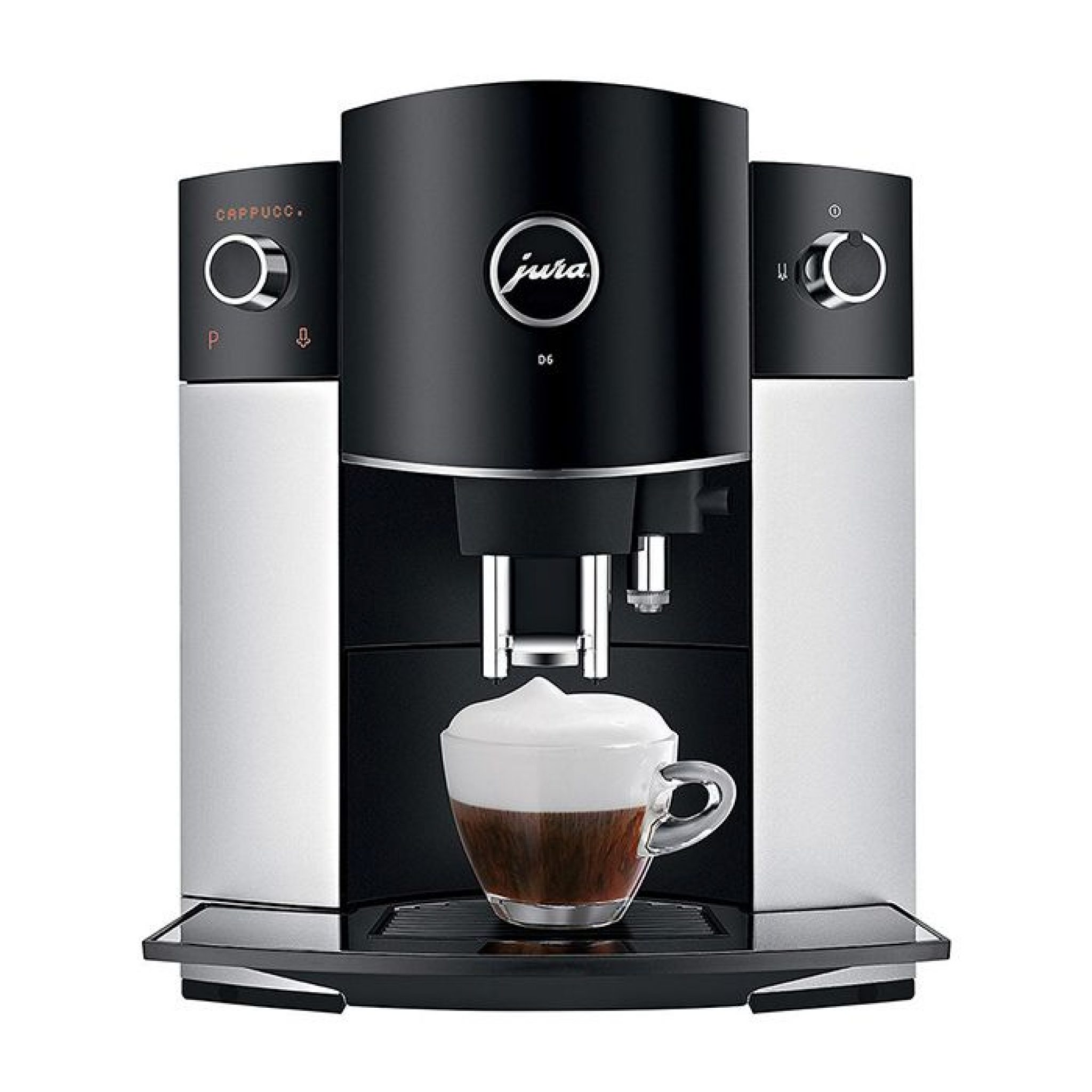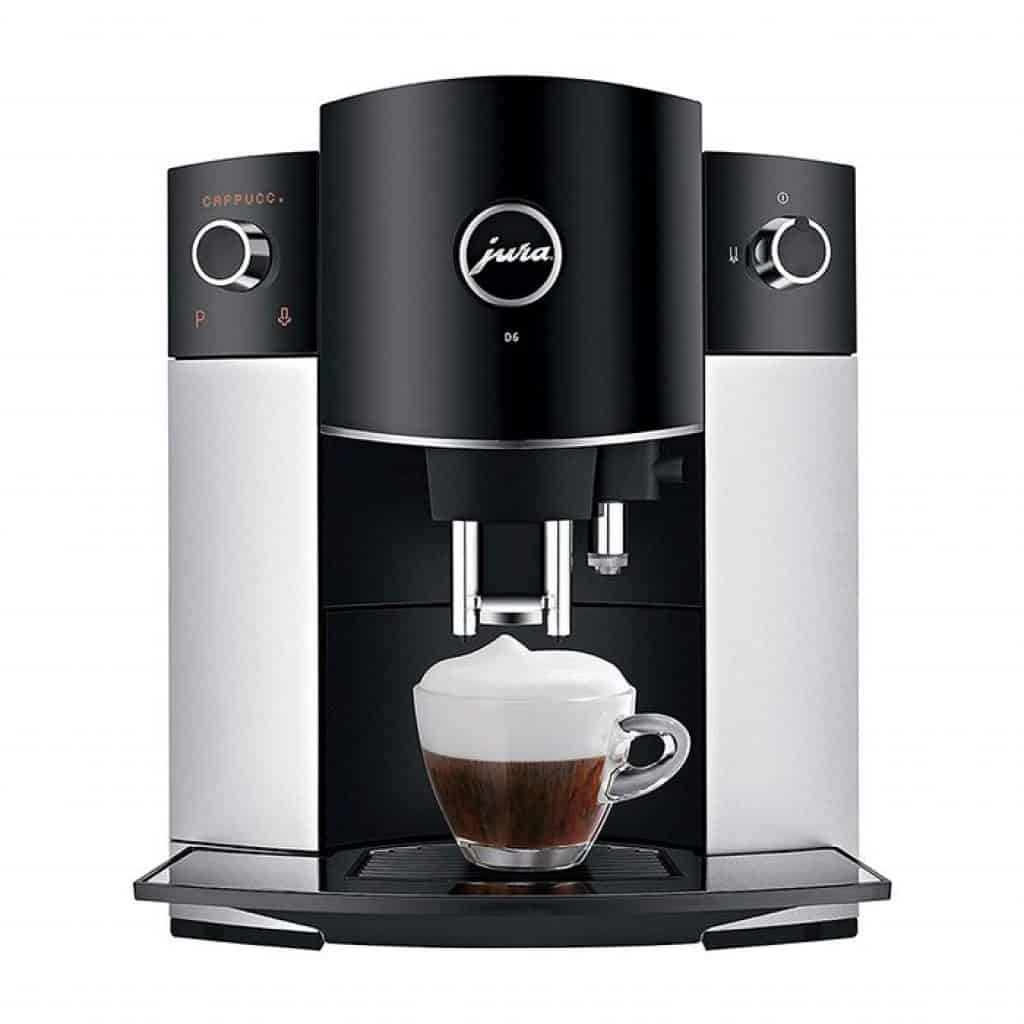 Jura is no stranger to the upper echelon of the espresso world. Known for its sterling Swiss precision and performance, Jura has produced an impressive machine in its D6 model. Now you can get an open boxe Jura D6 for about $150 less than its regularly listed price.This Superautomatic on-demand espresso machine was designed to save you a trip to your local coffee shop with its ability to make espressos, americanos, and cappucinos right from the convenience of your own kitchen. It's performance is perfectly matched by its usability. With a simple dial-controlled menu system, you can make your coffee fast and easily. D6 offers Jura's exclusive P.E.P brewing and CLEARYL smart filtration for better coffee and cleaner water in every cup.
CLEARYL smart filtration for cleaner water
VERSATILITY: Cappuccino, espresso and coffee maker
OPERATION: Plain text display or Smart Connect App control
CUSTOMIZATION: Adjustable water level, coffee strength and temperature
GRINDER: Fast and precise AromaG2 integrated grinder
TECHNOLOGY: Flavor optimizing Pulse Extraction Process technology
Open Box Rocket Espresso Giotto Timer Evoluzione R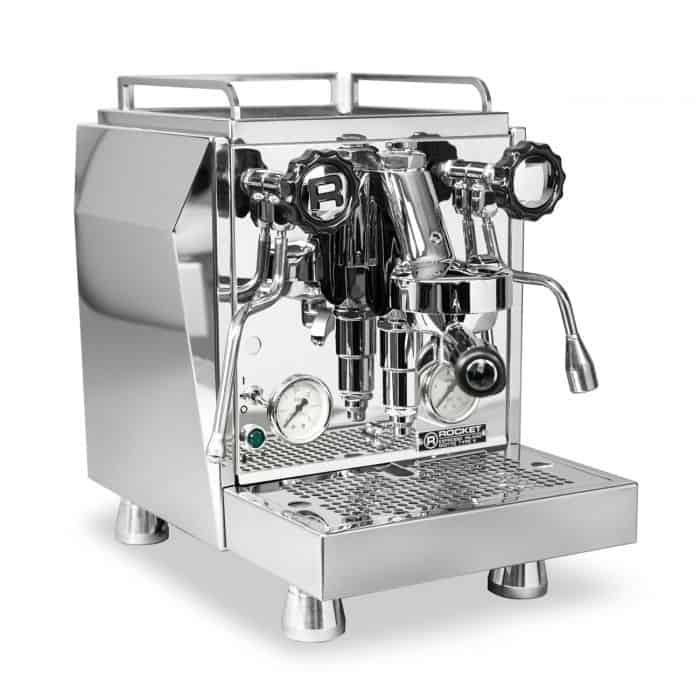 This open box Rocket Espresso Giotto Timer Evoluzione R brings next level performance and style to your home espresso-making journey. It's a nice step up from previous models and offers a variety of benefits that are well-worth the investment if you can swing it. Fortunately, being that it's an open box Rocket Evoluzione R, it's far likely to be doable.
This espresso machine serves as an excellent balance of user-friendly operational tools and a host of features such as a minimalist shot timer, energy-efficient boiler insulation, and PID heat management that would please the espresso veteran. The Rocket Espresso Giotto Timer Evoluzione R also allows you to brew and steam at the same time thanks its cutting-edge espresso tech. It uses a commercial-class rotary pump that allows the machine to be directly connected to your kitchen water line thereby removing the need to constantly refill its water tank.
PID Temperature control
Heat exchanger (HX) espresso machine
Commercial-class rotary pump
Pre-infusion for more robust and flavorful shots
Classic luxurious style casing for which Rocket Espresso is known
Solis Barista Perfetta Open Box Espresso Machine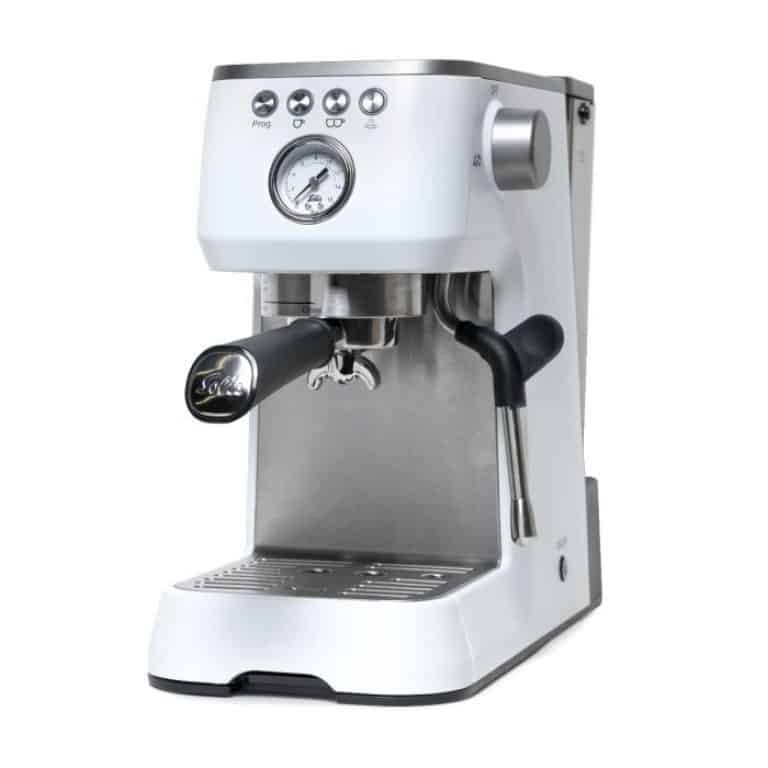 At $374, this open box Solis Barista Peretta makes for a solid choice for those on a budget but want the performance of a high-quality espresso machine. Designed for beginner home baristas, this compact espresso machine offers an ideal introductory point for those looking to home their new craft. Make no mistake though, this still offers a wealth of features that many veteran baristas can't go without. You'll get programmable shot times, auto-purge solenoids, and optional pressurized baskets for your pre-ground coffee or pods. You'll also get features like a front-and-center pressure gauge, single hole manual steam wand, and easy access to hot water for tea or Americanos. This product is available in white, black, and silver. All of them are open box Solis Barista Perfetta espresso machines and backed by Seattle Coffee's guarantee.
Thermoblock
Great for beginner home baristas
Programmable shot times
Auto-purge solenoids
Optional Pressurized Baskets
Compact design and sleek style
Open Box Ascaso Dream PID Espresso Machine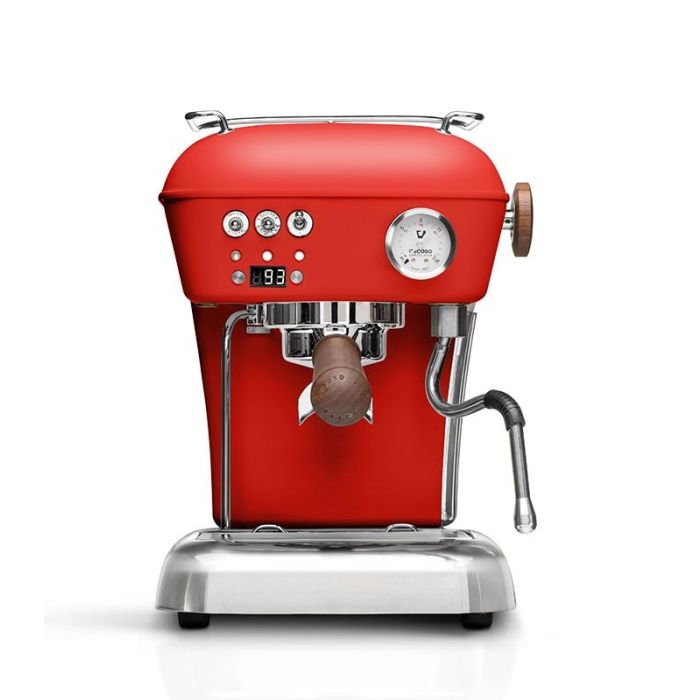 This open box Anthracite Ascaso Dream PID Espresso Machine is an impressive update to the Ascaso's classic line up. The Dream PID offers an incredibly elegant and classic style that stays true to the original Dream design. The Dream PID comes with a host of modern niceties such to make process of making a shot easier and more efficient. This machine features a 58mm portafilter, adjustable OPV valve, automatic shot controls, and a PID that gives you control over temperature and pre-infusion. This open box Ascaso's Anthracite Dream PID comes with all the accessories needed to make the perfect brew including pressurized and nonpressurized shot baskets, classic and panarello steam tips, and a blind basket for backflushing.
PID Temperature Control
OPV (externally adjustable overpressure valve)
Heat resistant Steam wand
Produces highly efficient and easy to make espresso shots
As you can see, open box espresso machines can prove to be a cost-effective way of getting high performance at significantly lower cost. Again, we try and keep this list as updated as possible given the limited availability of these products. Check out a real-time and complete listing of the best open box espresso machines.
If you're looking for even steeper discounts, you may want to consider the world of factory refurbished espresso machines where it's possible to get over 50% off the original price. These machines will have typically had more usage than an open box espresso machine but will have been restored to perfect working condition. Before making your purchase, be sure to read our guide on refurbished espresso machines to get advice on what pertinent questions you should ask beforehand.
What's the difference between open box espresso machines and refurbished espresso machines?
While every company may have varying definitions of "open box" and "refurbished", the simple answer is that a refurbished espresso machine will have been restored back to perfect working condition. When purchasing refurbished products, it's very important to know who exactly did the refurbishing and what kind of warranty comes with it.
In the case of an open box espresso machine, no fixing was ever required. Open box products have usually been subject to gentle and light usage but never encountered any functional issues that needed attention. In some cases, the machine may have never been used at all. You may notice some scuff marks or minor aesthetic issues, but nothing on a practical level. As such, the discounts on open box items are usually less when compared with refurbished items.
Regardless of whether you're interested in purchasing an open box or refurbished product, be sure to check with the seller for any further clarification on exact state of the product.
Final Thoughts on Open Box Espresso Makers
The big takeaways from this article should be that it's important to do your due diligence when making any open box purchase. The products listed here are sold by SCG which as we mentioned earlier, has a stellar reputation for quality products and services.
Nonetheless, in closing, it's worth briefly covering the main points of what you should consider as you shop the best open box espresso machines.
Warranty: What kind of warranty does it come with? This means finding out both how long the warranty is good for along with who offers the warranty.
Contact customer service: It's important to be able to speak with someone on the phone. Don't hesitate to call the company that's selling the product in order to ask any additional questions about the product.
Ask Questions: When speaking with customer service, find out exactly why the open box espresso machine was returned.
Return Policy: Is there a return policy and if so, what is its length.
Again, open box espresso makers represent a grand opportunity to get the most bang for your buck. Just be sure to do your research beforehand so that after your purchase you'll enjoy a peace of mind.
Espresso and coffee machines aren't the only types of coffee gear you can purchase as open box. Check out our article for the list of best open box coffee grinders as well.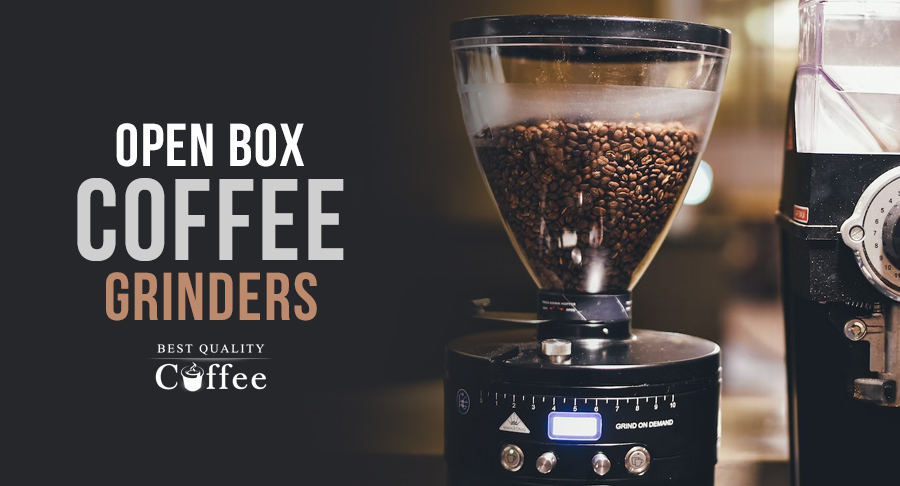 Related Link: Check out our selection of both new and refurbished espresso machines here at Best Quality Coffee.