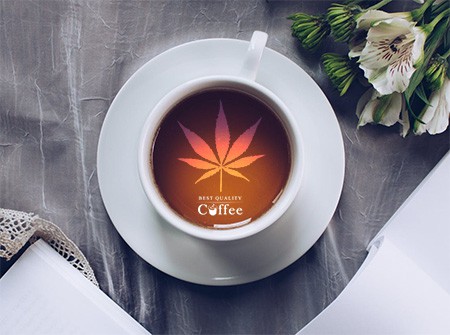 With the recent explosion of the Cannabidiol (CBD) coffee industry, both CBD and coffee lovers have had plenty of reasons to rejoice. CBD-infused coffee has actually been around for some years but it wasn't until the meteoric rise in popularity of CBD oils that the industry really took off. But what about the drastically under-represented population of decaf coffee lovers who don't want to miss out on the health benefits of CBD? Fortunately, the best decaf CBD coffees have come have a very long way and is also an industry experiencing tremendous growth.
If you aren't in the mood to read and just want a recommendation on the best decaf cbd coffee, we recommend going with Buddha Beans.

The World of Decaf CBD K Cups and Coffee
Decaf CBD coffee presents a unique coffee experience in that the absence of caffeine allows the drinker to fully enjoy the effects of CBD alone. I had a conversation the other day with someone who was new to CBD coffee. One of the first things she said was the idea of "CBD coffee" seemed like a contradiction. Her statement referred to the contrast between the calming and soothing effects of the CBD and the "pick me up" effects of caffeine. She was actually wondering whether CBD would flat out cancel the effects of caffeine. While this isn't true in my experience nor the experiences of most CBD coffee drinkers, the presence of caffeine does in fact alter the experience.
One of our reviewers here at Best Quality Coffee, who rarely drinks decaf, started drinking decaf CBD k cups as a way to isolate the effects of CBD in her morning brew. CBD affects everyone differently so she figured removing the caffeine variable was a great way to assess to see how well the CBD worked on her body. By doing this, she was able to hone in on the best CBD coffees for her taste profile and body composition.
When shopping for the best CBD-infused decaf coffee, there are a few things to consider.
Were chemicals used in the CBD extraction process? You'll typically want to go with an extraction that doesn't use chemicals such as CO2 extraction.
Are the lab results of the CBD made publicly available? Any reputable company will have had their CBD tested by a third party lab with the results made public.
Does it use full-spectrum CBD which contains no THC?
Having said this, every product on this list meets the above criteria. You might be asking how are these coffee blends were judged? We took a look at both the quality of the CBD and of course, the coffee itself. Let's not forget, we're coffee lovers first here and we're not ones to compromise coffee flavor even for health reasons. Whether that's mature or not, I'll leave that up to you to decide 🙂 So without further ado, let's get right into our list of best decaf CBD K cups and coffee according to our reviewers.
Best CBD Decaf Coffee

Buddha Beans Decaf CBD Coffee starts off our list of best decaf CBD coffee options. It's decaffeinated using a natural and flavor-preserving process known as the Swiss Water process. The beans are sourced from Colombia and deliver a deeply rich, smooth, and full-bodied coffee experience. This is a perfect option if you're the type of coffee lover who prefers a strong coffee. These beans are infused with 100% organic non-GMO and USA grown Hemp. The lab tests for Buddha Beans are of course made available to the public. 12 oz of this coffee will contain 300mg of CBD.
Use our Buddha Beans discount code to get 15% off your purchase: BQC

Buy Buddha Beans Decaf CBD Coffee


Green Roads CBD coffee is no stranger to the CBD industry, and even less of a stranger in the CBD coffee industry. They've produced a full-bodied medium-acidity decaf blend made from high-elevation Colombian beans. This brew offers an impeccable aroma and an invigorating flavor. For more details, please read our full Green Roads CBD coffee review.
Get 15% off using the code below: BESTQUALITY

Buy Green Roads Decaf CBD Coffee

Hakuna Decaf CBD coffee offers third-party lab tested CBD infused into premium Guatemalan coffee beans. The caffeine is removed using a chemical-free process called Swiss Water Processing to ensure the full flavor characteristics of the bean are preserved. The final brew is a simple, strong, and bold coffee that's likely to satisfy a wide range of coffee lovers. Our review of this product found the CBD had long-lasting and sustained effects similar to NakedCBD. For more information, check out our full Hakuna coffee review.
Get 15% off using this Hakuna Supply Discount Code: BESTCOFFEE

Buy Hakuna Decaf CBD Coffee
We'll be regularly updating this list of best decaf CBD K cups and Coffee as we continue to evaluate currently available products.
If you're interested in drinking decaf coffee without CBD, check out our curated list of decaf coffee products.