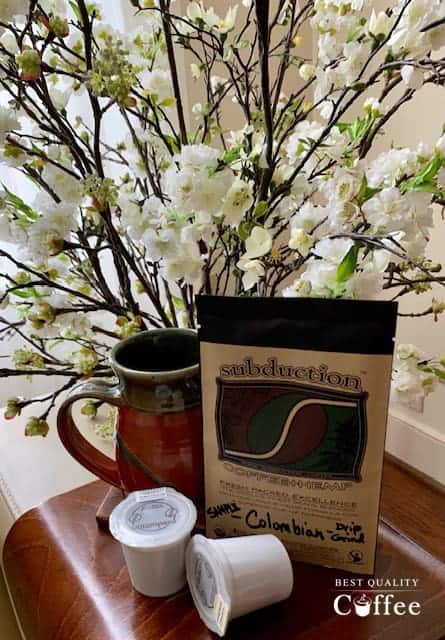 As an active health-conscious coffee lover in her late sixties, I consider it a real blessing to have had the opportunity to try so many CBD and Hemp coffees. I've sampled the good, the not-so-good, and the phenomenal so I'd like to think I'm decently qualified to identify excellent Hemp coffee when I try it. Subduction Coffee, an exclusively Hemp coffee brand, recently reached out and offered to send us some of their gourmet Hemp coffee in exchange for an unbiased review. After reading up on their company vision, CBD-extraction process, and overall approach to Hemp coffee, I happily accepted the offer.
I know that the world of Hemp coffee can seem a little daunting to the newcomer. So in writing this Hemp coffee review, I'd like to cover a few basic facts I think will be helpful for such a reader.
Anyone familiar with my CBD and Hemp coffee reviews will know that I judge coffees by two metrics: the quality of the coffee and the Hemp. Both are admittedly subjective as CBD and Hemp affect each person's body differently and coffee is based on varying individual preferences. I should mention that I'm a coffee lover first, so I naturally place a priority on the brew's taste, body, and overall flavor. It's rare to find a hemp or CBD coffee created by genuine coffee connoisseurs who are as meticulous about their coffee as they are their CBD. In my experience, it's not uncommon to find a product that has great CBD but sub-par coffee or vice versa. In those cases, I'll drink the cup of Joe just for the CBD or just for the coffee. But when you find a brand that tastes just as a good as it makes you feel, that's when you know you have something special.
Health Benefits of CBD
Studies have shown that CBD has a wealth of health benefits. From helping with anxiety and depression to reducing inflammation and joint pain, CBD has proven to be an excellent form of natural / alternative medicine. We won't go into full detail here but I'd recommend looking at this Health Line article that lists and documents many of them. Most importantly for me, I've personally experienced many of these benefits ever since starting my CBD and Hemp coffee journey.
What's the difference between Hemp and CBD Coffee
Cannabidiol (CBD) is a naturally occurring compound extracted from the Hemp plant. While Subduction's brew does contain CBD, to call it CBD-infused coffee would be a too narrow a description for their product as their coffee is also infused with a wide range of additional beneficial compounds from the Hemp plant. In short, Hemp coffee contains a broader spectrum of ingredients from the Hemp plant and isn't limited to just CBD. Subduction Coffee takes these additional compounds and combines them with Organic and Fair Trade Certified coffee beans. It's worth noting that Hemp Coffee does not contain THC, the ingredient responsible for getting a person "high". This coffee contains less than .3% THC and is therefore completely non-hallucinogenic. Having said this, let's proceed with my Subduction Hemp coffee review.
Subduction Hemp Coffee Review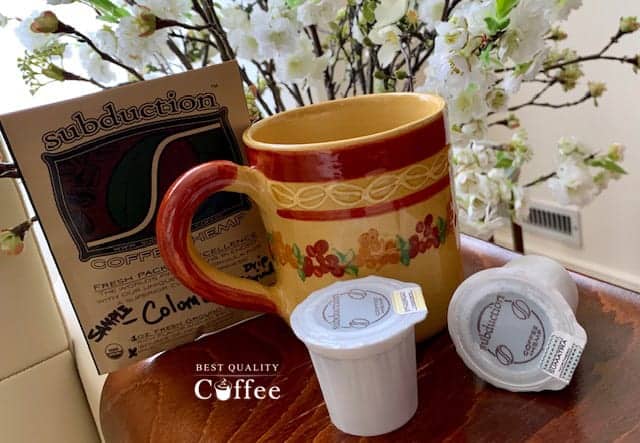 Most CBD and Hemp Coffee brands will typically offer a single flavor from which to choose. If you're lucky, you might have two to choose from. When I looked at the selection of Subduction's available coffees, it was clear there the company had true coffee lovers making the decisions. They offer 8 different single origin brews along with a signature blend. This kind of selection is almost unheard of in the CBD and Hemp coffee industry. Subduction sells the highly-coveted Ethiopian Yirgacheffee bean as well as the globally-adored Sumatra bean. This was an extremely encouraging sign which only increased my anticipation for trying their coffee.
Let's talk coffee. For this Subduction Hemp Coffee review, I tried a variety of their brews all of which were impressive to say the least. However, there's one brew in particular that I'd like to focus on: The Sumatra Brew

As I said earlier, it's clear this product was made by coffee lovers. The aroma was both delightful and potent. With some Hemp coffees you'll find that the coffee's aroma outshines the actual taste of the drink. When this happens, it's similar to the feeling you get when a movie trailer or preview ends up being much better than the actual movie itself. Fortunately, Subduction Coffee doesn't fake you out. The brew was just as potent as its aroma and I was thrilled by its earthen intensity. I like my coffee strong and very full-flavored so this brew was a near perfect match for my taste profile. Sometimes when I drink K Cups, I notice that the first half of the brew is stronger than the second. I may be alone in making this observation but with Subduction's coffee, I noticed a consistent and steady strength of the coffee throughout my entire cup. This may have to do with the fact that the coffee is single origin which typically results in a more consistent flavor.
I can use a variety of adjectives to describe this coffee but the two that resonate most with me are: deep and powerful. The intensity is strong but tempered well-enough so as to not be overwhelming. I use the word deep to illustrate its depth of flavor notes which are as complex as they are distinct.
This coffee is also incredibly smooth as is typical of high-quality Sumatran beans. There's no acrid or sharp bite and it made for a very enjoyable and pleasing coffee experience for me. When I first drank this coffee, I thought to myself "WOW! this is what gourmet CBD coffee tastes like!" It's the type of perfectly balanced and thoroughly enticing coffee I could drink endlessly.
Recyclable Hemp K Cups
If you're a fan of CBD K Cups, you should know that Subduction K Cups are 100% recyclable and compostable. This is a huge benefit in my book as I'm the type that tries to do my part to help the environment where I can. My coffee grounds never go to waste and I regularly give them a friend who uses them in her garden (see photo of the Keurig machine and the small shelf of used CBD K Cups). With Subduction Hemp K Cups, she won't have to empty the grounds into her compost pile. Now, she can just toss in the entire pod.
What Were the Effects of the Hemp
Whenever I try a new Hemp coffee, I always do a simple experiment to test out the effects of the actual Hemp. I'll drink the coffee for a few days, observe its effects, and then stop taking the coffee to see if the effects go away. During the days I drank Subduction Coffee, I experienced many of the same positive effects that I've become accustomed to from ingesting CBD and Hemp. My mind was clearer, my body felt looser, my overall movement was more fluid, and I just felt "better" for lack of a better word. Any joint aches are significantly reduced and I can confidently say that I function better on all levels when I have Hemp and CBD in my system. On the days I drank regular coffee instead of Hemp coffee, I was keenly aware that I didn't feel as good and regular tasks were harder than they should've been.
Each Hemp K Cup / Coffee Pod comes with 10mg of CBD. If you'd like more CBD infused into your coffee, you can double the amount to 20 for an additional fee.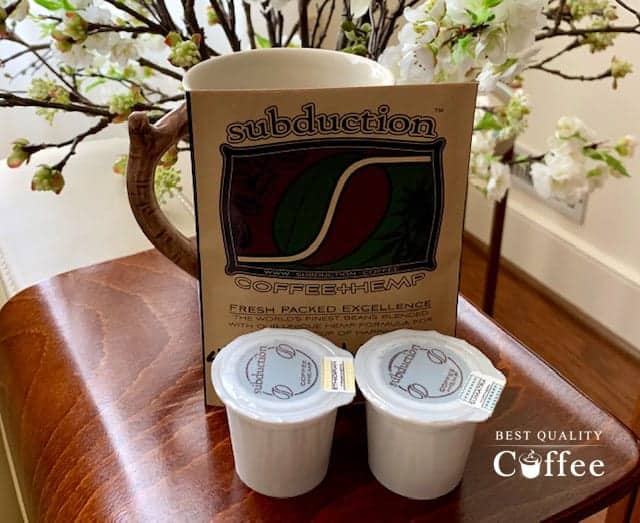 Subduction Coffee uses a proprietary process to combine their quality Hemp with their equally high-quality coffee. This patent-pending process ensures that the uptake characteristics (bioavailability) of the Hemp are maximized when consumed by the drinker, allowing him or her to more fully absorb and experience the health benefits of the coffee's Hemp.
Subduction Hemp Coffee Review Conclusion
After trying Subduction Coffee for more than a week, I can confidently add it to my list of favorite Hemp and CBD coffees. It's a brew that's as effective as it is flavorful, and in this specific industry that's a true rarity in my opinion. As a disclaimer, these gourmet Hemp pods aren't cheap, nor should they be in my opinion. As the saying goes, "you get what you pay for", and this is particularly true when it comes to Hemp coffee. Each pod comes out to be $4 each which is actually very reasonable when compared to a $4 Starbucks which contains zero Hemp and isn't even single origin coffee. I personally think this product is well worth the price and will be buying more when I run out of my current supply. As you can probably deduce by now, I'm a big fan of this coffee and would recommend it to any and all coffee lovers who take their health and their coffee seriously.
Get 20% off your order with this Subduction Coffee Discount Code:
CODE: BQCoffee