CBD Coffee is a segment of the global coffee industry that's been experiencing tremendous growth in recent years. The proven health benefits of Cannabidiol (CBD), a naturally occurring and non-psychoactive compound in cannabis, are well documented and it seemed like only a matter of time before the compound would be combine with the world's most popular drink. As a result, we here at Best Quality Coffee have been diving in head first into this budding industry to identify the best and most trusted sources of CBD coffee. We recently reached out to a CBD coffee brand called Hakuna Supply based out of Westlake, CA and inquired about reviewing their coffee. In exchange for doing an unbiased Hakuna CBD coffee review, they sent us their Awaken Coffee Blend to test out.
If you're not in the mood to read all the details, check out our brief summary below.
5.4mg of Full Spectrum CBD / 8 oz

Confers a soothing and calming effect that allowed me to focus more easily

High-end coffee beans with a specialty rating of 80+

Full bodied, medium roast, Fair Trade Coffee sourced from Guatemala

Pricier than average coffee
What are the Health Benefits of CBD
CBD has been known to help with many health issues from anxiety and depression to chronic arthritis and joint pain. A powerful anti-inflammatory and regulator of digestion, CBD has been used for therapy for Irritable Bowl Syndrome, Colitis, and Crohn's disease. The benefits can even help with treatment for cancer. There's a wealth of quality information available on the details of this compound which in the interest of space and time, we won't cover in great detail here. But if you want to learn more about CBD (and we think you should), check out this great introduction to CBD.
Who is Hakuna and what makes them special?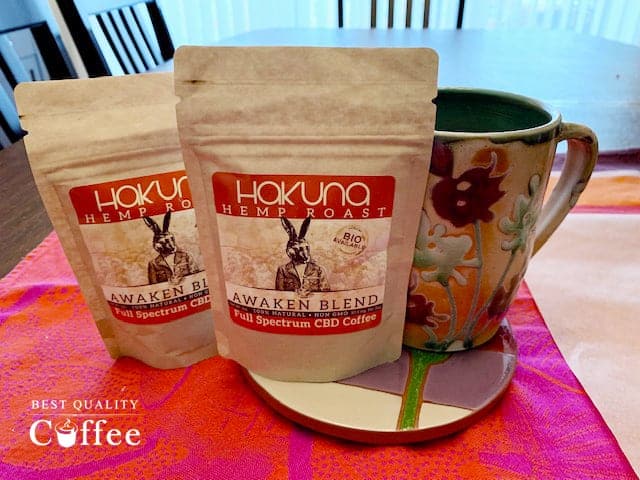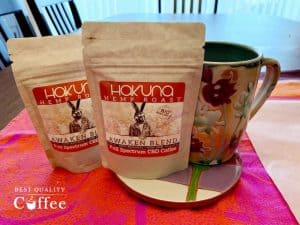 Since this isn't your average coffee, it's worth going over a few things about Hakuna's CBD and things to consider when buying quality CBD coffee. First of all, you'll want to make sure the CBD used in the coffee is third-part lab tested at a minimum. The reputable brands out there will make their lab tests publicly available to their customers. In the case of Hakuna CBD Coffee, they've made it readily accessible from their website and you can view their results here.
Hakuna Coffee extracts their CBD through a natural process called CO2 extraction. The takeaway from this is that chemicals are not used to obtain the CBD oil. One very notable and unique quality about this coffee is that it uses full-spectrum CBD which leverages the benefit of the whole plant. The oil is then converted into a water soluble powder, a step that is relatively rare in this industry. This extra step ensures better absorption in the coffee itself and more importantly, the body.
Having briefly covered the CBD portion, let's now shift gears and talk coffee. Hakuna sources their fair trade coffee beans direct from Guatemala and selects only beans rated with a quality score of 80 or higher. Their Awaken Blend is a full bodied medium roast designed to capture and deliver an authentic gourmet coffee experience.

---

In starting off this Hakuna CBD coffee review, it's important to share a brief background about our reviewer. The woman reviewing this coffee is a coffee-loving senior in her late 60's who has personally experienced a wide range of health benefits from taking CBD. She prefers her coffee black so she can get the most out of the natural coffee flavor. As a result of her many decades of enjoying coffee, she's developed quite the sensitive palette. All this to say, she takes her coffee seriously 🙂
Hakuna CBD Coffee Review – by The Coffee Pen
When I first received the bag of Hakuna's Awaken Blend, I was captivated by its pungent aroma. My husband who isn't a big coffee drinker also savored the uniquely strong fragrance. I admit to being one of those coffee drinkers who values smell nearly as much as taste. This is the type of fragrant that I'd love to have permeating my home every single morning! If they made real potpourri with this scent, I'd definitely consider buying it.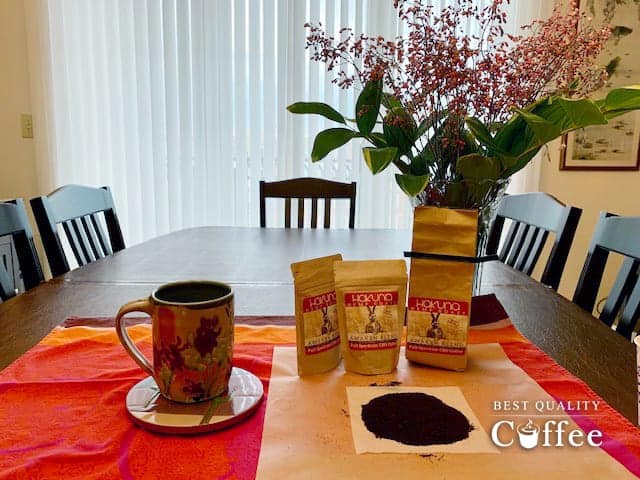 For some additional details about the beans that were sourced for this CBD coffee, see below:
Country: Guatemala
Region: Coban
Farm: Chichen
Varietal: Caturra
Process: Washed
Altitude: 1350-1500 Meters
Cupping: Caramel, Pecans, Brown Sugar
I prepared the coffee in my standard French Press and used Third Wave Water to brew my coffee. On another occasion as an experiment, I prepared the coffee by placing the grounds in a reusable K-Cup adapter. I typically review coffee by subjecting the beans to different brew methods so I can get even more acquainted with the bean's flavor profile. Without beating around the bush, Hakuna makes a very solid and good-tasting coffee. It's full-bodied and strong enough to suit my tastes. The flavor while being certainly strong enough for me was more muted than the aroma lead to me to believe. This isn't a criticism but rather just an observation.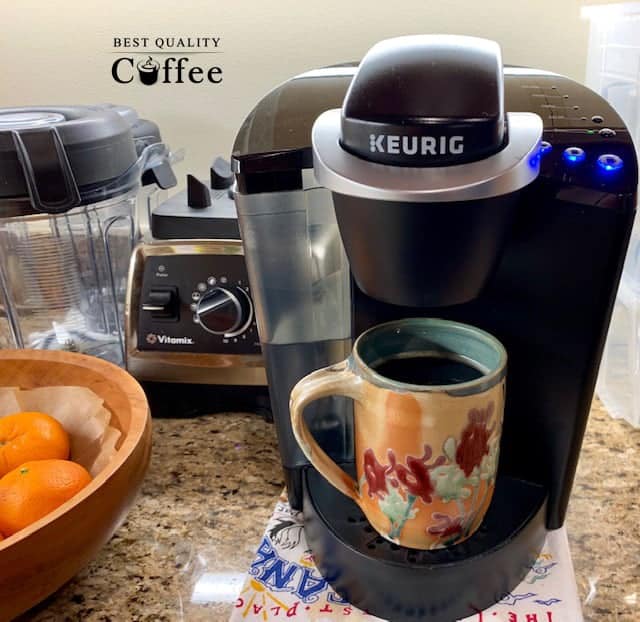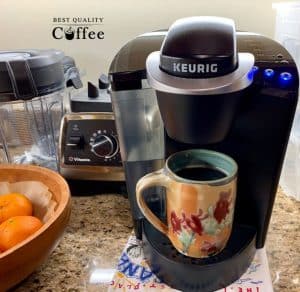 One concern I had was whether the CBD would adversely affect the taste of the coffee. Fortunately, these concerns were unfounded. While I could detect a faint flavor of the oil, it's so subtle I didn't mind it at all. In fact, in a strange way I liked it because it reassured me that there was in fact CBD in there. The coffee's flavor was distinctly bold and substantive. While there are many extravagant specialty coffees out there with a billion and one different flavor notes, Hakuna's approach to a morning cup of quality Joe is different. They focus on just making a simple, strong, and bold brew that I can see would appeal to a wide range of coffee lovers including myself.
How did the CBD affect me?
Please note this is not to be considered medical advice. Rather, the intent behind this review is to share how I personally experienced this coffee and the effects of its lab-tested CBD.
One thing I've learned from enjoying a variety of CBD coffees is that CBD affects everyone differently. In the days that I tried Hakuna CBD coffee, I believe the CBD coffee had a very positive affect on me. I'm fairly conscientious about what my body is telling me and it's an on-going part of my life to identify the things that make me feel "better" or "worse".
One morning, I woke up feeling particularly tired compounded by some minor joint aches. Coincidentally, it was on the morning I planned to try this coffee and so it offered a good testing ground for this Hakuna CBD Coffee review. As soon as I finished my cup of coffee, there was a noticeable boost of energy that I'm confident didn't come from the caffeine. It felt like a cleaner and more sustained form of energy as opposed to the often short-lived boost that caffeine provides.
Many people who haven't tried CBD understandably wonder whether it'll make them tired and groggy. I never felt that way drinking Hakuna's CBD coffee.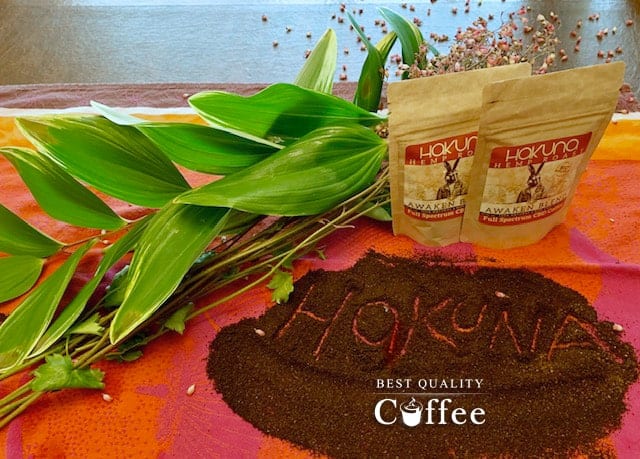 The first day I drank this coffee, I noticed my body felt much looser and vibrant, almost as if I'd come out of a really good stretching session. My mood also improved although I can't rule out the influence of my body feeling lose. Either way, it made for a much more enjoyable day.
It's calming and relaxing….not sedating.
When drinking Hakuna CBD coffee, there was a mental clarity that naturally emerged in me from being in a calm state.
I'm not sure about you, but sometimes when I consider the list of my daily errands, the tendency to procrastinate can get really strong. Hakuna CBD coffee gave me the mental focus needed to overcome such mental hurdles. I found myself knocking out my checklist with much ease and without having to overcome any mental roadblocks. In other words, I didn't have to psych myself into doing these chores. Instead they became enjoyable tasks and I had the natural motivation to get them done.
I'll be continuing to drink this coffee and update this article accordingly. In concluding this review, I have to say that I was impressed by the quality of their coffee along with how their CBD affected me personally. Definitely another to add to my list of favorite CBD Coffees. And coming from a very long time coffee-lover, I think that speaks volumes. For a limited time get 15% off your order by using this Hakuna Supply Coupon and Discount Code: BESTCOFFEE
Hakuna Matata!