As the primary CBD coffee reviewer here at Best Quality Coffee, I've had my fair share of the good, the bad, and the ugly. The CBD coffee industry can sometimes be a mixed bag when it comes to flavor and quality. Doing your research becomes even more important especially if you're looking to get the most out of your coffee buck. I was recently sent some organic CBD coffee to review from a company called Canabliss Farmacy. The following Canabliss coffee review will discuss this product both in terms of the quality of the coffee and effectiveness of the CBD.
Brief Introduction to CBD
For those who may not know, CBD is short for cannabidiol and this hemp-derived compound offers a wide range of health benefits from relieving joint pains to helping with anxiety. THC, on the other hand, is the active compound in cannabis that gives people that "high" feeling. CBD does NOT get you high. There's a wealth of knowledge out there about CBD and in the interests of time, we won't cover it all here. For more information, please visit our article on CBD coffees to learn more.


It's always a treat when you discover organic CBD coffee that's sustainably-sourced. To me it's a clear reflection of the brand's appreciation for health and environmental responsibility.
I brewed this coffee in my re-usable K-Cup adapter and about a minute later, my kitchen was filled with the delightful rich smell of gourmet coffee. As soon as I tasted this brew, I knew it was in a class of it's own. Dare I say this is the best-tasting CBD coffee I've had to date and given how many different CBD coffee's I've tried, that's saying a lot. Calling this coffee smooth would be an understatement.
There's virtually zero bitterness and it goes down really easy.

You also don't taste any CBD. CBD oil has a distinct taste to it and while it's not bad, it's a flavor I definitely wouldn't want in my morning coffee.
This coffee could rival the specialty coffees you'd typically find in a cafe or coffee house. According to the flavor notes, this coffee offers hints of chocolate and caramel. Admittedly, I didn't taste those notes which isn't a bad thing. Everyone has different preferences. To me, Cannabliss coffee tastes like pure unadulterated coffee that delivers an very intense coffee experience….just how I like it. I'm not a big fan of flavored coffees to begin with and so this was perfect for me. Up to this point, Subduction Coffee was my favorite CBD coffee as far as taste went. It still holds a special place in my heart, but I can say the flavor of Canabliss is superior based on my flavor profile. In short, I loved the taste of this coffee!
Canabliss Coffee Review: The CBD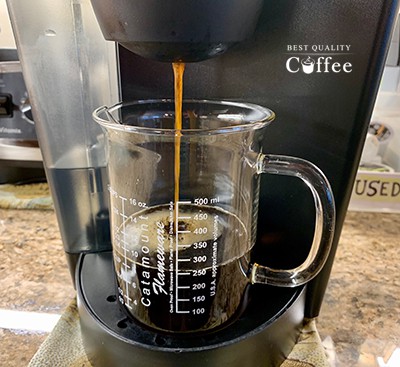 As a senior woman in her late 60's, CBD has been a huge blessing in my life. From helping me to sleep better to alleviating joint aches, CBD has been an excellent natural medicine for me over the years. But as you might expect, not all CBD is created equal. Cannabliss CBD is 3rd party lab-tested and confidently makes their results available here.
CBD Extraction
For those interested in knowing the extraction method, Cannabliss CBD-infused coffee is made with CBD that has been extracted from the hemp plant, utilizing a process in which C02 is used at a low temperature but under high pressure. This allows Cannabliss to capture C02 in a liquid state and efficiently draw the CBD and terpenes from the plant material.
Effect of the CBD
Canabliss CBD had a very calming effect on me that surprisingly lasted through out the whole day. Usually a single cup of organic CBD coffee will affect me for only 3-7 hours before wearing off. However, the effects of this CBD were present for at least 12 hours. Amidst this calm, I was still very alert and it felt as though it was easier to find the right words to say in my conversations. I went about my day completing errands with ease and more importantly, clarity.
One of the things I've been aware of recently is my ability to focus while multitasking. That evening I was chatting with my sister on the phone while washing dishes and to my surprise, was able to express myself with a simplicity and accuracy that I wasn't used to. This may seem not seem like a big deal for some, but for me, it was huge. Usually by evening time my mind wants to wind down so the thought of multitasking would feel overwhelming. I love the feeling when I'm able to articulate exactly how I feel and it's even more amazing when I'm able to do it while doing something else. After drinking this coffee, it felt like everything in my brain and body was "firing on all cyclinders".
My mind felt active and clear and I can say with certainty that it was due to the CBD.

Canabliss Coffee Review: Conclusion
CBD affects each person's body differently. Your experiences may be very different than mine, but with quality like this, it's worth a try whether you're a coffee lover or not. In concluding this Canabliss coffee review, I'd highly recommend this CBD coffee to any coffee lover out there looking to explore the effects of CBD. Many companies who sell CBD coffee are more focused on actual CBD than they are coffee. This results in CBD coffee products that can sometimes work very well but not taste very good. Fortunately, for coffee and CBD lovers alike, Canabliss Farmacy has created a fantastic organic CBD coffee that brings together the best of both worlds.
If you're interested in trying this coffee, use the following Canabliss Farmacy code and save 20% on your entire order:
Check out this article on the best CBD coffees in the industry to discover new quality brands.