Real Good Coffee Review / Description
Real Good Coffee Company is an aptly-named coffee brand that delivers high-quality, affordable coffee that also happens to be good for the planet.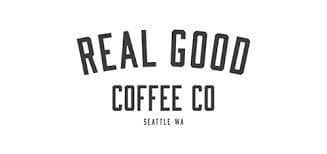 With over 1,000 5 star reviews, the company has won over the hearts of many a discerning coffee lover. The company's coffee is available in Whole Bean, K-Cup coffee pods, and Nespresso Pods. Their pods are also 100% recyclable which is more than just a bonus when you consider the amount of waste that plastic coffee pods contribute to the world's pollution.
Real Coffee Company is a roaster based out of the coffee capitol of America: Seattle. With over 30 years of experience in sourcing and crafting the best roasts, the company has set out to deliver specialty-grade coffee without the specialty-grade price.
The company is committed to delivering coffee that's good to drink, good for the planet and good for your wallet. We will be publishing our full Real Good Coffee review shortly.
Showing all 11 results