Biscanye Coffee Review / Description
Biscanye Coffee Review / Overview
Biscanye Coffee is a new eco-friendly coffee company with a purpose. As reflected in their artfully designed logo, the company  focuses on saving and preserving the wildlife within Biscanye Bay. The company was founded by Miami local and hospitality expert Steve Turk who was moved to create this company after seeing the results of a massive fish kill that took place in 2020. The relatively new brand is donates 10% off of their sales to the Biscanye Bay Foundation.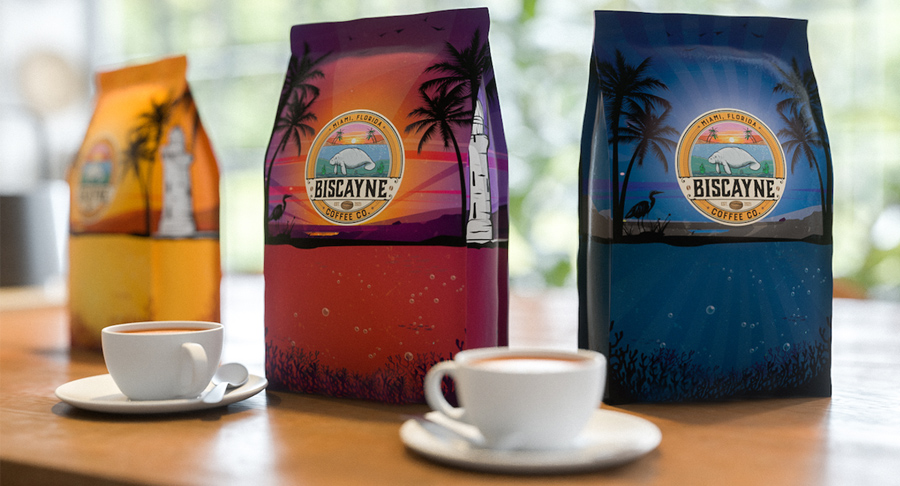 The coffee company offers three different quality brews which include a light, medium, and dark roast. Each of these hand crafted and Fairly Traded coffees delivers a unique coffee experience that even connoisseurs will appreciate.
All of their coffee beans are locally roasted. Their medium roast is of particular note as its a single origin coffee bean sourced from the high elevation areas of Colombia.
Biscanye Coffee Review: Product Line Up
Biscayne Blend Dark Roast: This is their signature blend which sources beans from Indonesia, Central, and South America. It is complex with notes of dark chocolate, raspberry, and sugar cane.
Biscayne Single Origin Colombia: The company's medium roast offering is from one of the best coffee countries in the world: Colombia. Specifically grown in the region of South Huila this coffee offers flavors of orange, caramel, and milk chocolate flavor.
Biscayne Blend Light Roast: Lastly, Biscanye's light roast blend is a true delight whether you're a fan of light roasted coffee or not. Enjoy a citrusy, sweet brew with notes of apple, grapefruit, and hazelnut.
Showing all 3 results