In the world of espresso capsules, no brand has garnered more attention and popularity than Nespresso. They've been around for many decades and as such, have set the gold standard when it comes to these delightful portable and caffeinated pods of joy. However, Nespresso espresso capsules don't come cheap, nor should they. But this also means that they can burn a hole in your monthly budget fairly quickly. Additionally, what if you're tired of Nespresso's available options and just want to try something new? In this article, we'll take a look at the best Nespresso pod alternatives.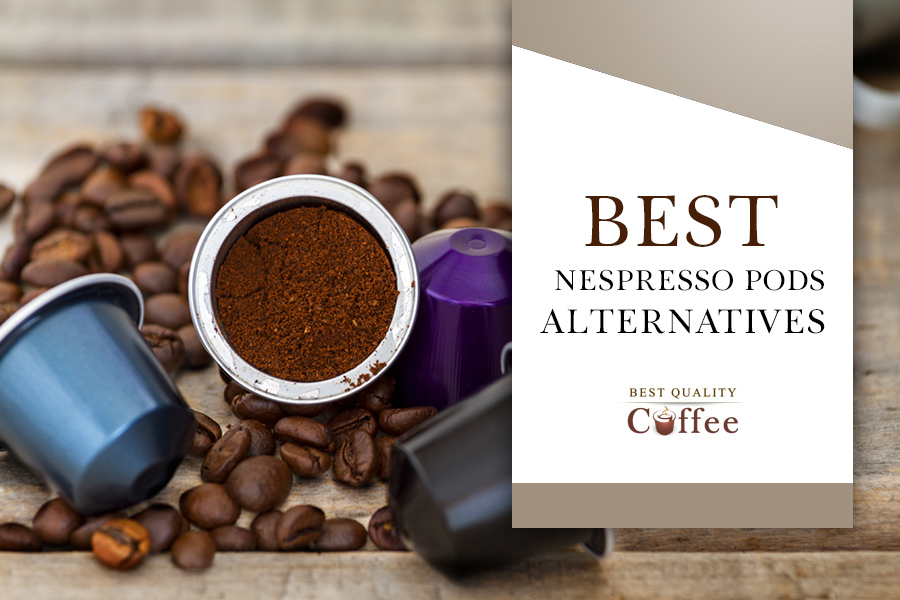 Best selection with 25 options

18 different options w/ decaf

Deepest and richest flavor
In 2012, a number of Nespresso's major patents expired thereby opening the door for many third party suppliers of compatible coffee capsules to enter the market. This was a major event in the history of espresso capsules. In fact, in that same year, Keurig, the inventor of the K-Cup coffee pod, also had patents expiring leading to a similar influx of competitors.
If you're brand new to the world of Nespresso and have no idea who they are, click here.
Note: Most of the companies that offer Nespresso pod alternatives also sell a brewing machine that's tailored made for their own line of capsules.
The 6 Best Nespresso Pod Alternatives of the Year
1. Bestpresso (Best Overall Value)
Bestpresso has been around for about a decade and has already earned a stellar reputation amongst hard-to-please espresso lovers around the world. With over 14k Amazon reviews and an average rating of 4.5/5 stars, they've made an indelible mark for themselves. Bestpresso offers a selection of 12 different blends including a decaf option.
Nonetheless, it's a worthy purchase if you're looking to save money on your espresso capsule addiction. Their coffee is smooth, bold, and full of character. It's coffee is well-balanced and allows more of the complex notes to express themselves in the final brew. While I would say it's not as "strong" as a Nespresso flavor, it still delivers a delightful flavor that makes it our top pick for overall value when it comes to Nespresso pod alternatives.
They also offer a machine called the Bestpresso Pro which in addition to being compatible with their own proprietary pods is also compatible with Nespresso capsules.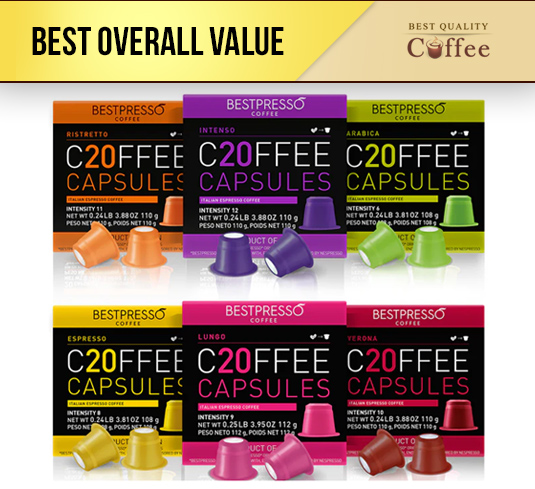 Price / Pod: 33 cents
2. Gourmesso (Best Selection)
Gourmesso is another affordable and solid option for those looking for Nespresso pod alternatives. They source their coffee beans from some of the most popular coffee-growing regions in the world including Ethiopia, Honduras, Mexico, Colombia, Costa Rica, Peru, and India. Of all the alternative brands available, Gourmesso offers the most selection with 25 options. Most of their coffee is a blend of both Arabica and Robusta beans which give their brews a balance of sweetness and strength. For those who like a strong coffee, we recommend trying out their Ethiopian Blend which is rated at a max intensity of 10. A major plus of Gourmesso is that you don't have to purchase in bulk in order to reap savings. You can purchase their capsules in packs of 10. The company also offers tea capsules which is a nice plus. Check out our full Gourmesso review for additional details.
Gourmesso capsules only work with Nespresso OriginalLine machines.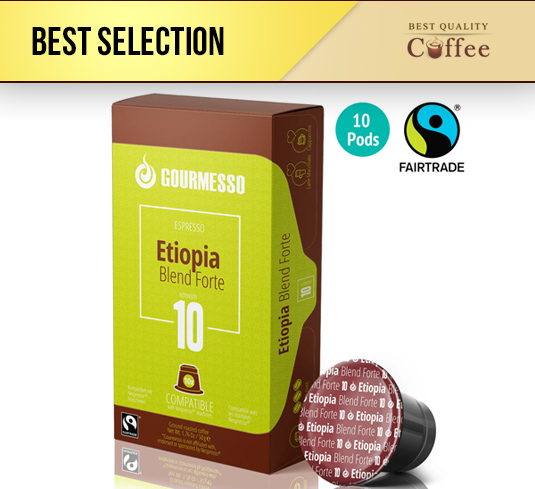 Price / Pod: 50 cents
3. L'OR Espresso (Deepest Flavor)
L'OR Espresso makes for another excellent choice for those looking for a Nespresso pod alternatives not based in cost. As such, they aren't the cheapest alternative nor are they meant to be. The brand stands toe to toe (or more appropriately cup to cup) when it comes to Nespresso. Many espresso lovers could and would argue that L'OR's espresso is even better. This is a great option for those who value depth of flavor over cost. L'OR is also perfect for those who are simply looking to expand their selection of comparable-quality espresso capsule options. This brand offers 18 different choices to choose from. Although originally founded in France, the company's espresso is now enjoyed in homes all over the world.
L'OR espresso pods are compatible with their L'OR Barista and the Nespresso OriginalLine machine.
Their aluminum pods are recyclable which is a huge bonus.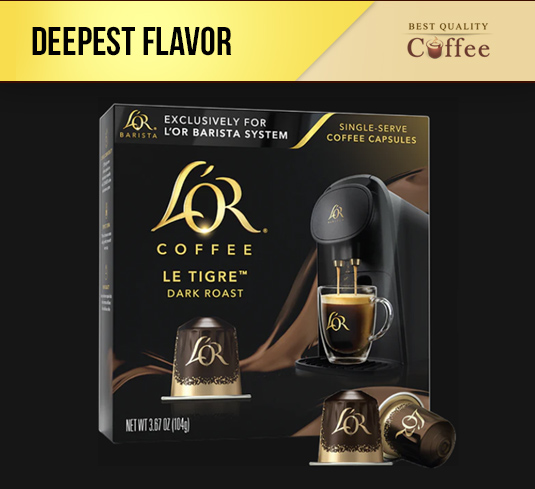 Price / Pod: 89 cents
4. Volcanica Coffee Nespresso
We admit that we were super excited to hear about Volcanica Coffee releasing Nespresso capsules. We've been a fan of their coffee for years now so it was an offering that was most welcomed. This variety pack which offers capsules with an intensity from 8 -12 gives you a great introduction to all that Volcanica Nespresso capsules have to offer. If you prefer a stronger and fuller bodied espresso, then Volcanica makes a solid choice. Treat yourself to a very rich experience without the accompanying "rich" price tag.
Volcanica uses recyclable aluminum free pods that effectively preserve freshness, intensity, and crema. In our experience, this brand has always maintained incredibly high standards for their coffee and this fact is clearly reflected in their Nespresso compatible pods as well.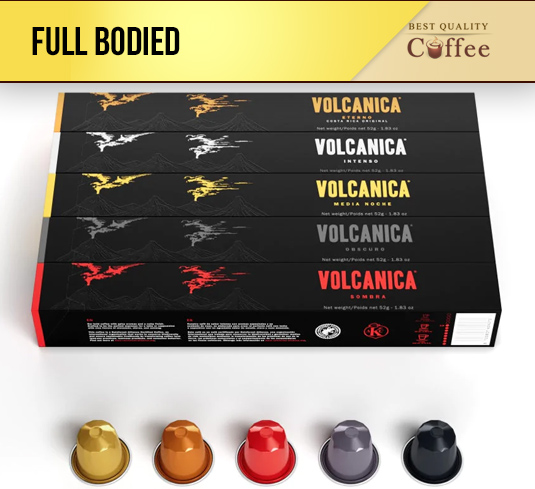 Price / Pod: 50 cents
5. Peet's Coffee Espresso Capsules (Sustainable Practices)
I've always been a fan of Peet's Coffee since my early coffee drinking days. By my standards, their coffee is both bold and captivating. There's a signature refined smokiness attracts their loyal customers around the world. We recommend going with Peet's Coffee Variety Pack which contains four different espresso blends made from 100% Arabica beans. Each blend offers a unique flavor profile with intensity levels ranging from 8-11. The flavors included in the variety pack are Crema Scura, Nerissimo, Ricchezza, and Ristretto.
It's worth noting Peet's staunch commitment to sustainable business practices when it comes to their supply chain. By prioritizing both the well-being of their farmers as well as the communities in which they live, Peet's embodies the principles behind ethical sourcing.
Peet's espresso capsules are compatible with the Nespresso OriginalLine machine.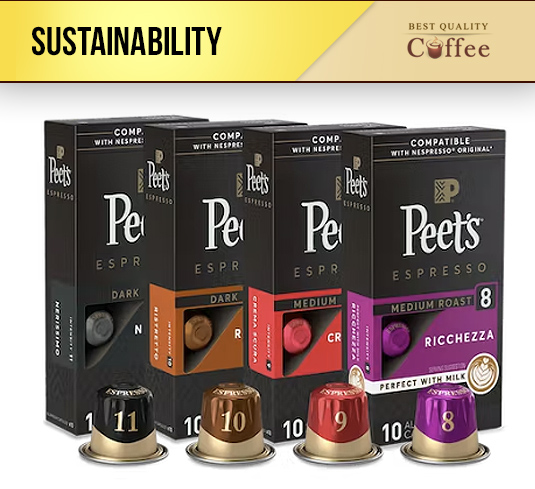 Price / Pod: 85 cents
6. Hayman Coffee Capsules (Best Specialty Coffee)
Rounding out this list of Nespresso pod alternatives is a selection based purely on quality. Hayman needs no introduction especially when it comes to the world of premium exotic coffee. From Geisha, Yirgacheffe to Kona, Hayman Coffee's offerings firmly sit at the pinnacle of the specialty coffee mountain. They source coffee that ranks as some of the best and rarest in the world. We were thrilled to discover that they offer Nespresso compatible capsules. We would recommend this option to the proverbial coffee connoisseur who values the coffee experience above all other factors. Hayman Coffee is impeccable and so expect to pay for such quality. The company spent over a year refining their Nespresso capsules to ensure optimal freshness, quality, compatibility, and recyclability. Their pods are 100% recyclable once separated from the coffee inside.
These are great for special occasions.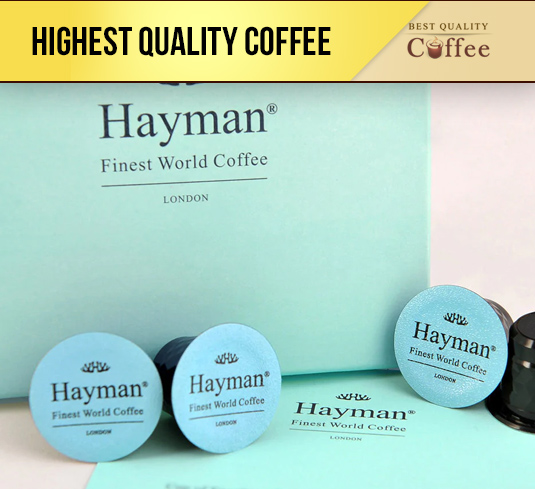 Price / Pod: $3.47
Tips for Choosing Nespresso Pod Alternatives
There are a number of things to consider when selecting the best Nespresso pod alternatives for your specific needs. Below we cover the basics.
1. Price
Most customers who are looking for "alternatives" are often motivated by the desire to save money. That being the case, most Nespresso pod alternatives will be significantly cheaper than a regular Nespresso pod. Nespresso pods range from 71 cents to a whopping $3.00 for their special reserve coffee. Obviously, if price is your main driving force, then higher end companies like Hayman will not be a good fit.
As is the case with every coffee purchase, be sure to check for discount and coupons before buying. Also, you can save additional money by buying in bulk.
2. Selection
Even though Nespresso offers an extensive selection, many customers are constantly on the search to expand their repertoire of options. When checking out alternative brands, check to see what type of selection they offer. It's not just about quantity of options but the quality of those options. Having many capsule flavors to choose from means little if you they don't fit your specific profile. It goes without saying that you should select a brand that has options that you personally like.
3. Flavor
Every coffee lover has different flavor profiles and preferences. Be sure to identify the coffees you like most. This can be based on a number of factors from roast level to geographic region. You can further fine tune your selection process by deciding whether you want blends or single origin coffees.
For those who are unsure about what they like or simply don't care, you can always opt for a variety pack. I'd recommend variety packs simply because it's a cost-effective way to get introduced to a new brand. Every company treats roast levels differently and not every coffee from a given region is the same. By buying an espresso variety pack, you may discover something new totally new and out of your initial comfort zone.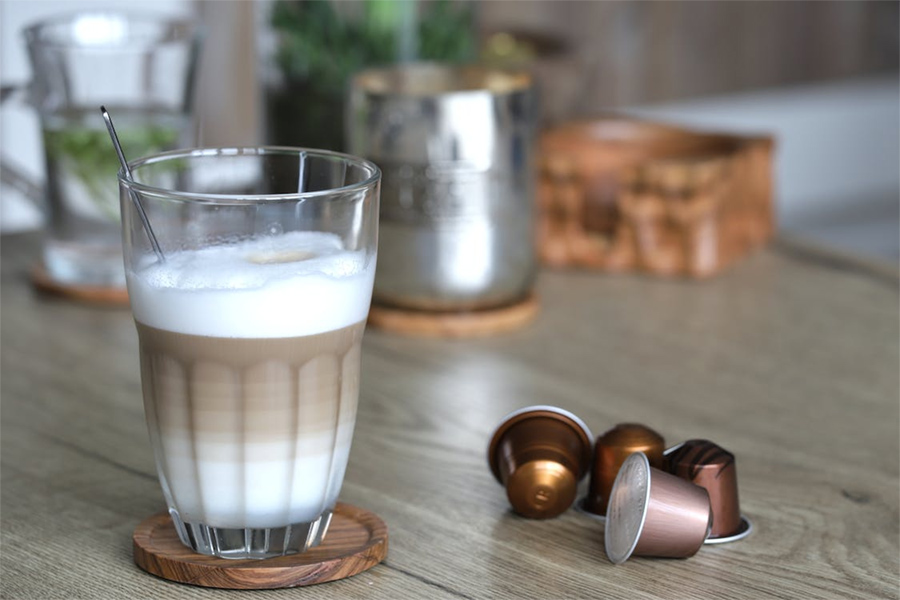 4. Environmental Friendliness: Recyclability
While this metric has nothing to do with the actual coffee experience, it's still something that matters to many people. Coffee pods and capsules have received attention for leaving a notorious environmental footprint. In response, many companies have started producing recyclable or compostable pods.
Who is Nespresso?
As mentioned at the start of this article, Nespresso is credited with introducing the world to single serve espresso capsules. There are many reasons that they continue to flourish in the highly competitive espresso world.
Nespresso pods: Price
Nespresso's own capsules can be rather pricey when you consider multiple purchases over time. Their capsules are 70 cents – $1.00 per capsule. Certain reserve single origin brews can cost up to a whopping $3.00 per capsule (single-origin coffees are more expensive than blends). Compared to Hayman's Coffee capsules that cost $3.47, that seems reasonable.
By the way, we aren't saying that paying $3+ per pod isn't worth it. It's just that your average coffee drinker (including myself) can't swing that for the long term.
4. Nespresso pods: Flavors
When it comes to Nespresso compatible capsules, there are a huge range of flavors available to choose from. Currently, they have 38 different options which is impressive to say the least. You can find capsules with flavors ranging from hazelnut and creamy to vanilla custard pie. Nespresso also offers a selection of limited release capsules with unique seasonal flavors like Nordic Cinnamon Swirl (Intensity: 5) for the fall and winter seasons. Additionally, there are also decaf options from La Llave Espresso with a strength of 11. Overall, there's sure to be something to suit everyone's taste.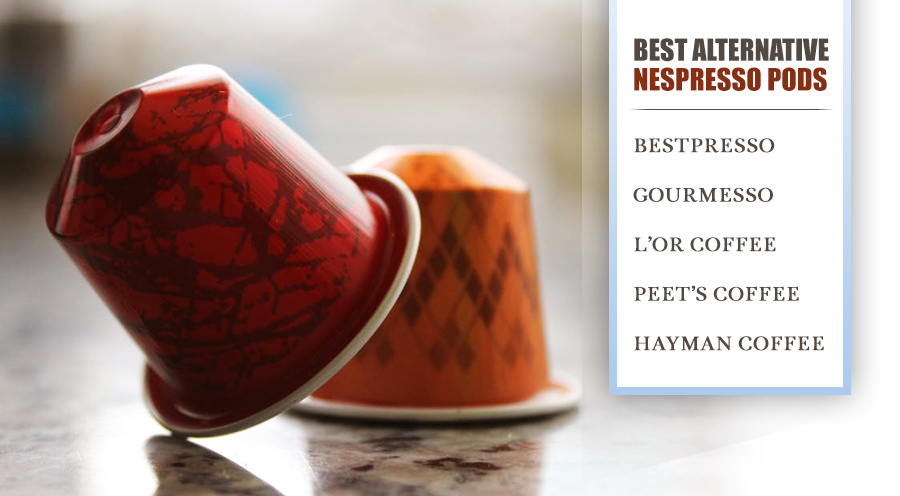 5. Nespresso pods: Brewing options
When it comes to brewing options, Nespresso pods offer a variety of choices. With an OriginalLine Nespresso machine, you can find compatible capsules from many brands. Beyond the options listed in this article, you can buy Nespresso alternatives from brands such as Starbucks, Costco, Lavazza, Rave Coffee, and Colonna Capsules. Each of these brands offers a unique range of coffee pods in various blends from medium to dark roast, as well as espresso.
If you want to make delicious lattes and cappuccinos, you can use milk pods for maximum convenience or manual or automatic frothers for more control.
7. Nespresso pods: Shelf life
The shelf life of Nespresso pods is generally 12 to 24 months, depending on the manufacturer. While the manufacturer recommends you drink your espresso capsules within 2 months of receiving them for optimal freshness, some redditors have commented that they've used pods that are up to 4 years old. But just because you can do something, doesn't mean you should. While you may not get sick from drinking stale coffee, I doubt it'll be a pleasant or fulfilling coffee experience.
8. Nespresso pods: Compatible machine
Nespresso pods are compatible with a variety of Nespresso machines, including the OrignalLine, Creatista, Lattissima, CitiZ, Essenza, Pixie, and VertuoLine. VertuoLine capsules are only compatible with Nespresso brand capsules, though there is a refillable pod for VertuoLine machines to make regular coffee. As mentioned earlier in this article, you cannot use Nespresso pod alternatives with the VertuoLine machine.
FAQ for Nespresso Pod Alternatives
What is the caffeine content of Nespresso and Nespresso pod alternatives?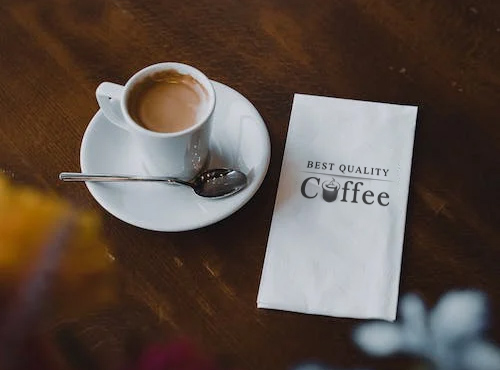 The short answer to this question is, it all depends on the brand and product.
The caffeine content is an important variable to consider, especially if you're downing multiple espresso capsules a day. It's recommended not to drink more than 400 mg of caffeine per day.
According to Nespresso, their OriginalLine capsules contain anywhere between 40 to 130 mg of caffeine per cup. That's quite a wide range so be sure to check the labeling information. Vertuo coffees range from 60 to 200 mg per cup.
To give you a gauge of what else is out there, consider HiLine Coffee's capsule which contains 60-70 mg of caffeine, making it less strong than other options. Il Caffe Italiano offers a range of capsules with varying proportions of Robusta to Arabica, with the more Robusta portion resulting in a more intense and caffeine-laden brew. Their Roma blend is 90% Robusta and 10% Arabica and contains the most caffeine of their range. Ultimately, it is important to consider one's own caffeine needs and tolerance when choosing an Nespresso alternative.
Related article: Difference between Arabica and Robusta
What's the difference between a coffee pod and an coffee / espresso capsule?
There are a number of differences between a coffee pod and a espresso capsule. One isn't necessarily better than the other. It depends on what qualities you as a coffee lover value most.
A coffee capsule is a higher quality delivery form and helps keep its contents fresher for longer. They deliver a more consistent and steady flavor. Capsules are vacuum sealed, air tight, waterproof, and typically made out of a soft or hard plastic or aluminum. The coffee capsule prioritized quality and freshness where as the coffee pod focuses on convenience. As such, capsules are more expensive.
Capsules are also tailor made for specialized brewing machines that utilize a disk holder instead of a portafilter. This being the case, capsules are generally manufactured to fit a single brand such as Nespresso or Keurig. This means that coffee capsules are more restricted when it comes to your options for compatible brewers.
Coffee pods, on the other hand, are compatible with a wider number and range of brewing machines. There are plenty of universal coffee pod machines that will work with virtually every type of coffee pod.
Lastly, coffee pods which nowadays are mostly made of a combination of paper and plastic, are considered more biodegradable and compostable than their capsule counterparts.
Are Refillable Nespresso Capsules any good?
Refillable Nespresso capsules offer an attractive alternative to the original capsules, but may not offer the full flavor and freshness of the original. A wide variety of refillable capsules are available, so it's worth shopping around to find the best option for you. We would recommend going with a BPA free reusable Nespresso.
Refillable Nespresso do offer many benefits.
Eco friendliness: Refillable Nespresso Pods can help drastically reduce landfill waste
Customizability: You can choose your own blends and grind your beans according to your preferences
Economical: Saves you money
Can you use other pods in Nespresso Vertuo?
No, unless specified you generally cannot use capsules from other brands with a Nespresso Vertuo machine. The VertuoLine system is locked into its own ecosystem, so you won't find alternative pods for Vertuo machines. The only option is to buy Nespresso Vertuoline pods from Nespresso themselves. Additionally, the VertuoLine range uses unique barcode scanning technology on their capsules, so no Nespresso compatible capsules exist for the VertuoLine range. There is however an exception to this rule which we'll cover in the next paragraph.
Can I use Starbucks pods in Nespresso Vertuo?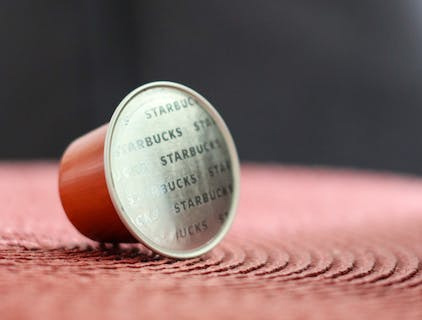 Yes, you can use Starbucks pods in a Nespresso Vertuo machine. Starbucks has created a line of Nespresso-compatible capsules specifically designed to work with the Vertuo machine. These Starbucks by Nespresso capsules are recyclable and made with the same premium quality coffee you'd expect from Starbucks…I know in the eyes of certain coffee connoisseurs that statement is a controversial one. Unfortunately, you cannot use regular Nespresso pods in a Vertuo machine, as they are markedly different.
What is the difference between a lungo and a ristretto?
The main difference between a lungo and a ristretto is the amount of water used to brew the coffee. A ristretto is the most concentrated of the two, using about half the amount of water as an espresso. This produces a very bold and intense cup of coffee. On the other hand, the lungo uses roughly twice the amount of water as an espresso, resulting in a larger, more diluted cup of coffee that's more similar to an Americano or pressure-brewed coffee.
The World of Nespresso Pod Alternatives: Final Thoughts
As great as Nespresso is, there are still many reasons espresso lovers are constantly on the hunt for Nespresso pod alternatives. Whether it's to save money, increase one's choices, or simply to become more environmentally-conscious, customers have a plethora of brands to choose from. Prior to 2012, this was simply not the case as Nespresso's patents had yet to expire. Today, the market is teeming with espresso capsules to suit every kind of espresso lover imaginable.
All I can say is that it's a good time to be a fan of espresso capsules.